Sneak peek: Eat the Street Cheese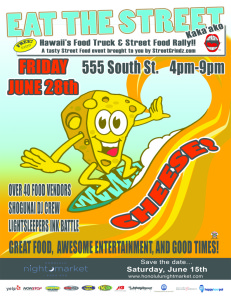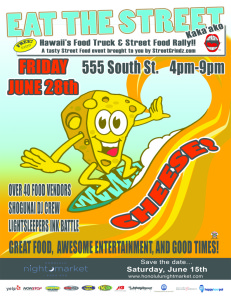 Tonight, finally, as the summer sunset lingers and cool breezes descend on Kakaako, we feast on cheese. Cheesy waffles, cheesy garlic shrimp, cheesecake shave ice, cheesy popcorn. And cheesy french fries, ham and cheese cupcakes, cheesy spring rolls, even deep-fried cheese.
Lest you think there could possibly be too much cheese, don't: All of the 40-plus food trucks and street food booths will have regular menus in addition to cheesy specials, including the creamy, lactose-packed delights in the photos below, this night only. Here are your deets. We'll see you tonight in Kakaako.
When: Friday, June 28, from 4 to 9 p.m.
Where: 555 South St. in Kaka'ako (at Halekauwila, kitty-corner from Restaurant Row)
Admission: Free
Parking: On-site and street parking