Short Story
A new line of jeans caters to smaller frames.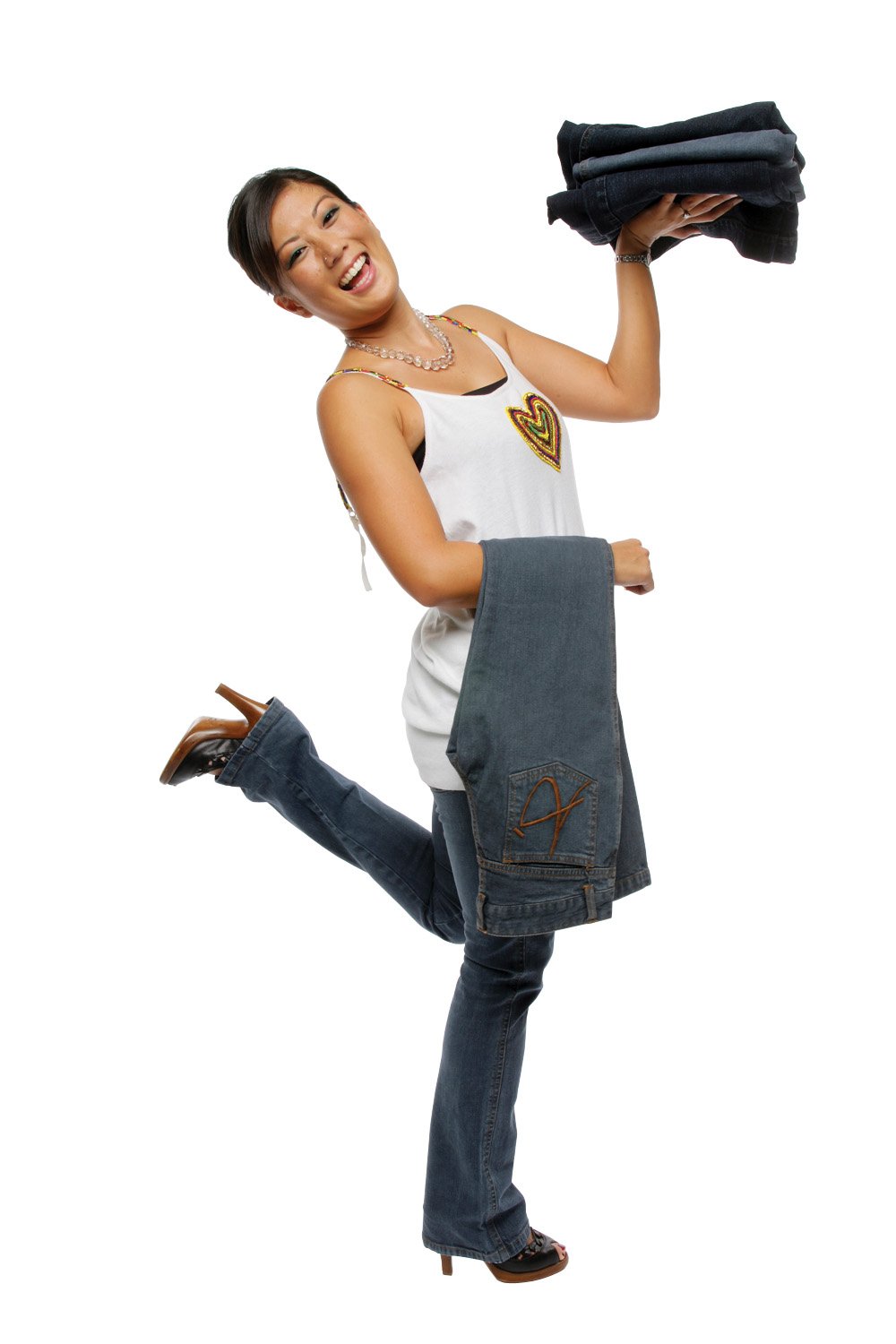 We featured Allison Izu Nagato in our April 2006 Design Issue, calling her "one of Honolulu's up-and-coming young designers." With her Allisonizu Petite Denim launching this month, Nagato has arrived.
"I wanted petites to have instant gratification; I didn't want them to have to wait to have their jeans hemmed," says the 5-foot 2-inch Nagato of her inspiration. She explains that most pants are designed using the dimensions of a 5-foot 10-inch woman, with inseams of 35 to 36 inches. When shorter women hem their pants, the length is cropped, but the proportions are off. Nagato "worked on the math," and focused her attention on the right fit, trying her patterns and samples on petite women, some athletic, some curvy.
Her resulting Spring 2008 denim line features jeans with inseams of 31 inches, as well as a higher knee break to elongate shorter legs; smaller, higher back pockets; and a scaled-down yoke to avoid puckering at the waist. There are four styles of jeans, plus a denim "manini skirt," shorts and walking shorts. Sizes range from 00 to 10; prices from $88 to $142.
For fall 2008, Nagato plans to expand her petite line to pants, with an eye to eventually having an entire line-skirts, dresses, etc.—to make up the perfect petite wardrobe. You can find Allisonizu Petite Denim at Rock-abella, Split Obsession, The Butik or shop online at www.izushop.com.
Tips for Petites:
Nagato shares her style tips for flattering a shorter body frame:
| | | |
| --- | --- | --- |
| Choose a darker color-wash for jeans, and avoid anything with whiskering. | For pants, commit to a hem length. "People say, 'I want to wear these with flats and heels,' but that really doesn't work," says Nagato. You can, however, cheat and use double-stick tape to temporarily shorten the hem. | If you buy a non-petite size dress or skirt, have a tailor take it up an inch or two. Go above the knee, which will draw attention to the smallest part of your leg. |
---
BOUTIQUE REPORT
1. alliway

Local jewelry designer Allison Kim-Czerniak has treated her fans to a whole store of her designs. She also features clothing from Lily Lotus, handbags by Saltbox, bird-motif paperweights and fabulous stationery. It's gift central-for you or for a friend. Ward Warehouse, 589-1141.

Affliction men's tee shirt, $58.

02. Blue Buddha

The former men's store at Restaurant Row has relocated, and now also carries women's clothing and accessories. "We wanted to provide young professionals with brands that aren't available in Hawai'i," says store owner
Budi Staven. Prices are $45 to $285. 1221 Kapiolani Boulevard, 429-3315.
3. MixMix

This high-end boutique offers primarily European designers: Dior, British brand Superfine and, coming soon, Dries Van Noten. If the place looks a little sparse, it's on purpose, as part of the store philosophy is that you won't see other people wearing the same outfit. "It's quite exclusive. We only buy two of each size, and not even all of the sizes," explains store manager and buyer María Garrido Gabaldón. 1131 Bethel St., 544-0011.


Bulga handbag, $820.