Share the Health
Web Exclusive!
4 Nutrition Tips from Ryan at Fitness HI
4 Nutrition Tips from Ryan at Fitness HI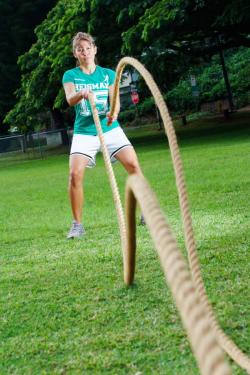 Smoothies made at home are a great way to get fruits, vegetables and dairy. Control the sugar by knowing what you put into it.
Drink plenty of water. If you get tired of it, flavor it with a little crystal light or soak produce such as oranges, lemons, limes, strawberries or even cucumbers in it over night to get a refreshing essence of the fruit or veggie in the water.
Popcorn is a great snack for kids. It's low in calories and has tons of fiber. Stay away from the packaged stuff. By air hand popping, you control the quality of the snack by adding things like parmesan cheese and chives or other types of spices, rather than the typical movie butter, which is loaded with fat. Another great local flare is to pop kettle corn and sprinkle it with a little li hing mui powder.
Kids crave chocolate. Give it to them in moderation and incorporate something healthy with it. Instead of a whole chocolate bar, take a couple of ounces and melt it in the microwave. Use it as a dip for a variety of sliced fruits for a healthy, chocolaty treat.