Shaping Leaders of Tomorrow
Learn how four private schools are equipping their students for a future that looks more unpredictable than ever.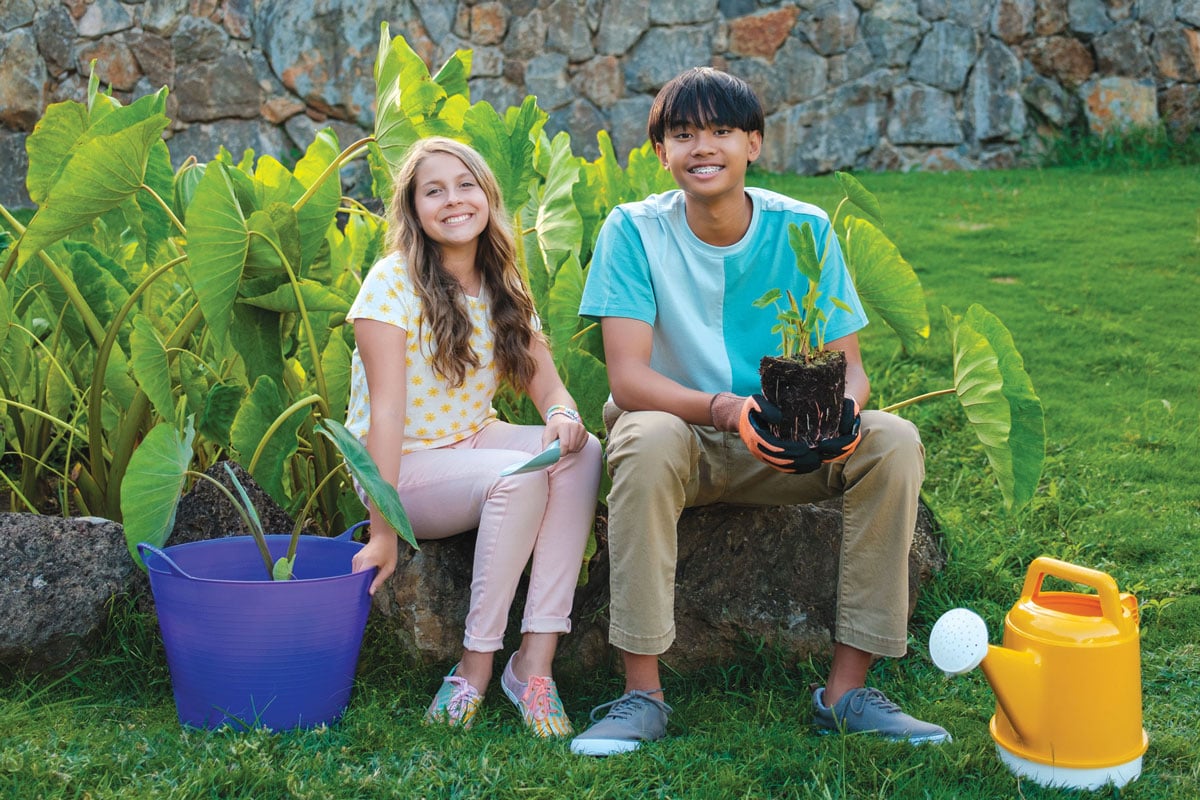 The world is always changing. Everything from new technology and digital trends to global issues like climate change affects what we need to prepare our keiki for and how. How are schools guiding and shaping our children so that they grow into adults who are not only tech-savvy and innovative but also responsible and caring citizens? We spoke with four private schools that provide opportunities, programs and tools to build up our children to not only excel academically, but to think critically, show leadership and encourage values like respect, integrity and kindness in a future that looks nothing like what many of us ever expected.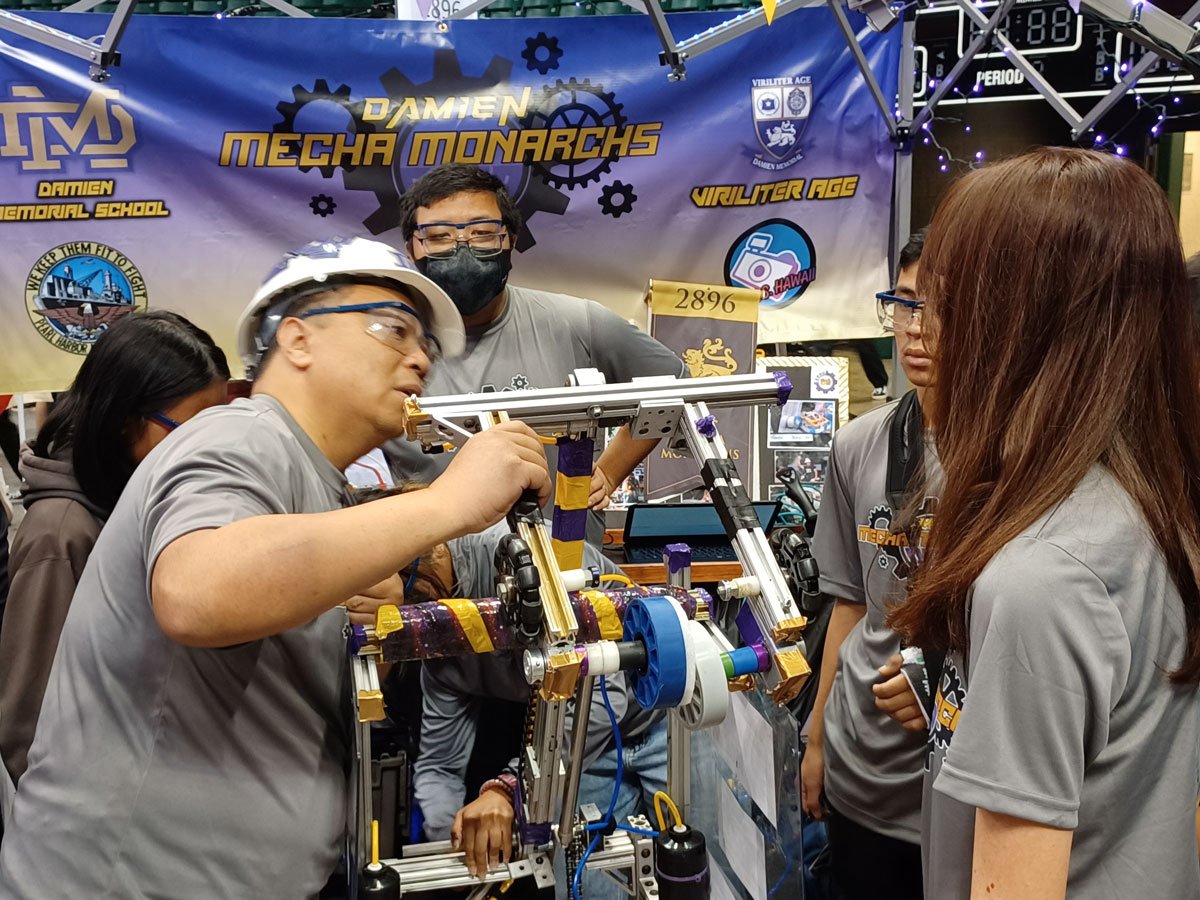 Embracing Artificial Intelligence
Talking with Arnold Laanui is like being in a philosophy course—the president of Damien Memorial School enjoys discussing theory and has a deep respect for technology. He's especially intrigued by the rapid advancement of artificial intelligence.
"When you look at technology, you can see how much has changed. The tricky thing in this environment is to develop a program to prepare students for a workforce that's rapidly changing," Laanui says. "In order to do that, we need to instill certain fundamental truths about human achievements, financial success and character development. Do some alchemy on our side and come out with something golden into the future."
Laanui's passion for technology hails from his background in the FBI, where he was involved with cybersecurity and taught digital ethics. "AI can never replace the human component. You don't want to rely on it. In education, we must teach a new generation of humans to ask better questions and think deeper. That's not easy to do."
For example, a typical English teacher may be worried whether a student used AI to write an essay. For Laanui, that's not an immediate concern. "My concern is whether a faculty member would start using the tech to write shallow lesson plans. Then you've become a cog in the wheel," he says.
Laanui has big plans to bring in new faculty who are willing to change the way they normally teach and tackle the challenges brought on by AI. He says it's about embracing, not shying away from, AI. "I feel we are right at the very cusp of how education is going to shift, especially with the popularity of AI models. Folks are beginning to have conversations about how AI impacts education, and our school plans to be at the forefront of that. These past two months, we've been having conversations with partners that are interested in addressing this issue," he says. He can't share which partners at this early stage, but he hints at a landmark technology company on the West Coast.
In addition to artificial intelligence, other new technologies can also be used in innovative ways; for example, Laanui plans to bring drones into the school's robotics program. "I don't want my students to just fly drones, but make them into tools that help them better understand their world and use the tech to help the community." Damien Memorial School also has a thriving aquaponics program that Laanui hopes to grow into a fishpond to better teach students about climate change, water safety and sustainability.
As a faith-based institution, Damien's programs cohesively create an environment where students are welcome to ask questions—not just academic or technological ones, but larger, metaphysical questions, too. "Students are encouraged to think about their purpose and wrestle with what is good and evil, and where they take a stand," he says. "That's the grander purpose of education. Our job is to provide students with tools that pave the road ahead after graduating."
PROGRAM SPOTLIGHT
"Led by Hawai'i Preparatory Academy faculty directors Marc Rice and Laura Jim, the HPA Sea Turtle Research and Conservation Program offers students the opportunity to join scientific efforts focused on the recovery of endangered sea turtles," says Amy Cole, assistant head of school for academics. "Since 1987, HPA students and faculty have captured, studied and tagged over 3,900 turtles throughout the Hawaiian Islands and at international research sites in Japan, New Caledonia, Fiji, American Samoa and the Republic of Vanuatu and produced over 40 scientific papers." Faculty and students also respond to a sea turtle rescue hotline for Hawai'i Island's leeward coast.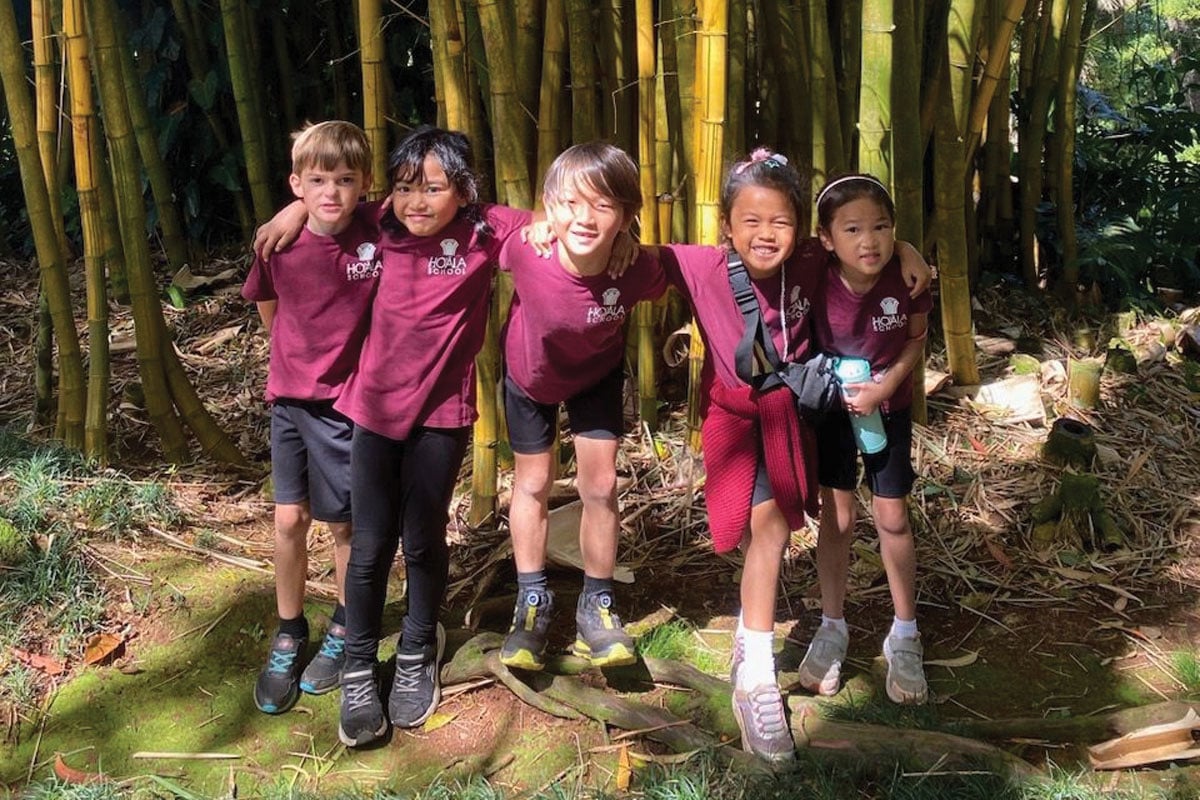 Creating Hands-On Experiences
Getting a taste of the world outside school is an impactful way to prepare students for the future. Ho'āla School, a K-8 school in Wahiawā, gives students that opportunity by finding and creating partnerships with local businesses that provide internships.
"The world of education is changing—many things are virtual, but we believe real-world experience is the best teacher," says Chris Campisano, head of school. "Students are engaged, and they can see how important the significance of that experience is. They're working with mentors who have strong influence on them and can foster a deeper and more powerful learning."
At this school, there's a focus on social-emotional learning and applying that with real-world experiences. Campisano is especially grateful for the school's location in Wahiawā. "For students interested in municipal services or law enforcement, we have many opportunities here. Wahiawā General [Hospital] is right here. Agriculture is such a big focus in Central O'ahu, and this summer, the Wahiawā [Value-Added] Product Development Center is going to open right across our school. That would be an amazing option for an internship."
In the past, students have visited Wahiawā Public Library, worked with the Department of Land and Natural Resources, spent time at Wahiawā Botanical Garden and helped out the animals at the Society for the Prevention of Cruelty to Animals. Depending on student enrollment and the number of school-community partnerships, Campisano plans to bring back internships in the fall semester. The internships are structured around a research project, which the student develops.
Campisano doesn't get carried away by trendy tech programs or purchasing social-emotional programs, but believes his job is helping instill character values for students so that they can handle challenges with responsibility—something that will be important no matter what problems they face or what tech is available. "The bedrock and foundation of Ho'āla is our four R's: responsibility, respect, resourcefulness and responsiveness. It's about being able to empathize, truly listen and understand each other—a humanistic approach." And it starts with adults modeling those core values, which isn't always easy for teachers and parents.
At Ho'āla, students can call teachers by their first names. "Parents have a hard time getting used to that," Campisano says with a laugh. It's a small but significant aspect of Ho'āla's culture that speaks to how the school empowers its students. Kids hold and lead gatherings (in other schools, they might be called general assemblies), where they decide the theme and express themselves through songs, skits and drama. Student discipline meetings are called clearings—a process for two students who have a disagreement to "clear" the air with each other. An adult may facilitate as the keiki talk about how it made them feel, whether it was a disagreement over a game or somebody said something hurtful.
"Students are taught to learn how to talk and listen to one another and then take responsibility for their actions," Campisano says. "It's an agreement system that is motivated by the students' intrinsic desire to make right choices. We want our students to be responsible and act for the good of the whole."
PROGRAM SPOTLIGHT
"The philosophy and practice of Waimea Country School is multi-age learning, where we intentionally group two grade levels together so students always have a younger or elder in their class," says Amy Salling, head of the Hawai'i Island school. "This allows us to focus on the individual child—that is, where are they now, what do they need to learn and grow, and where are they headed next. Multi-age also creates a dynamic learning environment where everyone is valued for who they are rather than what they can do."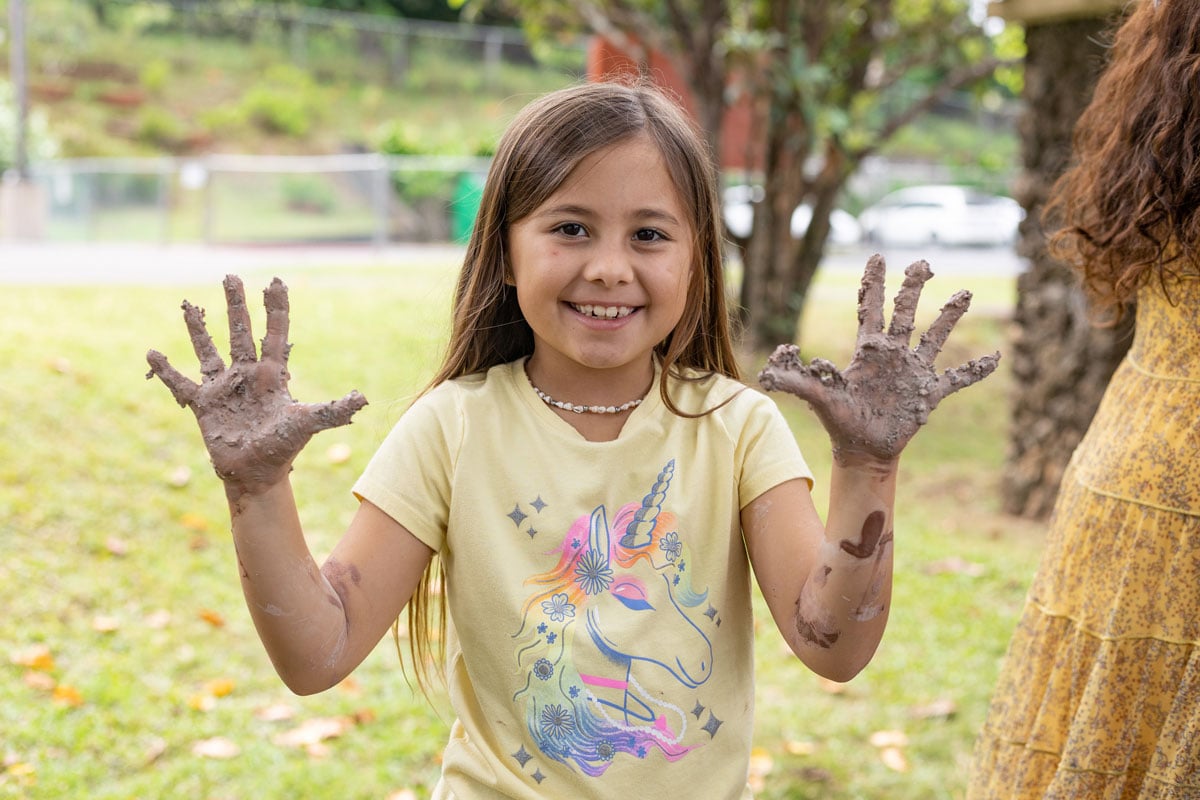 Raising A Kinder Generation
Part of preparing students for the future includes training them to be good stewards of the land. At Montessori School of Maui, students go to the garden in the middle of campus every week to work the land and grow their own flowers, herbs and vegetables.
Conversations about climate change are common among students. Earlier this year, students planted 148 native plants on campus with the nonprofit ReTree Hawai'i. Students are also growing herbs and vegetables in a hydroponic garden, maintaining a plumeria grove and managing an agricultural plot in the upper part of campus. And the school's sustainability committee celebrates Earth Day in April with a campus cleanup, the reading of poetry, the collection of seeds for the students to take home and talks about the importance of caring for the earth.
For decades, the Montessori philosophy of education and child raising has focused on the relationships among child, teacher and environment. At the school, the environment gives children autonomy and prioritizes soft skills like empathy and kindness. "We've never been about simply transferring knowledge from adults to students. That's often been the 'traditional' way of education, and that's not how we do things," says Eric Dustman, head of school. "We want to encourage students to satisfy their own curiosity by answering questions that they have themselves."
Dustman affirms that being able to ask questions and think critically are fundamental skills, regardless of any technological advancements. Rather than prioritizing fancy programs, the school aims to meet each child's needs developmentally and provide moments to work purposefully, engage with one another and feel safe. "That's where Montessori is innovative. We do things like where we have 3-, 4- and 5-year-olds working together, which gives the older kids the social responsibility to engage with younger ones and teach them."
Teaching keiki to become problem solvers in the face of challenges and conflict is important. For example, if two children have an argument on the playground, it's not simply enough to force an apology and then assume the conflict is over. "We strive to teach students social responsibility and that what we choose to do within individuals does have an impact on others. Sometimes, in conflict, an apology is not enough," says Dustman. A fight requires a conversation to give the students an opportunity to react. "We ask questions like, did you notice that when you were running, you ran into Johnny and he fell down? Did you see how he reacted? Why do you think he was crying? It's an opportunity to teach empathy and regulation and have a dialogue between the children," he says.
Dustman shares that there are many social-emotional programs out there that can be purchased and incorporated into the school's curriculum, but he isn't interested. "A program isn't enough—it needs to be part of the school's culture. If a teacher wants to buy a program, I'll ask them to put in the work to learn and grow those skills first. In this fast-paced world, it's important to take a minute to stop and learn. These skills will help us become kinder and gentler adults, which we can then teach our kids," says Dustman.
PROGRAM SPOTLIGHT
"Our mission at Mary, Star of the Sea School is to prepare students spiritually and academically for future success. Therefore, we put an equal emphasis on innovating in both areas, with technology and opportunities to build on their social-emotional skills," says Laci Hitchcock, curriculum director. "In 2023–2024, our school is implementing a health and wellness program that includes a full-time counselor to help students manage stress, cope with challenges and build resilience. On the academic and technology aspect, we keep investing in safer and more efficient technology."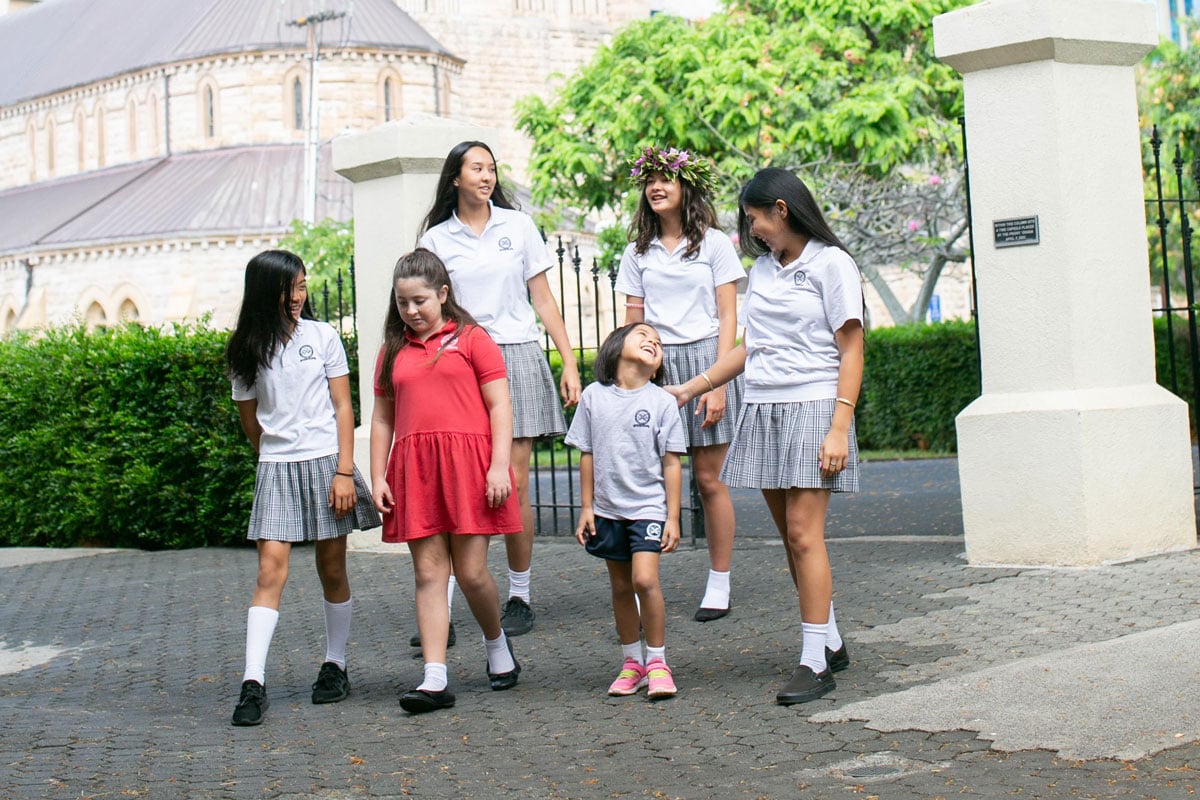 Molding Future Leaders
Ruth Fletcher, president and head of St. Andrew's Schools, notices a troubling trend of students living separate digital lives on their phones. "It's very challenging. Anxiety and depression are on the rise for the society as a whole. The world seems harsher because it can get to you faster. How do we help parents and teachers navigate this new world?" Fletcher says.
In the school's circle groups, the students set aside a time each week to talk and share what's going on in their lives; conversations about managing social media are common. "The phone doesn't have warm or cold feedback like a human being will have. We're able to be more proactive in this area because we're a small school," Fletcher says. In these dialogues, teachers discuss the implications and ramifications of the students' digital footprints. "We are able to have these conversations because it's part of our culture, starting from preschool to 12th grade. We try to set the conditions for these things to be shared and dialogued. A hui comes together."
Part of that hui is the school's life coach, who works closely with the all-girls upper school, grades seven through 12, and its Priory in the City program. The coach helps these students find their strengths, interests and aspirations. Fletcher says: "These conversations lead them down pathways of 'who am I and how do I fit into the world?' How can they be contributing members of society?"
After answering those questions, the students narrow down potential careers and embark on a field trip to downtown Honolulu, where they walk around and visit different businesses and government agencies. In their senior year, they will undergo eight-week internships, each of them with a mentor at their workplace.
But it's hard work—the girls are responsible for making sure the internships take place by reaching out to businesses and introducing themselves. "We teach them about networking, how to write an email, how to dress for an interview and write a résumé," Fletcher says. Once the connection is made, the school's life coach steps in to help finalize the process. "Our goal is to have the student decide what she wants to go after and then get it." The program has been successful, and many students find employment at their internships the summer before they leave for college.
Being an all-girls upper school also lends a unique advantage. "Our girls have the opportunity to figure out who they are and develop without the influence of what society thinks they should be," Fletcher says. "Because they can identify rather than be identified, they get to uncover and discover who they are. I've noticed they are stronger individuals."
Fletcher believes these programs and conversations give students the fuel to become leaders of the future. "Once the student knows their interests, that gives them the motivation to take AP science or other classes to learn more. If they care about something and go for it, that makes them into a leader. They're not waiting for somebody to help them—they are taking initiative, which empowers them to get to where they want to go."
PROGRAM SPOTLIGHT
"At Parker School, we hold a two-day intensive for grades six to 12 for community-building enrichment," says Makela Bruno, director of admissions. For instance, students "explore two breathtaking places on Hawai'i Island and the wisdom of the Hawaiians who cared for this land for generations before us. What can we learn from their ingenuity to live sustainably?" The first day is spent discovering the deep history of Hawaiian fishponds and contributing to the ongoing efforts to restore the Kīholo pond. Day two is spent caring for the gardens of the ahupua'a, Puanui.