Seoul searching: Tips for eating in Korea's capitol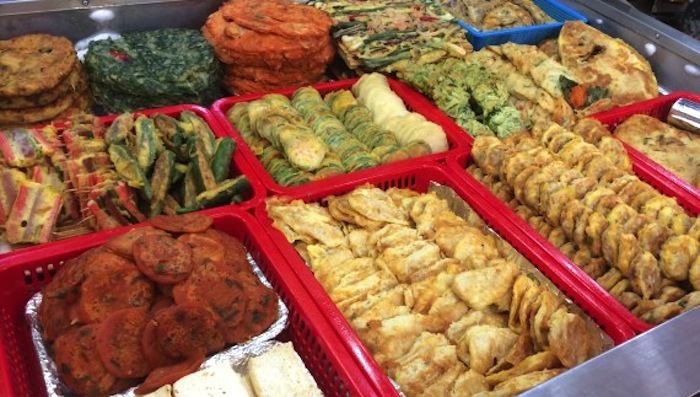 I was born in Korea and have gone back to visit, but I hadn't been to the motherland for about nine years. For my girlfriend it had been much longer — she left when she was just six and hadn't gone back. Obviously we were both very excited to visit Seoul.
So what did we do there? Pretty much shop, eat, repeat. My girlfriend had a list of things she wanted to experience and we had a great time checking off those items one by one.
So what were the highlights of the trip?
Myeongdong
After half a dozen or so visits to Seoul, this electric district remains my favorite part of the city. Yes, there are lots of tourists but there's also a great reason why. There's so much to do! Hundreds of retail stores will cure any shopping urges but I tend to stick to the street vendors because I love to haggle prices with them. Who doesn't love a good bargain?
Getting hungry? Myeongdong has many top-class restaurants serving both traditional and modern Korean cuisine. Cafes line the streets as well so you can pop in for cup of coffee and some rest. You can get your hair cut, watch a movie, sing karaoke or even go to a cat cafe to play with kitties. My girlfriend and I seriously considered going to one but decided that would be cheating on our cat, Jet, waiting for us at home. Myeongdong definitely has it all.
Tip: Go late in the afternoon or evening as many of the street vendors don't come out until then. Plus, it's just more fun to walk around amid the glitter of lights.
Noryangjin Fish Market
You want the freshest seafood in Korea? Go to Noryangjin Fish Market. Believe me when I say that they have virtually every creature of the sea for sale here. But the best thing is, after you buy your seafood (always bargain down the price), you can take it to one of several restaurants on the second floor where they'll sashimi, steam or fry your food for a very reasonable charge (about $5 per person). Alive one minute, in your belly the next!
Tip: I highly recommend buying a king crab (we bought a huge one for just $50) and having the restaurant first steam it, then make a crab fried rice with the innards and juices. O. M. G. That fried rice was broke da mout!
Gwangjang Market
Known as a hub for street food vendors, Gwangjang Market has much more to offer. This fantastic market is also a great place to buy those pillowy soft Korean blankets that are as light as air, a traditional garment called "hanbok" or even kitchen utensils. But of course, the focus is the food.
Food vendors are organized by "alleys." There is the bibimbap alley where Korean aunties will mix up your favorite veggies and rice into a delicious comfort dish. There's also jun alley where food is battered with flour and egg and fried, similar to meat jun. Then there's the mayak kimbap alley where they serve what's translated as "drug sushi." It's like the Korean sushi you see in Hawaii but made in smaller rolls and served with a hot mustard sauce. Personally, I like to dip them in ddukbboki (spicy rice cake) sauce.
But the go-to item at Gwangjang Market is the bindaedduk. This fried pancake made up of ground-up mung beans is hard to find in Hawaii (unless you have Korean parents making it for you) and is so good it's practically worth flying to Korea just for this treat. After our first visit there, we went back on our last day just to eat this again. Seriously, it's that good.
Tip: Have a bottle of makgolli, a milky rice wine, with your bindaedduk. It's only about 8 percent alcohol so it won't throw you off for the rest of your day.
Pojangmacha
Ever seen a Korean drama? Then you've no doubt seen characters drinking away their sorrows in a pojangmacha or "tent bar." These tent bars can be found on the streets in the evenings at around 8 p.m. and are pretty much open until dawn. They invite diverse crowds: employees just getting off work, college kids, couples on date night and of course those who want to drown their tears in soju. Menu offerings differ by tent but mostly consist of comforting street foods. Pojangmacha are a must for those seeking a unique Korean experience.
Tip: There's been a big reduction of pojangmacha in Seoul due to government interference, but you can find many at Jongno 3-ga. They're lined up right outside the subway station.
Street food
You will never go hungry in Seoul because street food can be found everywhere and the offerings are so diverse! The most common dishes are ddukbboki (spicy rice cakes) and odaeng (fish cake). There's also various foods on a stick, swirly fried potatoes, Korean sausage, mandoo (dumplings) and of course desserts! The prices are also unbeatable and you will definitely be full after spending just a few dollars.
Tip: Take advantage of the free servings of odaeng kukmul (fish cake broth). Just grab a paper cup and serve yourself. The rich, hot broth will soothe your heart and your soul.
Gangnam
Any trip to Seoul isn't complete without a visit to Psy's favorite playground. Literally translated as "south of the river," Gangnam is where the affluent and youthful play. Walk around any street in Cheongdamdong or Apgujeongdong (home of Seoul's Rodeo Street) and you'll see fancy clothes, import cars, designer accessories and lots of plastic — in both wallets and faces. Just like any major neighborhood in Seoul, there's tons of great dining and shopping, just at a little higher cost. The major department stores such as Hyundai and Galleria are massive centers of commerce but beware, prices of designer goods are 50 to 75 percent higher than in Hawaii.
One of the newer attractions in Gangnam is the Gourmet 494 Food Court in the Galleria. Talk about taking food court food to another level. Top chefs present a globally diverse menu with selections from Korea, China, Italy, USA and more.
But what impressed me most besides the fantastic food was the efficient system of getting it. You place your order at a counter, get a pager from the cashier and place the pager on a sensor at your table. That sensor tells the restaurant exactly where you're sitting. Five minutes later, they bring the food to you. Wow. There's also a grocery section at Gourmet 494 in case you want to take some fresh food home.
Tip: Dress your best in Gangnam. Everyone else does.
Here are some additional helpful things to know when visiting Seoul:
Seoul stays up late but doesn't rise early. If you're an early bird looking for breakfast, your choices are limited. Luckily our hotel had a great free breakfast buffet catering to foreign visitors.
Memorize the phrase "kka kka jusaeyo." That's how you ask for a discount. You should always haggle, especially with street vendors. If they're not willing to give you a discount, don't be afraid to walk away. I assure you that someone else is selling the same product, sometimes just a few feet away. I get a thrill even getting as little as 1,000 won (about 85 cents) discounted. The only places where this won't work is at restaurants and major stores and department stores.
The subway system is a great way to get around but be prepared for lots of walking and steps, especially if you're transferring lines. I averaged about 25,000 steps a day in Korea and a lot of those were spent just walking to, from and in subway stations. Cabs are also great and are very cheap especially compared to Hawaii, but be aware of peak traffic times that will lengthen your ride.
There's no need to tip at restaurants. The price you see on the menu is the final price you pay. I love that. That saves you 20 percent each and every time you eat!