Senia's lunch is a sweet deal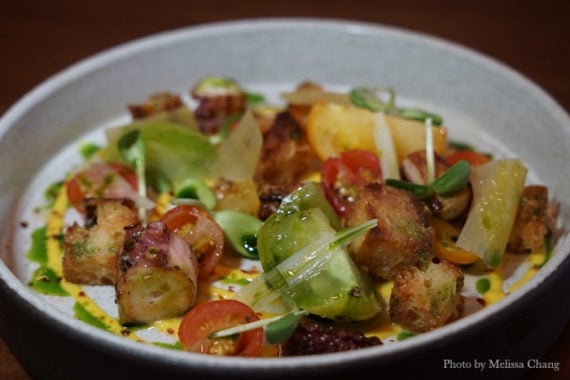 After Senia first opened, it was physically impossible to get a dinner reservation for weeks in advance (I know, I tried). But a month ago, they quietly added lunch service to their program, and that seems to have helped alleviate the pressure on getting a table far in advance.
The best part about it, though, is the price: Just $35 for three courses from a prix fixe menu. You choose from four appetizers, four entrees, and two desserts, all fancied up Senia-style. Some of the items are smaller versions of their dinner counterparts, of course, like the beef tartare, BBQ beets, baby greens, mafaldine (what? more below), and ricotta ravioli. But there are items that are exclusive to lunch, like the porchetta sandwich and ahi burger. And the desserts, oh, the desserts. Save room for dessert.
There's naturally a lot of attention on the two chef-owners, Chris Kajioka and Anthony Rush. But pastry chef Mimi Mendoza has been generating buzz in Honolulu's dining scene with desserts that taste as gorgeous as they look. She was recently named a semifinalist in Eater.com's Young Guns 2017, a national award that recognizes talented individuals in the food industry under 30 years old and with less than five years of experience.
If you're a big eater and want more than the fixed menu offers, there are a few snacks from the dinner menu available: the poke cracker ($3 each), the instagram-worthy chicken liver mousse ($9; extra financiers, $3 each), Kusshi oyster ($3.75 each), and kalua pork & cabbage croquette ($6). But that's it. Don't be That Guy and try to order other things from the dinner menu for lunch, because it's not available.
Here are a couple of things we tried for lunch. Not pictured: the glass of wine we had so there's no proof to show the boss. (Yes, you can get beer, wine and cocktails during the day, too.)
My friend's lunch choices looked like this:
We ordered both desserts and opted for the $2 extra for ice cream with each.
The lunch desserts are nice, but Mendoza's dinner desserts really showcase her talent. If you've already had dinner and tried her creations, you have another reason to go back, as she just rolled out two new ones.
But back to lunch: It's available from 11 a.m. to 2 p.m. Tuesday through Friday, and you can get back to your desk within your lunch hour (assuming you work downtown).
Senia • 75 N. King St. • Chinatown • 200-5412