Second Chance: Herringbone Waikīkī Reopens with a Bounty of Seafood Favorites
Oyster Hour, brunch and signatures including Buffalo Octopus are back with Aoki Group now managing a bigger slice of Honolulu's diverse restaurant scene.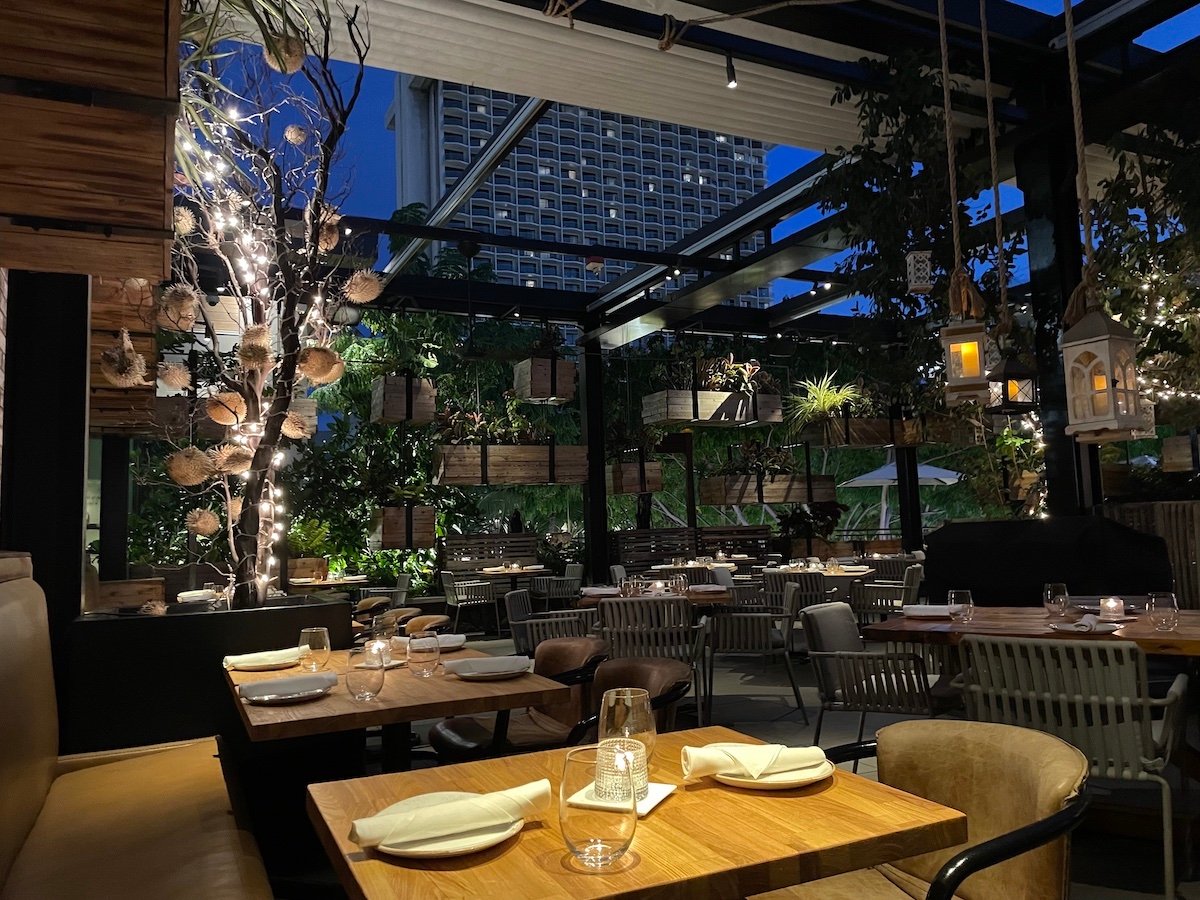 Herringbone Waikīkī reopened its restaurant on the third floor of the International Market Place this week with a familiar West Coast seafood menu with a few twists brought by new management under the growing Aoki Group.
Happily, the bounty of seafood is back. At a preview for media, friends and family, the restaurant featured fresh Stellar Bay oysters, a sweet mild variety that's a little larger than its more common cousin, the West Coast Kusshi. The popular Buffalo Octopus ($23 at dinner, $11 at happy hour) stages a comeback with a flavor profile that made chicken wings famous. The tender tentacles are nestled on black-eyed peas festooned with shaved carrots and an umami-rich anchovy aioli replaces the ranch dressing from before.
At the preview, we receive smaller portions of the food and the drinks to give us a chance to sample more items. Highlights include the yellowtail crudo ($23 at dinner, $15 at happy hour), lightly sauced with a truffle-yuzu vinaigrette as well as a tiny tuna taco with a ponzu aioli ($21). The smoked trout Caesar salad is a sleeper hit with a scattering of trout roe lending crunchy, briny pops with a classic crouton that begs to be dipped into the soft-cooked egg ($19).
With our appetizers, we sample three light and fruity drinks resurrected under bar supervisor Justin Lipsky at $16 each. The Better Mules & Gardens, a summery riff on a mule with strawberry and rhubarb mixing with vodka, lime and ginger beer; a rosemary grapefruit margarita (my favorite of these three) and a liliko'i mojito.
Happy hour is dubbed Oyster Hour from 4 to 6 p.m. daily in the bar area. It offers $3 oyster specials as well as other discounted food such as the crudo, comforting furikake fries ($12) and pulehu steak ($15). Then there are $8 drinks that include a Manhattan, white Negroni and a peach daiquiri as well as wine and beer. The oyster deal is a higher-priced nod to inflation but still likely to help bring diners back to the Grand Lānai eatery.
When Hakkasan Group originally opened Herringbone in the summer of 2017, it quickly gained a following among locals as a festive place for friends to pau hana or brunch in an unfussy atmosphere. A few months in, the restaurant weathered a sudden two-day shutdown to quell an outbreak of norovirus that sickened two dozen people and came back stronger than ever. It remained packed with locals and tourists and as a host for events. A year later, the eatery won HONOLULU Magazine's Hale 'Aina award for best new restaurant.
---
SEE ALSO: First Look: Herringbone Waikīkī
---
That staying power drew the interest of third-generation restaurateur Kevin Aoki, the CEO of Aoki Group, who was on hand to steer this week's reopening. Aoki estimates he spends about half of the year in Honolulu and his wife and daughter joined him this week for the preview and opening. He'd been talking to Hakkasan about possibly taking over a restaurant in Las Vegas when he got the call that Herringbone Waikīkī was available. He was impressed that before the pandemic the restaurant was $6 million-a-year operation.
During 20 months of pandemic shutdown, some staffers scattered while others were glad to return to the nautically themed restaurant. "COVID has been a rough time for our company," Aoki says, but also a time of opportunity to change and expand. Aoki brought back executive chef Gary Tamashiro—a Pearl City High grad—who points to new menu items that include: furikake tuna tataki ($23), roasted local kampachi ($38) and Korean fried chicken wings with gochujang fries ($21). A new dessert also offered hints of changes and refinements to come: a light yuzu Japanese-style soufflė cheesecake ($13 ) created by lead pastry cook Masami Komiyama that complemented the seafood-centric menu.
Other Aoki Group restaurants in Honolulu include a mix of style and cuisine: the newer 1938 Indochine and Qing Mu Noodle in Kaka'ako, Rocky Teppanyaki at the Hilton Hawaiian Village, as well as Doraku Sushi & Izakaya and Bluetree Café. Aoki typically helps design his restaurants with longtime friend and architect Chris Smith. The duo spent a lot of time on Indochine to create an inviting open atmosphere with a retro-chic Southeast Asian flair. Doraku Kapolei is planned for opening in March. In Florida, there's another Doraku Sushi & Izakaya and Aoki Teppanyaki & Izakaya.
Aoki's father, Hiroaki "Rocky" Aoki is world-famous as a boxer and the colorful tycoon who founded the theatrical Benihana chain of restaurants; his grandfather, Yunosuke Aoki, also ran a restaurant in Japan.
---
SEE ALSO: Exclusive: Steve Aoki on His Epic DJ Life and Big Plans to Expand Bluetree Café
---
A week before weekend brunch was to return, Aoki says reservations are already filling up.
Keeping the favorites from early Herringbone may prove an effective strategy to lure back the regulars and create good welcome-back buzz while the restaurant finds a new rhythm. An Aoki Group tagline reads "Respect for the past, celebration of the present." It's apparent that this generation of Aoki sees value in preserving what's worked while designing a new future.
Open Sun.–Thu., 4–10 p.m., Fri.–Sat., 10:30 a.m.–2:30 p.m. 4–11 p.m. 2330 Kalākaua Ave., (808) 797-2435, herringboneeats.com, @herringbonewaikiki