Search Hawaii on Block Island: Foraging, part 1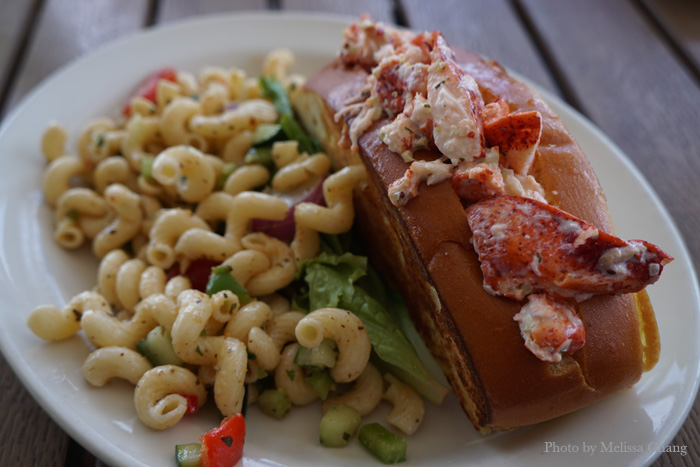 We started our first full day on Block Island watching the Hōkūle'a crew perform their traditional protocol ceremony, where they ask the native people of the area permission for entry.
This isn't going to be part of the Search Hawaii show, but I went to watch anyway, since it was a significant (and rare) cultural exchange for the people of this area. Remember, this is the same region where the harbor police tagged the Hōkūle'a "refugees from a country of unknown origin."
Interestingly enough, although the Narragansett tribe has had struggles similar to the native Hawaiians, I don't think they understood the magnitude of this worldwide voyage or the protocol ceremony. (That's just my opinion based on watching from the side.) They sent one representative, who was completely blown away by the chant, the explanation and the feather kahili gift — he had also brought a gift for the Hōkūle'a, but he said that it was so different for the tribe because no one had ever asked permission to enter their port before.
Before heading out for another day of filming, Mike Lofaro suggested we eat at a restaurant called The Beachhead. It's right across from the beach, naturally.
If you like raw oysters, the East Coast is a great place to taste species that we'll never get to see outside of specific regions. I found that on Block Island, the oysters tended to not be very salty, but very clean and a little sweet.
Clam strips are a big thing on the East Coast! They remove the bellies and simply fry the rest of them, and it is a lot like eating fried calamari.
Clams casino are fresh local littlenecks with garlic butter and applewood smoked bacon. Need I say more?
Grilled asparagus with feta, to add a healthy touch to our lunch.
The truffle cheese fries were a bit of a disappointment, as they were just regular fries (not that crispy) and not very truffly … and as you can see, not very cheesy, either. I'd save the stomach space and order something else.
After having the McDonald's lobster roll, I had to show Will Chen that I would also eat a proper lobster roll, as well. These are $23 and can be ordered hot (tossed with butter) or cold (tossed with mayonnaise). They don't drown the lobster in oil or seasoning so you can taste the quality of the meat. Yes, Will, these were a far cry from McDonald's.
The Beachhead
596 Corn Neck Rd.
401-466-2249
First stop: Meeting up with Kirk Littlefield, shown above with Mike. I need to tell you, Kirk is THE MAN. He's running a few businesses on Block Island, including supplying propane, turkeys, meats, and more. He also has one of the only mailboxes in town. More than that, he's got a big personality. He's like a big brother to Mike, and everyone on the island knows him. And, now we know him.
He donated a whole cooler full of his venison sausage for the big clambake we were about to have.
Like the deer in Hawaii, Block Island's deer population has gotten to a point where it needs to be controlled, or they destroy the environment around them. There are a few avid hunters on Block Island, and Kirk is probably the most active of them.
He makes a wide variety of venison sausage, using different spices. We tried some in his basement, and couldn't stop eating it! The sausage wasn't dry or gamey, and the mix of spices was well-balanced.
He currently has two pigs, Pancetta and Prosciutto. You can guess what the plans are for them!
Turkey chicks, above, will be the perfect size when Thanksgiving rolls around. Kirk showed us this portable cage for when they get older — they move the cage to different parts of the property so the turkey poop is spread evenly as fertilizer.
Kirk also has a wide variety of produce growing in his backyard, so Mike dug up some fresh horseradish to use for the clambake.
When we were done filming at Kirk's farm, we headed down to the beach to gather kelp for the clambake. It was the first time any of us Hawaii folks had done it, so Mike taught Nainoa Thompson on camera. You need a lot of kelp to lay over the food that goes into the clambake pit, to provide weight and steam. I think we gathered about 50 pounds on this day, but Mike said he'd be getting more.
After a long day of shooting in the sun, we were ready for an early dinner! We met up with the Hōkūle'a crew at a town favorite, Aldo's. The family that owns the restaurant is close to the Lofaros, and were so hospitable.
The pepperoni bread ($11.99/15.99) was a hit! Stuffed with pepperoni and cheese, this is the perfect starter for a hungry crowd.
Mussels ($12.99) are big on the East Coast. We ordered both red and white sauce, and each had its own distinct fan base. Honestly, I liked them both. Maybe if I go back, I'll have a stronger opinion, but I was more enamored with the plump, pillowy mussels.
Here's a look at a few of the things we ate. I couldn't shoot everyone's food, of course, but everything we had was really good.
Baked brie wrapped in prosciutto, $14.99.
Eggplan parmesan, always a favorite.
Pasta puttanesca, $19.99.
Seafood pesto, $24.99 — with fresh scallops and shrimp with a pesto cream sauce. This wasn't too heavy, despite the way it looks.
Aldo's Restaurant
130 Chapel St.
401-466-5871
Up next: Dining at The Oar and clamming on the shore!
Mahalo to our sponsors Hawaiian Airlines, Grand Wailea, Ulupono Initiative, Bank of Hawaii, and KHON! To see all photos from this trip, click here.