Search Hawaii on Block Island: clamming lessons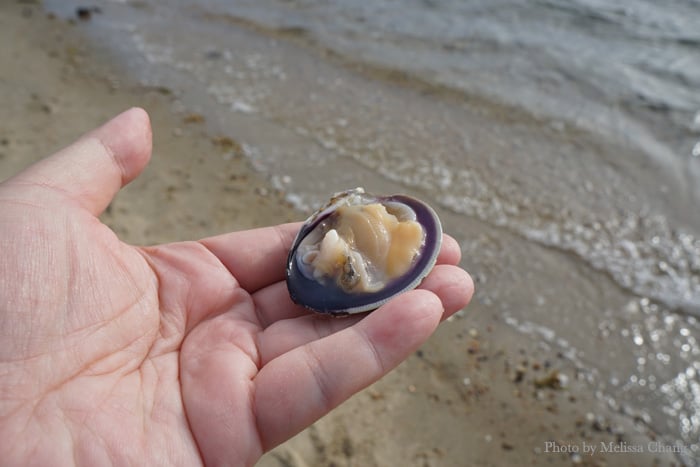 As mentioned when we first landed on Block Island, The Oar is one of the most popular places to hang out, night or day. It's right on the water overlooking the boat slips, so you get a lovely view from almost every table. The entire place is decorated with people's oars.
Can't go wrong with peel 'n' eat shrimp! Unless you don't like to peel them. I didn't mind.
The lobster club sandwich seems to be the popular item here for lunch. Lobster and bacon? Of course!
I had a lobster grilled cheese sandwich, which comes with your choice of cheese. I loved the simplicity of this.
If you want something easy to eat, the grilled scallops are a good New England choice.
And for the kids in your group, you can't go wrong with soft tacos!
The Oar is also known for their mudslides, which are strong. Most people like to get them with some ice cream, to make them more dessert-like, but that's up to you.
They also serve "shushi" and "saki" — hey, there's no Japanese people here! — but that's another story for another day.
The Oar
221 Jobs Hill Rd.
401-466-8820
From there, it was time to go clamming! This will be in a future episode of Search Hawaii TV.
With clam rakes in hand, the Hōkūle'a crew headed down to the shore to learn the art of clamming. Kirk Littlefield — the man! — taught them the basics:
At the end of the video, Kirk is talking about the minimum size allowed for harvest. Quahogs (pronounced "co-hogs") have to be at least one inch thick, and bay clams have to be at least two inches in diameter. This is to ensure you don't take clams that are too young.
Off we went into the cold Atlantic. You can often find clams close to shore, which is why capri pants are also called "clam diggers." Tip: Use tabis when you go clamming. Bare feet might get cut on the large shell shards, but wearing slippers doesn't help, either — the unique terrain is a lot like cobblestones underwater.
On this day, though, the rakes were coming up with a lot of rocks and shells, so they had to go out much farther.
It took a while, but they finally brought some clams in. Although clams don't swim away, looking for them was harder than we expected! Mike, being a quick Block Island boy, got busy shucking them for us to try, fresh.
I've had raw clams before, but never this fresh. These were slightly salty from the ocean, but the flesh was sweet and clean.
Some of the guys, like Junior Rex Lokeni, put tabasco on the clams, which was good — I usually like my bivalves with some spicy sauce, but this time, the clams were so incredible plain, I preferred to eat them au natural. Kirk missed his bite of clam!
You can see more about the clamming when the episode airs in September. That was actually a pretty long day in the sun, so if you go, be sure to wear lots of sunscreen.
For dinner, we headed to another popular sports bar, the Poor People's Pub. Their signs say "nothing fancy, just good food," But they do have some creative dishes as specials, way beyond the pizzas.
Yvonne wasn't very hungry, so she just had pretzels and beer — which was perfect snacking for watching the NBA playoffs.
The chalkboard specials were actually pretty outrageous compared to the regular menu. The chargrilled filet mignon with chimichurri sauce, yuca mash and grilled corn relish is definitely not in the "nothing fancy" category! It was so good, too — meaty, smoky, and savory, with the kick of spice and sweetness.
If I had seen this blobby photo of the bluefish before, I probably wouldn't have ordered it. How unphotogenic! That's why they always say not to judge a book by its color, right? I don't know how they decided to smoke pistachio nuts and take horseradish to crust the bluefish, but it was incredible (and not that spicy). The roasted rosemary and garlic red bliss potatoes with garlicky arugula and citron blanc helped to round out all of the flavors on the plate. Genius.
I didn't try the grilled swordfish with chive mashed potatoes, grilled asparagus, and mustard crema, but John Charles Biegel devoured this in seconds. So I think that means it was good!
Poor People's Pub
33 Ocean Ave.
401-466-8533
Up next: The big clambake!
Mahalo to our sponsors Hawaiian Airlines, Grand Wailea, Ulupono Initiative, Bank of Hawaii, and KHON! To see all photos from this trip, click here.