Search Hawaii in New York: Getting to Block Island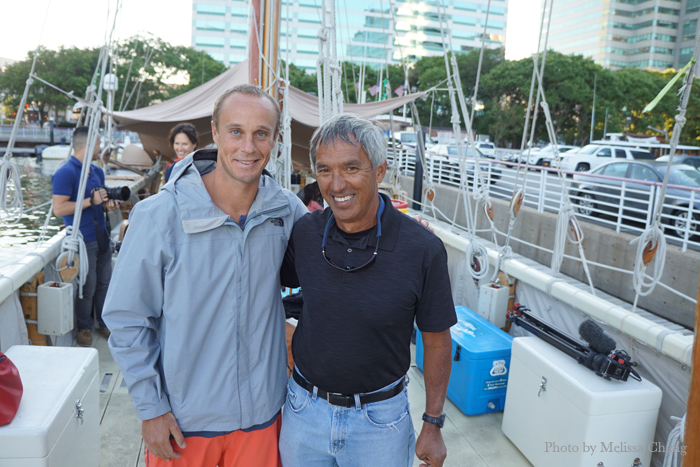 It was great timing to have the Hōkūlea sailing up and down the North American East Coast while our Search Hawaii TV crew was filming for the summer. Chef Mike Lofaro, one of the stars of the show, is from Block Island and could take them (and us) fishing, foraging and hunting on his home turf.
Mike is also a waterman, so he had the experience and skill to sail on the famous Hōkūle'a. He was stoked not just to be cooking for the crew, but to be a working member on this iconic canoe as it sailed to Block Island to bring him home.
The day the Hōkūle'a left, we went out there via their escort boat and loaded it up with food and supplies. They actually left a little earlier than planned, since the weather was nice.
"When nature says you gotta go, you gotta go," Nainoa Thompson told the crew as they introduced everyone on board and said a prayer. Here's a quick look around:
Other than solar panels for power, the canoe has no real technology. Unlike other modern sailing vessels, there are no motors; everything is done manually. So when they are sailing from port to port, the crew is constantly working, constantly active, and constantly focused on their jobs — there are no passengers on the Hōkūle'a.
This is the kitchen, above. It's not even two coolers! The second container is for storage.
The Solar Impulse crew paid a visit, which was fitting as both the plane and the canoe share similar missions in navigation.
They had a nice send off from the Hawaii expats living in New York, too! Twenty-five years ago, I learned that every year on the second Saturday in June, all the Hawaii expats in New York get together for a huge potluck picnic in Central Park. This year, due to the Hōkūle'a's departure, they moved the picnic to Governors Island so everyone could say goodbye. (I got caught in traffic and couldn't make it there in time, but you can see our video from the Hōkūle'a, here.)
Mike got to steer the Hōkūle'a for a bit under supervision from famous waterman, Archie Kalepa.
At dinner time, Mike busted out the ingredients that he had gathered in New York, to cook for the crew.
You'll get to see clips of their overnight sail from New York to Block Island on the show, which I understand went pretty smoothly. During the night, the Barrington harbor police — who didn't know about the Hōkūle'a and didn't recognize the Hawaiian flag — tagged them as "refugees from a country of unknown origin." When they asked if they were in trouble, the harbor police said no, but instructed them to check in at customs at their intended port.
It seems so ridiculous to think that the harbor personnel was not informed about the Hōkūle'a's worldwide voyage, but the crew didn't mind. As they told the rest of the crew the story, they turned to each other and laughed, "What happened? Did we get our sovereignty back last night?"
While the guys were sailing up the coast, our show producers Kathy Muneno and Yvonne Biegel piled me and their kids into their land canoes (vans) and we took a four-hour drive up from New York to Rhode Island. I don't have a lot of photos to show from it, but we did learn a few things.
When you think of the East Coast, you think of New York, Boston, and Washington, D.C., right? We expected the entire coast to be more populated and city-like, but were surprised to find that it's very rural. There are a lot of farms and a lot of open space between residences out there, and real estate is generally pretty cheap compared to Hawaii.
As you drive along, there are rest stops everywhere and on both sides of the highway. Just as there are Starbucks on almost every corner in the urban jungle, out on the highway the rest stops look alike, with a Mobil gas station, restrooms and a dining cluster comprised of Subway, Dunkin Donuts and McDonald's. I regret not keeping count, but let me tell you: I've never seen so many Dunkin Donut locations in my life!
We had to make a stop at one of these to see what they looked like. The rest stops are really clean and bright, not the dirty, dingy shacks that I had imagined. And while we have taro pie or spam, New England McDonald's offers lobster rolls. (Will Chen, who's from Boston, kept saying these things are not good, but for the price and novelty for Hawaii folks, I say they are worth a try.)
Our long drive to Rhode Island took us to a port called Point Judith, where they run high-speed passenger ferries and these super ferries to Block Island all day. Note, you do need to make a reservation and need a ticket for all passengers. Check in is one hour in advance, but if you let them know you're running late, you can check in pretty much all the way up until the ferry departs, as long as you load your car on time.
I was always an advocate for the Super Ferry, so it was fascinating to see what kinds of vehicles they loaded on.
I was also fascinated with the passengers, especially those with pets, who just took the one-hour ride with ease. You know you couldn't be this relaxed on a plane.
They also have snack bars on board, where you can even get beer! I got a hot dog and a soda made with blackberries from Block Island.
Once we landed, we simply drove off and out to the yacht harbor. Everything is close on Block Island; it's only the size of Kihei, at seven miles by three miles.
There is one place at the yacht harbor, where everyone gathers: The Oar. Be sure to get a mudslide or two, as they are famous for them! More on The Oar later.
The Hōkūle'a gently sailing in to Block Island. Unlike the people at Barrington, people here knew about its arrival, and it was quite a big deal. Here's the video I posted to Search Hawaii TV's Facebook.
So many happy faces upon arrival, including our Search Hawaii TV crew — now counting themselves as Hōkūle'a crew! From left, sound man Scott Culbertson, chef Mike Lofaro, captain Nainoa Thompson and cameraman Bill Paris.
I need to post some of my photos from the dock here, as the sky was outrageously photogenic while we were there.
We all found Block Island to be exceptionally cute and the New England style of homes is so different from Hawaii. I'd probably go back one day for a real vacation, just to explore and relax.
Up next: Our first (long) day on Block Island, filming venison sausage, gathering kelp and dining with the Hōkūle'a crew!
Mahalo to our sponsors Hawaiian Airlines, Grand Wailea, Ulupono Initiative, Bank of Hawaii, and KHON! To see all photos from this trip, click here.