Search Hawaii in New York: eating and foraging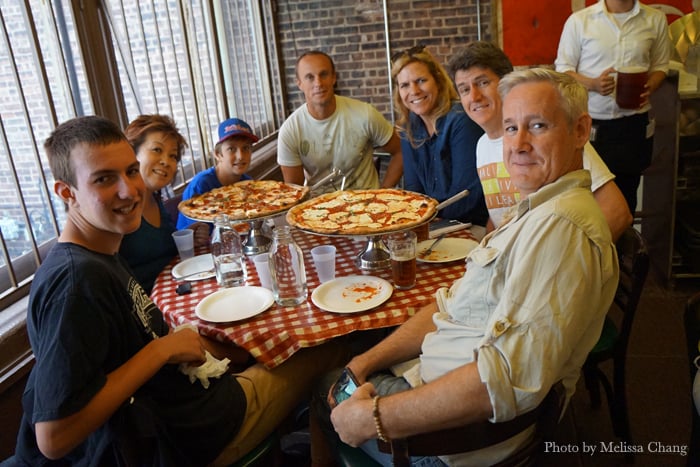 In addition to hunting and fishing, the stars of Search Hawaii TV also forage in the wilderness to find what's seasonal and local in the area. But we were in New York. Where does one forage in the urban jungle?
Believe it or not, Central Park is an amazing place, full of edible delights — if you can find them. And, gathering them responsibly is just as important. We met up with Wildman Steve Brill, who does foraging tours in New York City's parks in an effort to teach people about nature, as well as to improve people's eating habits and save them from heart disease and other ills. A one-time omnivore, the Wildman is now a vegan and has figured out how to make delicious things using the plants he finds.
I'd recommend downloading his app, though, as it serves as a guide to the wilderness. It's handy on his tour and at home, so you can figure out what's edible (or not) and how these plants work in nature.
Make no mistake, The Wildman is quirky, but that's part of his charm, as you will see in the show. He makes learning about plants fun, and children love the sounds he makes and stories he tells.
One would think that all you have in a public park are trees, flowers and bushes, but Central Park is so much more. On our video shoot, he showed us all kinds of things, from gobo (burdock root), to herbs and berries. Below are blackberries (still green), black raspberries, and wild blueberries (almost ripe).
Even Mike, who grew up on the East Coast, had no idea what some of the items were. We were pretty impressed when we smelled and tasted the sarsaparilla, which is used in making root beer.
He let us try some of his snacks and lunch, like gobo jerky, vegan pesto and mustard leaf chips. And they were all really tasty!
But outside of educating us and showing us his work, The Wildman helped Mike gather items that would serve as nourishing accompaniments to the things he would be cooking for the Hōkūle'a crew while at sea. Since The Wildman does a lot of cooking, himself — he has enough recipes to have his own show — he could advise Mike on the best things to take and their flavor profiles.
After a morning of foraging, we were ready to eat. If you're interested in Wildman Steve Brill's tours while in New York, click here.
There's often a debate amongst New York residents and especially tourists: should you eat at Carnegie or Katz's? It's really a subjective question, plus it depends on your proximity to one over the other. Mike took us to Katz's, which is one of his favorites.
When you first get in, the host will hand you a ticket upon which your cutter will mark your order. Since the place has so many people clamoring for food, you need to keep moving and find a place in a line, any line.
Upon getting to the front, your cutter will give you a plate with a sample of meat (corned beef, I think) that you can eat while they make your order. Order quickly! I'm surprised these guys are still so friendly, with the amount of tourists that mob these places.
The sandwiches are so big that Kathy Muneno and I split a pastrami reuben, and that was plenty, even though we were really hungry. Her expression pretty much says it all: We took a bite of that juicy, savory sandwich and it was so wonderful that we each had to take a moment. Note that the sandwiches come with deli pickles and quick pickles (I preferred the quick pickles); fries and drinks are extra.
I had no room to try any other sandwich, but here's what another one might look like if you ordered it.
This was my first time trying matzo ball soup in New York, and suddenly I realized why people refer to "chicken soup for the soul." The chicken soup here was definitely different from any I'd ever had, with a distinctively comforting flavor. The huge matzo ball looks heavy and doughy, but is actually pretty light. It's still a meal in itself. But now I can't have matzo ball soup anywhere else.
Katz's Delicatessen
205 East Houston St.
1-800-4HOTDOG
Another full day of filming took us to Little Italy, where Mike's father grew up. You may have heard of Mulberry Street, the famous street that was once the hub of Italian life in New York. St. Patrick's church is also in this area, which is the church that Leonardo DiCaprio defended in "Gangs of New York."
Mike found the building and showed us the apartment that his family grew up in. He recalled his childhood visiting here, with his great aunt talking about his father and how "that De Niro boy was always coming over." Yes, that De Niro boy … Martin Scorsese went to school with Mike's aunt.
We grabbed a bite at the neighborhood's Lombardi's, which is America's first pizzeria. The city doesn't allow coal-burning ovens like this anymore, but Lombardi's has one because they're so old, it was grandfathered in.
Lombardi's has thin, crispy-crust pizza, the way you always hear New York pizzas should be. Mike explained that, having grown up with this kind of crust, there's no other way for him to eat a pizza.
By the way, there's usually a long line to get in, so try to go at an off hour to minimize your wait time.
Lombardi's Pizza
32 Spring St.
212-941-7994
To be honest, there's not a lot left of Little Italy. Like many immigrant hubs across America, as the communities grow up and move out, new populations of immigrants move in. The area is about one-fifth the size it once was and is now overshadowed by Chinatown.
Some spots, like Lombardi's remain. Another mainstay is Ferrara Bakery, which is known for their Italian pastries. One of the best sellers, of course, is their cannoli, a crunchy tubular shell filled with ricotta cheese and chocolate chips. They can't premake too many at a time as the ricotta will make the shell soggy, and upon serving, they dust them with powdered sugar.

Yvonne and Chas eating their cannoli on the street. Bring a bib!
Ferrara Bakery
195 Grand St.
212-226-6150
You can learn more about cannoli when Mike describes it on the show.
With all of the food gathered, Mike was ready to board the Hōkūle'a and sail home to Block Island. The Search Hawaii crew got some free time and took in a baseball game, while I took myself to dinner at Noreetuh. You'll see this in a later blog.
Up next: Meeting the Hōkūle'a crew and getting to Block Island!
Mahalo to our sponsors Hawaiian Airlines, Grand Wailea, Ulupono Initiative, Bank of Hawaii, and KHON! To see all photos from this trip, click here.