Search Hawaii in Block Island: the big clambake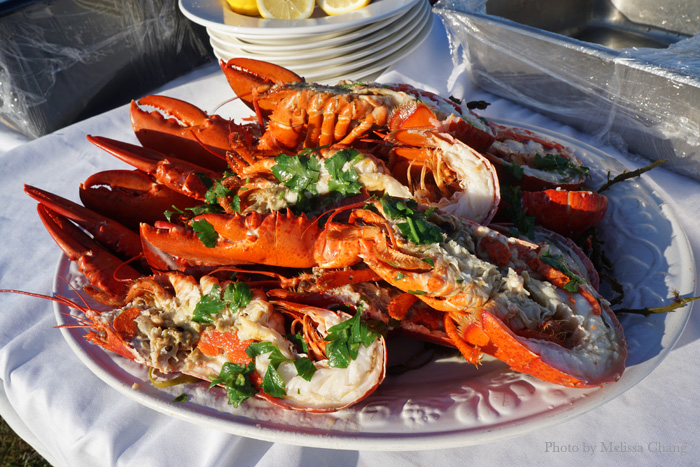 The visit to Block Island with Search Hawaii TV documented chef Mike Lofaro's trip home aboard the Hōkūle'a, with him fishing and foraging in preparation for a big clambake for the community. Block Island is the size of Kihei on Maui, so everyone knows each other and everyone knows about Mike's television show. It was a pretty huge deal.
But first, breakfast. If you are lucky enough to get a room at 1611 Inn, they have a lovely buffet breakfast with a view every morning. The buffet theme changes daily, and you can get your eggs made to order. Rita, who is a friend of the Lofaros, hosted us and the Hōkūle'a crew. You'll find her wandering the lanai, offering flowers to guests.
If I plan early, I can probably get a room at the 1611! This place is so popular, it's usually sold out.
From there, we headed out to Adrian Mitchell's farm, where the big clambake was going to take place. They had dug a pit and had started loading the wood and rocks in for baking.
Clambake pits are an American Indian concept, much like an imu. Once you get the fire going to heat the rocks, you can lower the food in to cook — seafood is faster than kalua pig, of course.
Mike helping Kirk Littlefield measure the proper length of the food "basket." (I think it's officially one body length.)
And from there, they fashioned the basket, lowered the food in and layered it with kelp. You can see the rest of the process on this future episode, so I stopped shooting and we took a break for lunch.
Christina at Aldo's greeted us and made us some fresh sandwiches!
After a couple of hours, we headed back to the farm for the big event.
Getting the food out of the imu. I mean the clambake pit. See how the kelp is under and on top of the basket? It provides moisture to help steam the foods.
Surveying the remains. See the woman, second from the right? She's the only other Chinese person on Block Island. Her husband, Herman, can speak better Mandarin than I can! (Which isn't saying much.)
The scene was something right out of Martha Stewart Living.
They brought Block Island Oysters to the clambake, which were clean, sweet, and slightly briny. Mike made his special mignonette for this, which was outstanding — delicately tart, bringing out the oyster flavor instead of masking it. Now that I've had Mike's mignonette, I often choke when I have it at other restaurants.
It was so cute that they had sushi and poke for us! Well, it was for everyone, but the Hawaii people definitely whacked these plates. Kimberly's catered food to supplement the items Mike cooked, and they did an amazing job.
Every table got a platter of lobster, plus a traditional bag of accompaniments: corn, mussels, clams, potatoes and Kirk's venison sausage. I asked a longtime local, "Is this what a typical clambake is like?" And he laughed, "NO. This is fancier."
Adrian Mitchell, who offered his farm for the clambake. His ancestors were Block, for which the island is named. He got a coveted piece of rhubarb pie for dessert!
At one point, he turned to me and noted that he didn't have a seat at the party. Neither did I. Or Rita! So Kimberly helped us pull up a lobster tray, made our own table, and we started feasting.
"It's okay, this is how we locals do it!" Rita laughed. And you know what? I think it tasted way better eating it this way.
It wouldn't be a Frolic post without some party pics at the party! You'll see more in the episode when it airs.
Mike and his parents, Michael Sr. and Anna Lofaro. Mahalo to you and your friends for making everything happen!
Up next: Block Island bites — miscellaneous places we liked!
Mahalo to our sponsors Hawaiian Airlines, Grand Wailea, Ulupono Initiative, Bank of Hawaii, and KHON! To see all photos from this trip, click here.