Scoops: Shirokiya ramen fest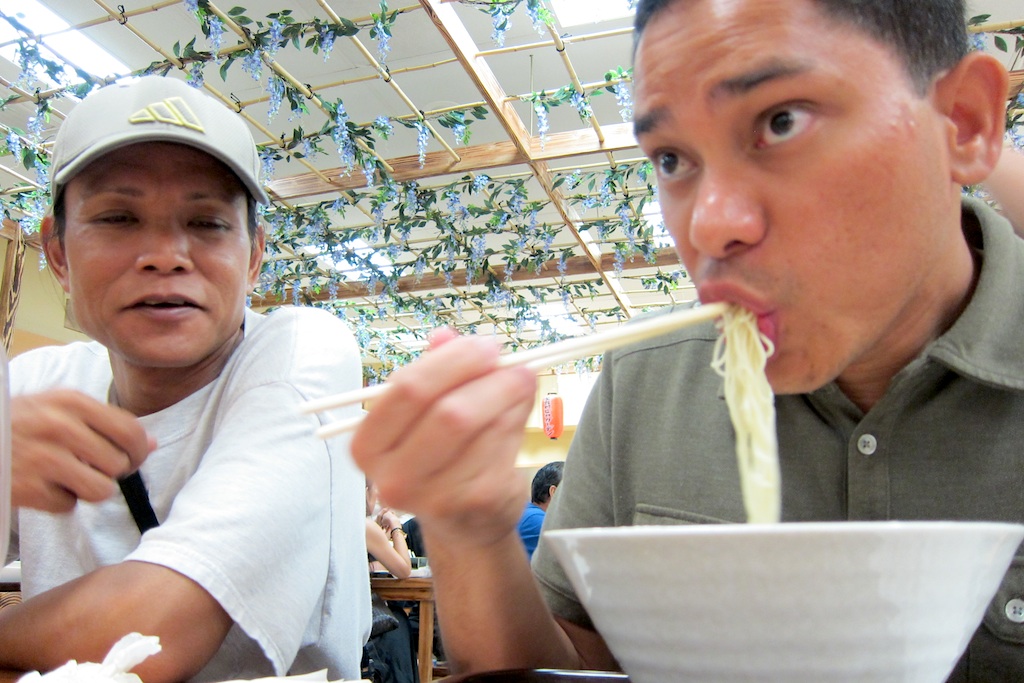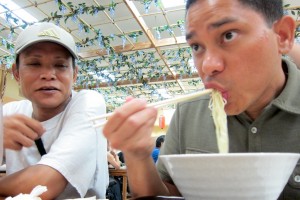 Seriously, have you been to Shirokiya lately? I was late to the ongoing ramen festival, finally getting there for a mid-September tweetup, and whoa! On a Wednesday night the entire second floor was packed, every seat taken and many tables holding pitchers of beer and glasses of wine from Yataimura's beer garden. And this was at 6:30 — a manager told me traffic wouldn't peak until 8 or 9.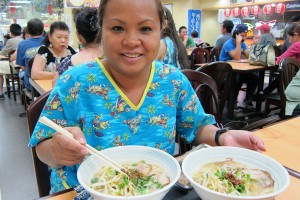 This was after weeks of being asked if I'd tried the new ramen at Shirokiya, of being Twitpicked photos of various bowls, of being told that one ramen shop's akaton neginegi (red tonkotsu with extra green onions) was a 9 out of 10, that the next shop's was even better, and that people were going back repeatedly.
I'm as excited about ramen as anyone. Three of my eight lunches and dinners in Osaka in July were bowls of ramen. I read the ramen issue of David Chang's Lucky Peach cover to cover. I know ramen is booming in Japan, that flavors are evolving and often being layered on top of each other for richer, more complex broths.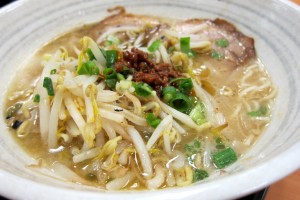 So two weeks later I was back at Shirokiya with my video camera. I had a lot of questions. Here's what I found out:
What's going on? Shirokiya has teamed up with Japan's Ramen Association and Hawaii's Sun Noodle to cycle different ramen shops from Japan through Yataimura — for longer than you think (see video).
Why? Aside from the obvious promotional purposes, shops that sell well may be looking at opening in Hawaii.
Why do the toppings look the same? It's all in the broth. It's not the toppings, or the noodles, which are mostly Sun Noodle creations. What each ramen shop brings is its own special broths. Some will also feature gyoza or rice bowls.
Who's coming? Japan's bigger, more famous ramen shops, not the 10-seat gourmet shops you may have read about. Think Hakata Daruma, Hide-chan Ramen (founded by the son of Hakata Daruma) and Ippudo (later).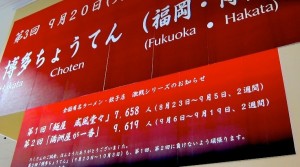 This is the running tally. Shirokiya tracks sales of bowls of ramen, so you can see the first shop, Ifudodo, sold 7,658 bowls in 14 days, and the second, Manshuya ga Ichiban, sold 9,619. Since the fourth shop debuts Oct. 4, sales for Hakata Chouten should be posted soon. The line at the bottom reads, "No. 3 Hakata Chouten will do its best not to lose to Nos. 1 and 2."
Now for a closer look at the ramen festival. The only people available spoke Japanese, so please bear with the subtitles.