School Lockdowns: A Parent's Perspective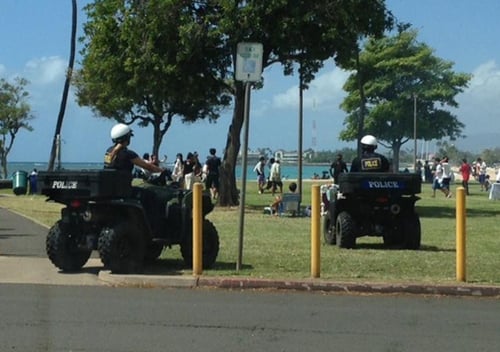 Police search for the suspect at Ala Moana Beach Park Wednesday. Photo: Hawaii News Now
By now we've all heard about yesterday's situation with the escaped murder suspect in downtown Honolulu. Thankfully, he was caught last night, and nobody was injured. But it sure gave some of us parents in the HONOLULU Family office a scare, due to the 20-plus school lockdowns.
My son attends one of the preschools that was on lockdown. While I was nervous, I wasn't panicked – I appreciated that they went on voluntary lockdown and I felt relatively assured of the children's safety. But what did bother me was that I didn't receive any kind of notification from the school. Like several other parents I chatted with, I found out about the lockdown from a news link on Facebook.
I love my son's preschool, and I felt relatively secure knowing he was safe. I understand that the children's safety is their number one priority. I knew they were busy making their own calls, taking their own precautions, and notifying the news. BUT – couldn't they have an emergency email list? An update on their website? A recorded voice mail, or a good old-fashioned phone tree, even? I just would have liked some sort of communication directly to the parents.
A friend of mine who has a child in one of the other locked-down preschools also said she didn't receive any notice. When she tried to call, no one answered. She had no idea whether she could pick up her son or not. However, another mom I spoke with was getting calls all day from her children's two schools.
I was able to call my son's school, and they explained they normally only alert parents if the school is being evacuated. I expressed my concerns that in the future, parents should be notified of these kinds of emergencies. The director assured me it would be brought up in their next meeting, and expressed her own concerns that the school had not even been properly informed by officials. It just made me question, how are these procedures not in place?
But as a parent, I'm just as guilty of not being prepared – I've never asked the school what their procedure was, and I honestly never thought much about it until yesterday. In fact, as we were chatting around the HONOLULU Family office, most of the moms weren't aware of their children's schools emergency communication plans, either. It was a wake-up call for me to be more aware and informed, and more actively involved in my children's schools' preparedness.
HONOLULU Family also wants to hear from you. We'll be covering this topic in our summer issue. What did your child's school do? What did your family do? Do you know what to expect if your child's school goes into lockdown? Please share your thoughts with us at info@honolulufamily.com.