Scenes from Kung Fu Theatre in Kaka'ako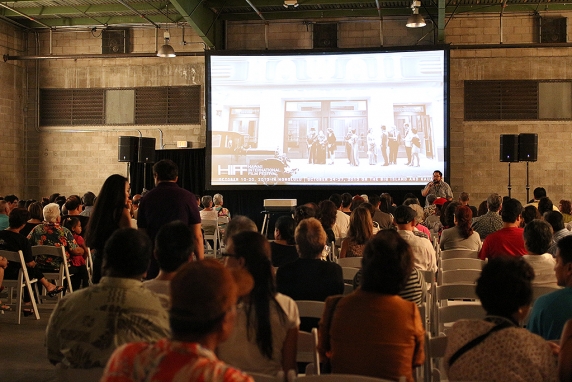 A sold-out crowd flocked to Kaka`ako for Kung Fu Theatre, a pop-up cinema event presented by the Hawaii International Film Festival and Our Kaka`ako. The Warehouse venue on Cooke and Pohukaina streets provided the perfect grind-house setting for the showing of the martial arts classic, "The Avenging Eagle," from the legendary Shaw Brothers studios.
I loved having the opportunity to not only watch this great film on a big screen, but also to share the experience with fellow kung fu aficionados, all of us together generating a palpable energy as we watched in awe of the amazingly exquisite choreography and martial arts mayhem. Three short films, "I Got Robots," "Requiem for Romance" and "The Dressmaker's Daughter" warmed the audience up before the kung fu classic.
The entire evening was a fun and casual atmosphere, including delicious food provided by vendors such as Pig & the Lady, Regal Bakery, Karai Crab, Primo Popcorn and Hank's Haute Dogs and drink by Bevy Bar. I can't wait for the next opportunity to party like this again.