Scaled Back Capitol Celebrations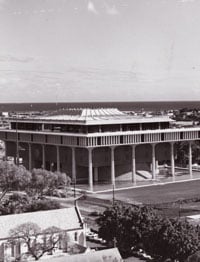 Next Wednesday marks the opening day of the 2010 Legislative session. As you may have seen on the news in years past, or witnessed first hand in the House of Representative's public galley, opening days are full of VIP speakers, presentations, singing and lots of food upstairs. Not so this year.
According to a letter sent out in December by House Speaker Calvin Say and Senate President Colleen Hanabusa, it's straight to business. "There will be no entertainment, no flowers, no festivities or subsequent receptions, as has been tradition in the years past." Instead the opening day will immediately focus on "the most pressing issues facing our state: the economy, education, health care and public safety."
This is the logical thing to do. It also seems Legislators are hoping to set a good example to the public by not putting on an elaborate show for the session's first day. And for good reason. We have been plagued with severe social service budget cuts, Furlough Fridays and increased lay offs. Not exactly a good time to throw a governmental party.
However, that doesn't mean that the hard work of the Capitol's inhabitants should go with out some sort of shindig. The staffers of the Public Access Room will hold a "Cheap Crackers and Rich Conversation" potluck reception. The Public Access Room, in 401, provides computer access, legislative information and workshops free to the public. The potluck is open to anyone—crackers in hand or not—and one can find out what's in order for the 2010 session, how to follow it and how to get involved. "We still wanted to do something for people who follow the [Legislative] session," says Virginia Beck, the assistant public access coordinator.
Parties or not, let's hope the 2010 session is productive.