Sayonara Osaka: Final look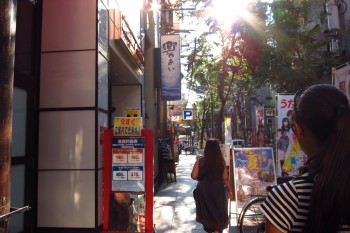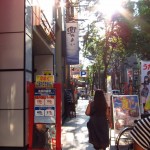 12:05 a.m. Friday in Hawaii = 7:05 p.m. Friday in Japan. The sky over Osaka is dimming; moist heat from the day radiates off the sidewalks and the air is soft. I walk and walk, dodging hawkers, dodging crowds and lines forming outside holes-in-the-wall, looking for new tastes and adventures. In the belly of a city that loves to eat: It's where I'd be now if I could.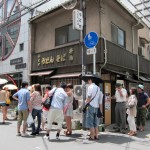 Osaka won me over. Until last week it was worth only layovers and work assignments; now it's under my skin. The people walk faster than anywhere I've been, they eat more, and they're passionate about their food. They'll wait in line an hour under the blistering sun to eat a bowl of udon. It's not uncommon to head out for ramen after dinner – for their "second belly," as they call it. And bless them, these are the people who gave us takoyaki and kushikatsu.
I w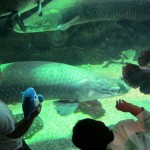 ent solely to eat, and to blog about what I found. I didn't expect the four-day trip to turn so personal. There was the reunion with my old friend Takumi, my next-door neighbor in Vietnam, at his restaurant in Shinsaibashi. There were the Vietnamists, friends of my friend Phuong, who took me to their favorite spots – especially Ogura-san, who spent her entire weekend finding us the best deals, researching my food requests and shepherding us from aquarium to shopping to five different restaurants, and who finally put us on the train to the airport. I was teary when I hugged her good-bye; I still haven't found the words to thank her.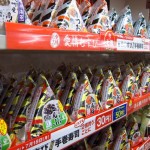 There was my own distant family, too far away to visit down the coast in Hiroshima. I called for a quick hello and found out my great-aunt had just died; this news closed out my trip and came back with me to Hawaii. And then Takumi, 10 years into his restaurant business now, with Phuong part of my forever Vietnam, wanted one last dinner together on my last night after he finished work, and then packed me on his motorbike for a 3 a.m. ride around his beloved city. "That was just like old times," I said. "I knew it would be," he said.
How do you leave a place like that? With very good memories. Delicious memories. And a promise to be back.
Here's Burt's video of the street performer Ayumi
Read and watch the complete Japan eats series:
Konnichiwa Osaka!
First night in the Big O
Osaka eats: First unagi, first sake
Sensory overload in Kyoto
Ichiban oishii: My roundup of fave foods
Disclaimer: Air transportation provided by Hawaiian Airlines