Save the date: Honolulu Biennial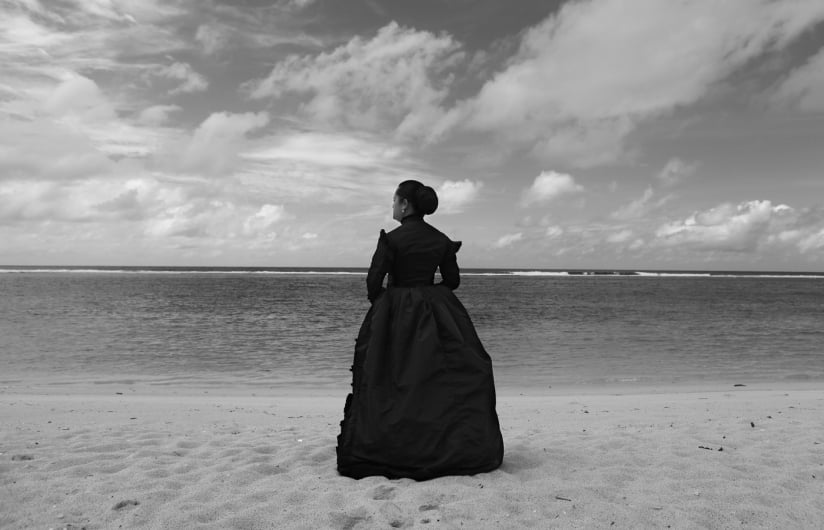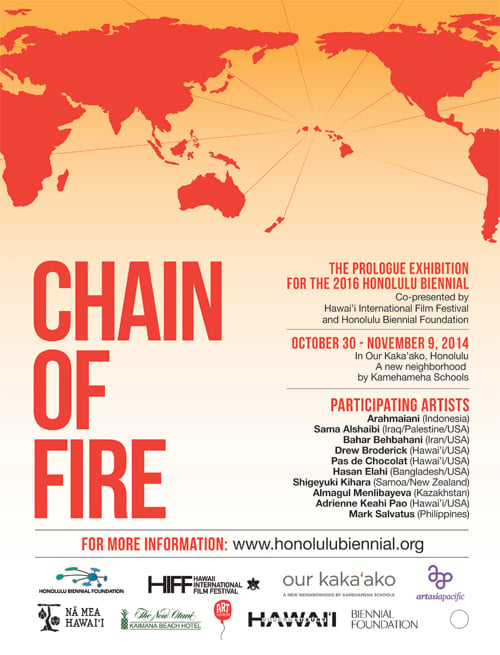 Hawaii soon will join the ranks of New York and London in becoming an international contemporary art center with the debut of the Honolulu Biennial's prologue exhibition, "Chain of Fire," which runs Oct. 30-Nov 9 in Our Kaka'ako.
The event, co-presented by Hawai'i International Film Festival and the Honolulu Biennial Foundation, features a variety of artist talks, panels, workshops, and an exhibition. Here's the lineup of events.
We spoke with Isabella Ellaheh Hughes, who co-founded the Honolulu Biennial Foundation with Dr. Koan Jeff Baysa, after discovering their mutual concern for the lack of awareness of and representation for Hawaii's thriving art scene.
How did you and Dr. Baysa decide to create the Honolulu Biennial Foundation in Hawaii?
Dr. Baysa and I met seven years ago in New York City, both internationally operating curators and art critics from Hawaii. When you're from Hawaii, the minute you meet someone also from Hawaii, there's an innate sense of camaraderie. One thing that was troubling to us is that outside of Hawaii, our local artists aren't very well represented and very little is known about Hawaii in the international contemporary art world as an art center and art scene. We wanted a conceivable way to reposition Honolulu as a leading center for contemporary art and culture in the Pacific. It made sense to us given our history and location at this meeting point between the Asian continent, the Americas and Oceania.
The Honolulu Biennial Foundation is a nonprofit entity committed to serving the community throughout the year through various public programs, cultural exchanges and educational workshops with a particular emphasis on linking art, science and technology. Then every other year, we'll present our signature arts event, the Honolulu Biennial starting in 2016.
What is the thinking behind having the "Chain of Fire" preview exhibition?
The international biennial is a new concept to Hawaii, so we wanted to introduce and unveil the foundation and the idea of the biennial locally. We wanted to make art accessible to people from a variety of ages and backgrounds through our programming. Dr. Baysa and I curated this small prologue exhibition that brings together artists from all over the world — the Philippines, Kazakhstan, Samoa and a wonderful representation of local artists from Hawaii. This exhibitionʻs programming includes artist talks, a public panel, childrenʻs workshop and family tours. This is just a teaser of what we'll be doing as a foundation and also with the full Honolulu Biennial in 2016.
The 2016 Honolulu Biennial will be curated by Fumio Nanjo. How did he become involved?
Mr. Nanjo is the director of the Mori Art Museum in Tokyo, and we're really fortunate to have him curating the biennial. He's curated numerous biennials and triennials around the world and already has a deep connection to Hawaii. In 2011, through the Society of Asian Art of Hawaii, he traveled to Honolulu and was part of a symposium at the Honolulu Museum of Art, where he discussed the idea of an Aloha Biennial, thinking Hawaii would be an ideal place for a biennial. So naturally when Dr. Baysa and I were looking for a very compelling, trail-blazing curator for our first full scale inaugural biennial, Mr. Nanjo made absolute sense.
How are the artists selected for the exhibition?
The artists chosen for the "Chain of Fire" exhibition are all extremely talented and are producing work that is both intellectually and conceptually compelling, but at the same time aesthetically very interesting and beautiful. We also looked at artists who are expanding in many ways the idea of Asia. In Hawaii and even the mainland, when we think about Asia, we tend to think about East Asia and somewhat Southeast Asia, but we're working to expand that to include the entire Asian continent. We selected artists from all across Asia, including Indonesia, Iraq/Palestine, Iran, Bangladesh, Samoa/New Zealand, Kazakhstan, the Philippines and, of course, Hawaii.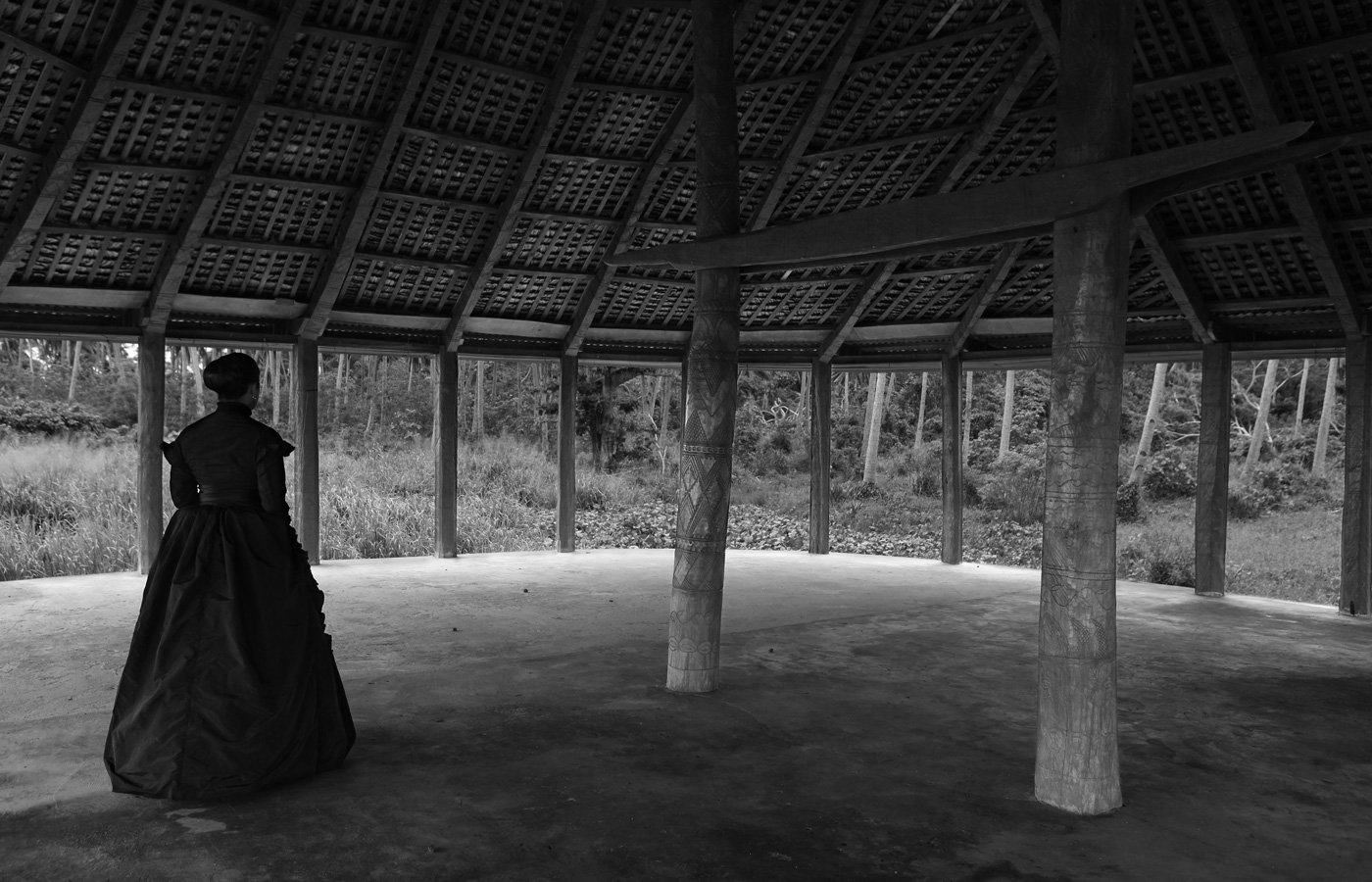 HIFF is a co-presenter of the "Chain of Fire" exhibition. Did you plan to run the exhibition and festival concurrently?
Yes, part of our ongoing goal is to ensure that the biennial will always occur within HIFF opening. One of the exciting reasons behind the biennial is the economic impact of art and cultural tourism and biennials. Honolulu lacks an international major art event as a draw, so we don't pull in that arts and culture audience for a specific event the way people travel for the Sony Open, the Hawaii Food and Wine Festival or the Pro Bowl.
This is an opportunity to really reposition Honolulu as an innovative capital for art and culture targeting cultural tourists through the various crossovers in events with HIFF, the biennial and even Honolulu Fashion Week all spanning from the end of October through early November.