Save big with MacUpdate Bundle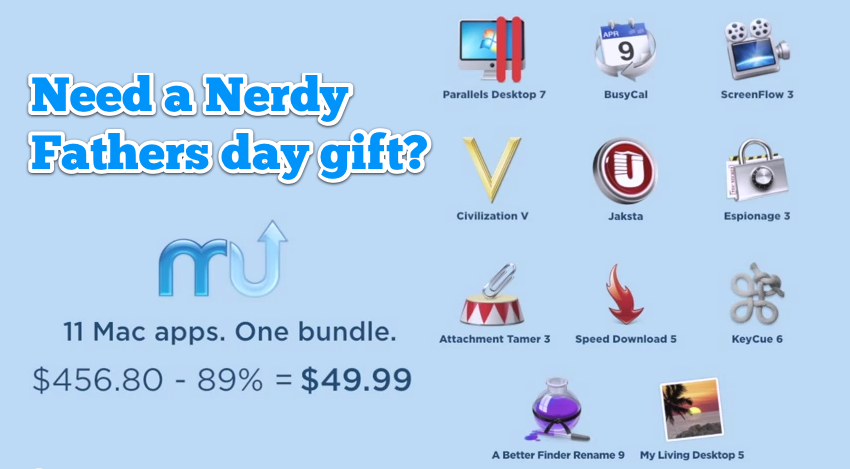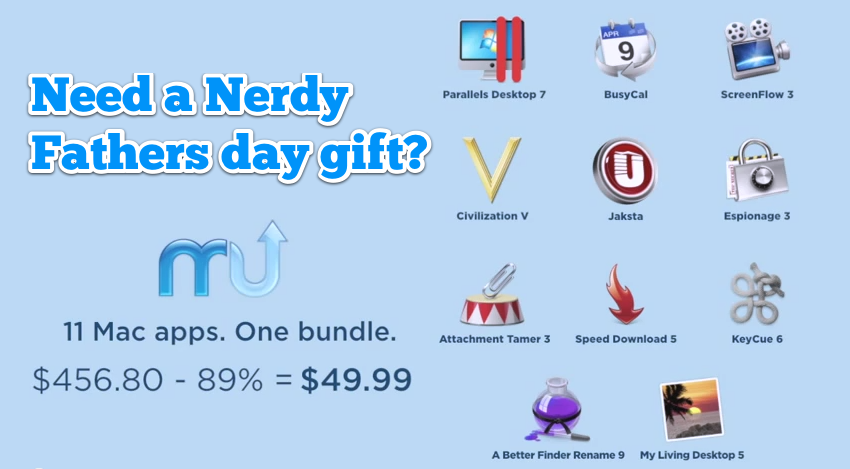 The newest edition of MacUpdate Bundle is amazing, with 11 solid apps for a crazy deal of $49. We're not talking about a bunch of crappy applications with a few decent ones sprinkled in to make it sell. This time, the MacUpdate crew has assembled a solid bundle. I've been using several of these apps for many years, and they rock.
The Rundown
Parallels Desktop $79
Parallels Desktop is the best way to run PC applications on you Mac. I also use this to run Linux Distros like Unbuntu.
Parallels can also virtualize Mac OS X 10.7 Lion, so you can test different things without the risk of jacking up your system. Great for parents with little or curious kids.
BusyCal $49
BusyCal is an awesome calendaring application with some to-do list management. I use BusyCal to manage the proper syncing between iCloud and Google calendars. The syncing is very easy and normally causes no pain, unlike the old MobileMe calendars. It's definitely the prettiest calendar on the Mac.
ScreenFlow 3 $99
This is a no brainer! If you are reading this, then you may have been on one of my many software tutorials on YouTube.
Civilization V $39
I don't really play games anymore, but Civilization V is a legendary turn-based strategy game. I honestly have not play since version III, but who knows. It's part of a sick bundle so look out.
Jacksta $49
Jacksta allows you to download anything media related that your computer can play. Broadcast Video, YouTube, Streaming Content, Audio… whatever.
Espionage 3 $19
A very simple encryption system that make adding document privacy and security easy for anyone. Works well regardless of your backup system and is a great way to lockdown you important files before you store them online or email.
Speed Download 5 $25
Again a tool I've used for so many years I almost forget that I use it. Speed Downloader is a download accelerator and bulk file downloader with killer FTP features and browser integration. What the French Toast does that mean? Well, if you download files, SD will make sure you get a good solid connection. it will look to see if the file is hosted in multiple locations and download the files from everywhere at once speeding up the downloads. If you lose a connection, it will resume the download and actually work… not like the browser.
Attachment Tamer $14
Attachment Tamer is an Apple Mail add-on that simplifies the uses and management of attachments in Mail.
Key Clue $26
Key Clue help you remember the keyboard shortcut keys. Good to learn a program or get faster at ones you already know. Personally, I have not used this as I try really hard to remember as many keyboard shortcuts for all my programs. I can see this as a useful tool, so I cannot wait to try it.
A Better File Renamer $19
Any high-end Mac nerd will tell you that this tool should be built in to the operating system. If you have ever needed to rename say a few picture or a few hundred, there is just no better way. It's very powerful but easy to use.
My Living Desktop $29
OK there is one fluff app, but I think it's kind of cool as it add soothing video scapes to your desktop.
TOTAL VALUE $457
There you have it. Even if you won't use them all, it's hard not to out value the entire bundle just by toting up two or three application.
I'm going to say this is a hot bundle to buy and remember it also makes a great Father's Day gift.