San Francisco: Dinner at Skool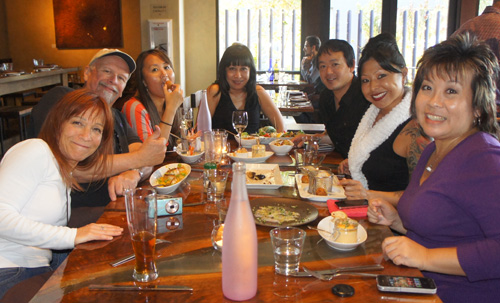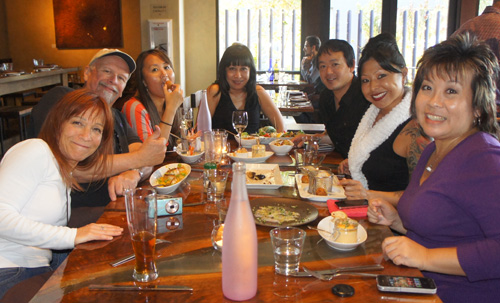 We were looking for a nice but casual place to eat for our night before the Bay to Breakers run, and one of my online friends, Phil Napsha, suggested we go to Skool. If you haven't heard of it, you should — Skool is a hip, eclectic, out-of-the-way spot that will have very few tourists and a lot of good food. The main owners, Toshihiro Nagano and Andy Mirabell, are both from Blowfish Sushi in San Francisco. They know a thing or two about serving Japanese food to über-cool American diners, and we had to try it to see for ourselves.
Phil and his wife Marisa joined us … you see, they're my friends from the Fodors.com online community. Before there were tweet ups, there were GTGs (short for Get ToGethers), where online friends could meet up in real life. The difference is, when Fodors people meet up, it's often in a different city, since we are all travel-minded. If you go to Fodors to participate, look for Phil — his screen name is KalKahuna.
We had a wonderful dinner, as you can see by these photos. I wasn't sure if we would be able to get a table for a group on a busy Saturday night, but Phil pulled some strings and got us in.
Dinner at Skool
Skool
1725 Alameda St.
San Francisco, CA
415-255-8800