Sample the Best and Most Interesting Beers at the Honolulu Brewers Festival
Taste more than 120 beers at the beer festival on Saturday, April 23.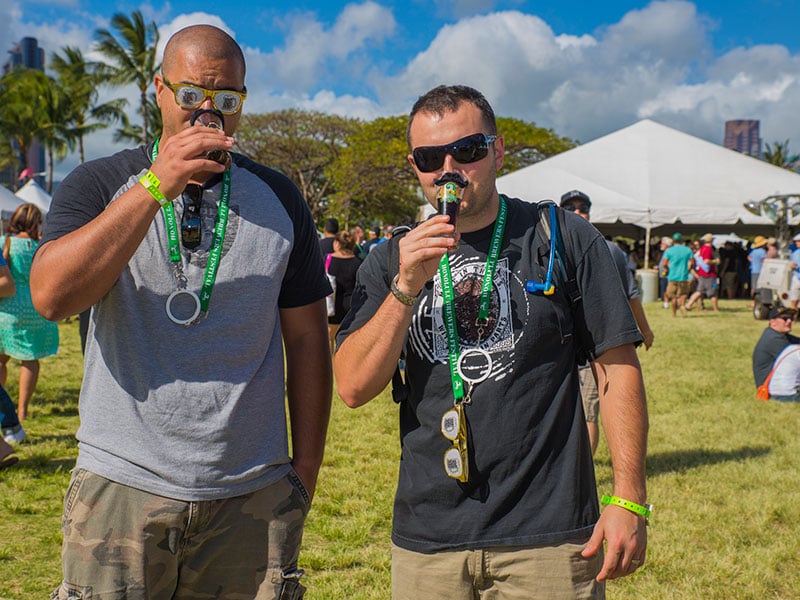 Photos: Kelli Bullock
Whether you're a beer nerd or novice, the Honolulu Brewers Festival —on April 23 this year—is shaping up to be one to mark on the calendar.
Featuring beers from local, Mainland and international breweries, food and live bands, the afternoon event at the Kaka'ako Makai Gateway Park offers something for everyone. Fair warning: Tickets will not be sold at the door and last year the event sold out, so book ahead online or pick up tickets at Real A Gastropub or Brew'd Craft Pub. The $70 tickets include 10 four-ounce beer tastes. The nondrinking designated driver tickets are $25.
You can wing it when you get there but with 120 beers available, it might be best to have a game plan, including sunscreen, reusable water bottle and designated driver. Here's what caught our attention when we browsed through the menu:
Aspiring beer nerds looking for complex flavors will want to check out Maui Brewing Co.'s Black Lava Gose, Lagunitas's Aunt Sally, Rogue Brewing's XS Old Crustacean, or Lanikai Brewing's Saison.
Fruity beers can be serious too. Need to be convinced? Try Green Flash Brewing Co.'s Passion Fruit Kicker Wheat.
Locavores should make a point of dropping by Stewbam and Stonewall's and Home of the Brave Brewing Co., both newcomers to the Island beer scene. More familiar local names will be on hand, too, including Lanikai Brewing Co., Waikīkī Brewing Co. and Maui Brewing Co.
If the idea of drinking in the afternoon sun has you wilting, focus on lower-alcohol options, such as Big Island Brewhaus's Monk's Brunch or Ballast Point's Mango Even Keel.
If beer's not your thing, there are a few ciders to choose from too, from Two Town Ciderhouse and Square Mile Cider Co.
And don't forget the food roster, which features selections from MW Restaurant, Square Barrels and Pint + Jigger. And the event benefits the Hawai'i Agricultural Foundation.
If you can't make it to the actual festival, you can still get in on the action by dining out during the inaugural Hawai'i Beer Week, held April 17–23, with drink specials at some of the best beer bars on the island. Check out honolulubeerweek.com for more info.
Second Annual Honolulu Brewers Festival, Saturday, April 23 from 2 to 6:30 p.m., Kaka'ako Makai Gateway Park, $70, honolulubrewersfestival.com