Review: 'Patisserie Coin de Rue'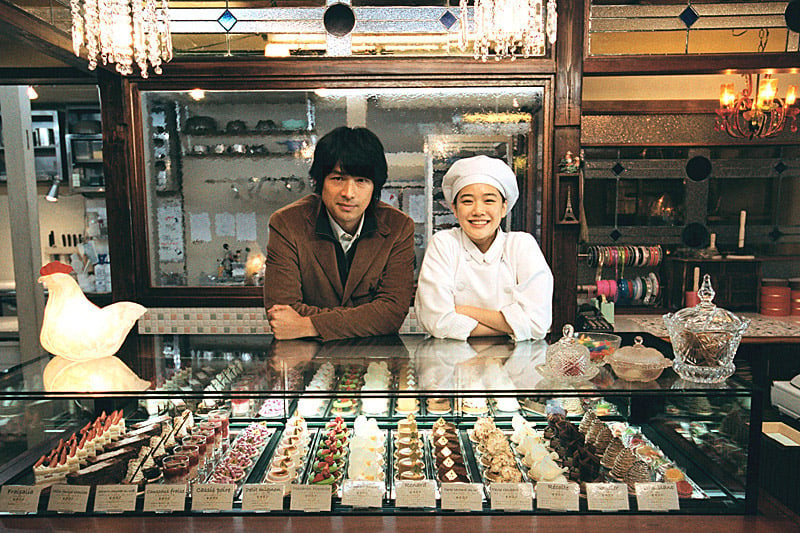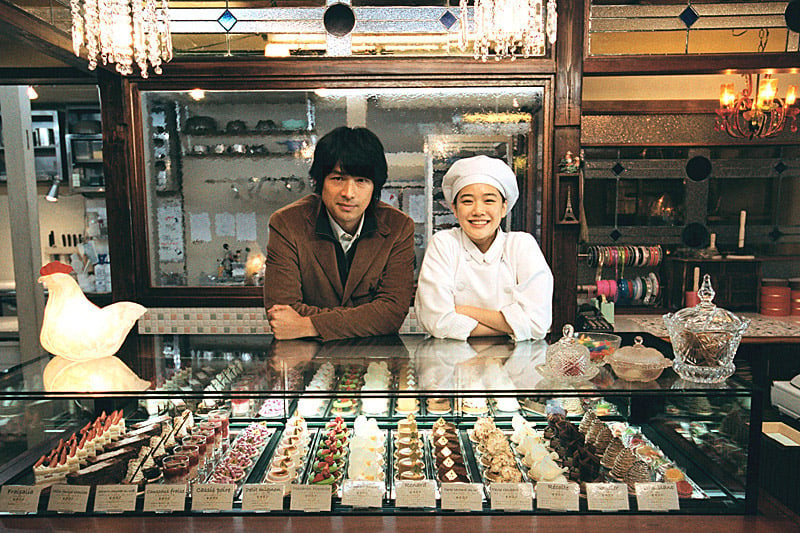 As soon as I saw HIFF's spring schedule, I knew I had to see "Patisserie Coin de Rue," which centers on a brash, eager woman named Natsume, who leaves her father's cake shop in Kagoshima for Tokyo in search of her boyfriend, Umi, who moved for a job at the prestigious Coin de Rue Patisserie.
Upon her arrival, she learns that Umi left the pastry shop after only two days. With nowhere else to go, she begs the owner of Coin de Rue to give her a job. After working in the shop, Natsume realizes that her experience in her father's cake shop hardly prepared her for the harsh realities of the pastry world. While at Coin de Rue, Natsume meets the enigmatic Tomura, a legendary pastry chef who suddenly withdrew from the industry. Despite many offers to return to the kitchen, Tomura spends his time as a recluse, writing guide books and teaching at a local culinary school.
Food porn features prominently in the film, which is expected, considering it takes place in and around a pastry shop. There are some spectacular shots of desserts ranging from simple to elegant to elaborate. The most mouth-watering being a simple shot of a mousse being coated with caramel.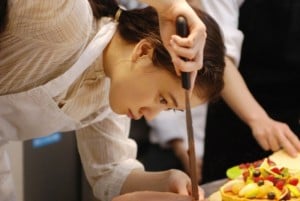 As someone who's worked in many kitchens, I enjoyed the insider details and humor that were interwoven into the film. Some were as simple as a container of Boiron fruit puree on the table. You can't see the label, but the signature container is unmistakable. Another was when Natsume let a pot of cream boil over, then was later scolded for working too slow because she had the flame on low for fear of the pot boiling over again.
Throughout the film, Natsumi is reminded that she is unworthy to be a pastry chef, let alone to work at the prestigious Coin de Rue. Yet, she shows the resilience required for the food service industry by working hard to learn. She spends her nights after the shop closes practicing piping rosets and writing with chocolate — mundane, yet required skills. This film does a fantastic job showing the hard work and fortitude required to make it in the food industry. Kitchens are high-stress environments and tough love is often required to be successful. Natsume receives a lot of tough love and becomes a better person for it. But in the end, she's the one who helps Tomura and her co-workers deal with their personal issues both in and out of the kitchen. I'll admit that I had to stop the movie halfway through because I was getting homesick for the kitchen.
It's impossible to watch "Patisserie Coin de Rue" without getting caught up in the decadent desserts on the screen. So, if you see this film and find yourself hungry for some patisserie goodness, here are some desserts that can be found around town.
Fendu Boulangerie
2752 Woodlawn Drive, 808-354-0736
JJ's Bistro and French Pastry
3447 Waialae Ave, 808-739-0993
Panya Bistro
Ala Moana Center, 808-946-6388
Patisserie La Palme D'or
Ala Moana Center, 808-941-6161
JJ's Bistro and French Pastry – Strawberry shortcake
Picture 1 of 9
The movie opens with a sleeping girl resting her head on a work table as someone assembles a strawberry shortcake next to her. This simple, yet elegant, treat can be found at any number of bakeries and restaurants around town, but one of my favorites is from JJ's Bistro and French Pastry. JJ's achieves just the right combination of moist cake with fresh strawberries and whipped cream.
JJ's Bistro and French Pastry
3447 Waialae Ave.
808-739-0993