Review: 'A Slice of Danger'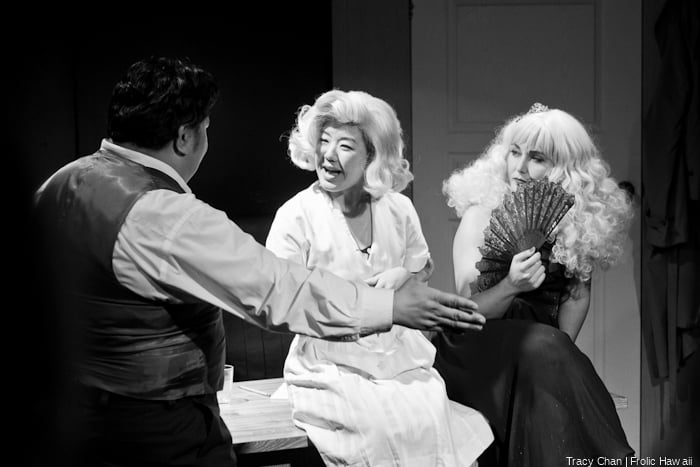 In a Chinatown that never was, pizza establishments clash over shadowy secrets, and a jaded, somewhat bedraggled, down-on-his-luck detective searches for the truth, surrounded by dames in distress, sexy madames and a web of wacky characters who may just be the death of him …
Step into the world of "A Slice of Danger," The ARTS at MARKS' newest unconventional theater presentation, written by On the SPOT Improv's Garrick Pakai and former Cherry Blossom Cabaret producer Miss Catwings, directed by Miss Catwings and sponsored, appropriately enough, by J.J. Dolan's Pizza Pub.
Intriguing? Definitely. The film noir comedy (Miss Catwings' first non-musical full-length production) follows a classic noir storyline, yet still manages to be original, whimsical and reminiscent of Honolulu's Chinatown. The dialogue is quick on the draw with double entendres, but also includes a lot of authentic nods to 1920s lingo and some inside jokes that only Hawaii locals would get.
The only downside: When we went, there was no pizza in the building, although this show left us craving it. You'll have to walk across the street to sponsor J.J. Dolan's for a pie, or down and around the block to Proof Public House.
"A Slice of Danger"
March 19-22 and 26-29, 8 p.m. Thursday-Saturday and 7 p.m. Sunday through March 29.
The ARTS at Marks Garage, 1159 Nuuanu Ave.
Cost: $25 ($20 presale)
Tickets available at: www.sliceofdanger.eventbrite.com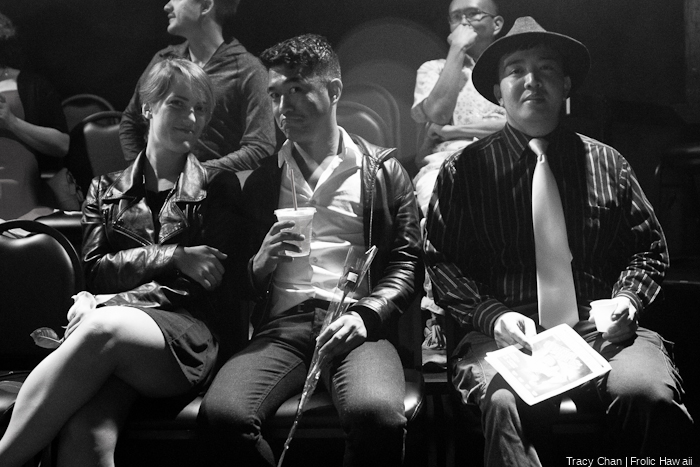 The audience is encouraged to dress in theme, and several people did on opening night.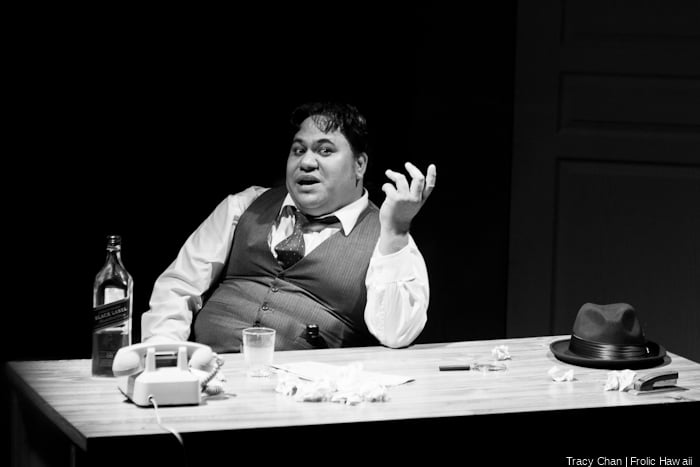 Meet Detective Kamuela "Call me Sam" Ho (Garrick Paikai), a down-on-his-luck detective with daddy issues whose primary motivation is getting to the bottom of a whiskey bottle. All that changes when his latest client walks in.
As soon as Detective Ho sees Hope Romano (Kaitlin Souza), he knows she's a dame in distress. Her father, who runs one of the town's many warring pizza parlors, has had a tragic accident — or maybe it's not so accidental — and been left comatose, dragged in the nick of time from his burning pizza parlor. What's worse, his secret recipe has been stolen, she tells him. It MUST be one of the competing pizza parlors!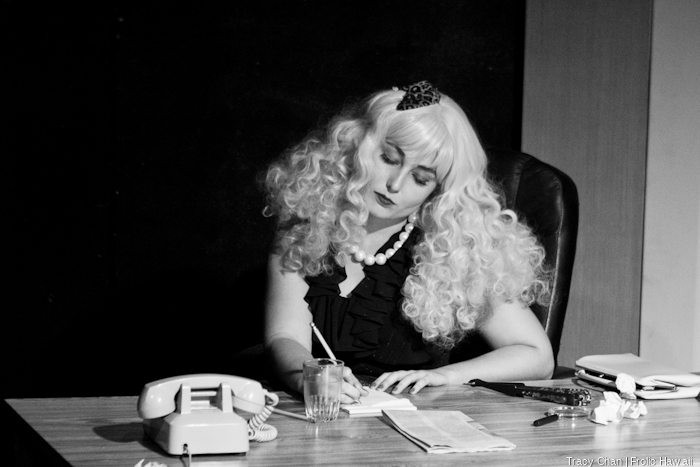 Yep, you can just tell this bird is trouble.
Cracking the case proves difficult, especially with Miss Romano's… distractions present.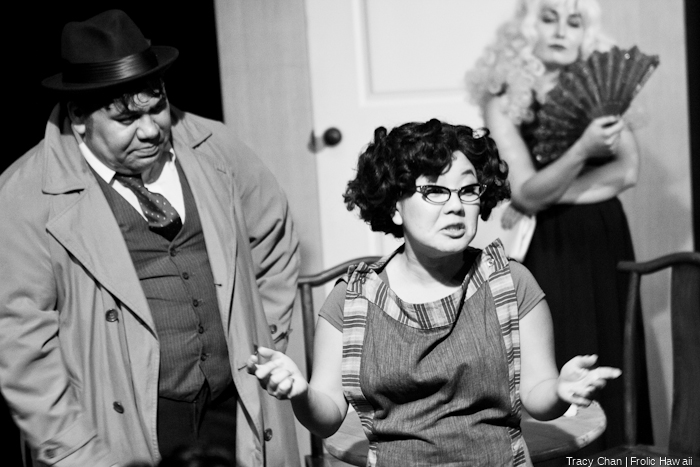 The other actors are believable, but the real star of the show is Christina Uyeno, who plays a jaw-dropping four roles, including Detective Ho's annoying secretary Alice and three of the pizza proprietors with a hilarious level of personality that really carries the show. Here she is in her second role as Ming Lee, the Chinese owner of Mama Mia's.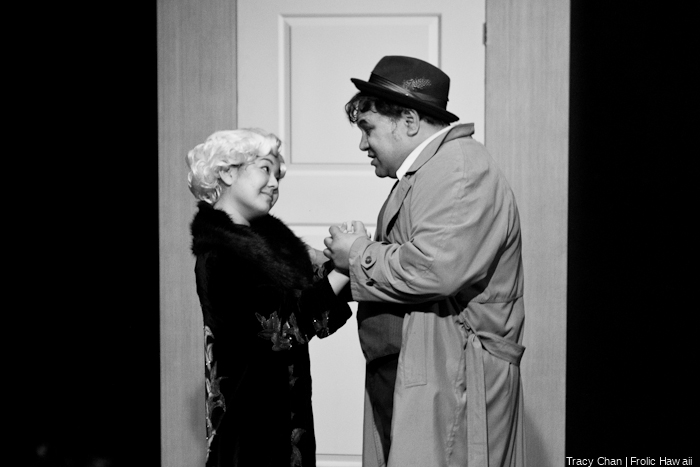 …And as Dee, the Madame of Double D's, a shady pizza joint that's a front for a brothel.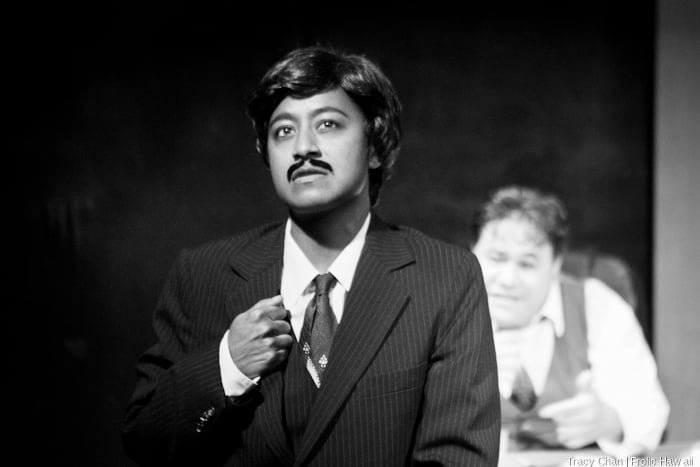 Also shining in two roles is Amrita Mallik, who plays two male characters: Tony, the twitchy dishwasher and Louie, Tony's sleazy, mustachio'ed businessman cousin and the leader of the Chinatown Pizza Merchant's Association.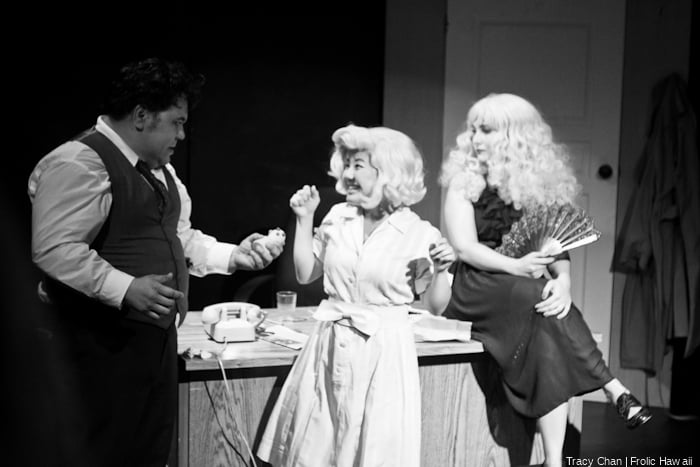 Women! What are these dames hiding? It's enough to stress any guy out!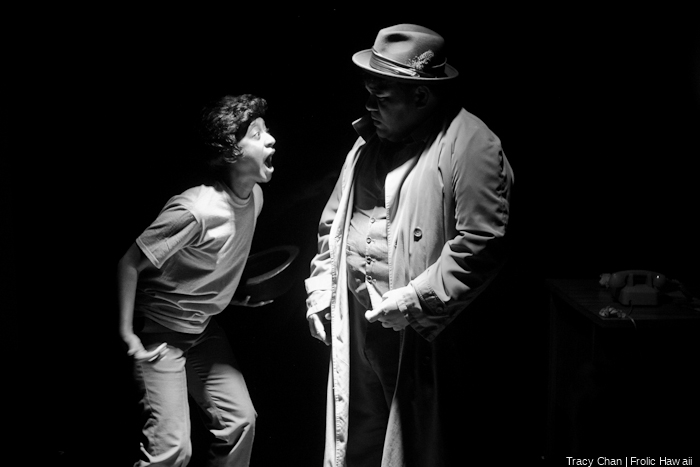 Tony, the paranoid dishwasher, has a good reason for being so jumpy.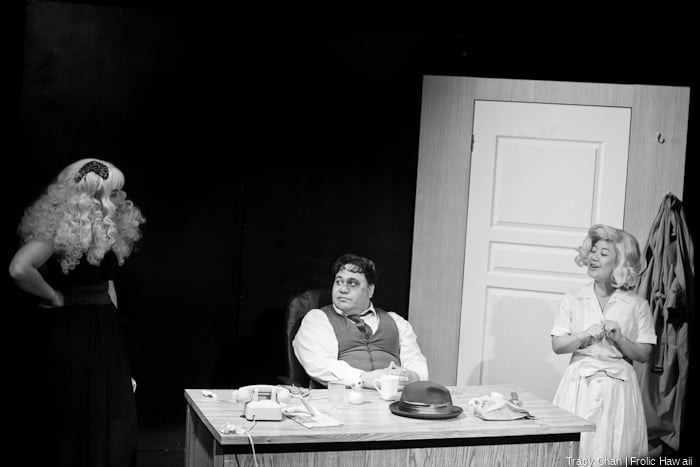 As matters come to a head, we find out who hired who, who betrayed who, and who was sleeping with people they weren't supposed to.
We're not going to give away either of the two endings, or who survives the tangled web of danger though. You'll just have to find out for yourself!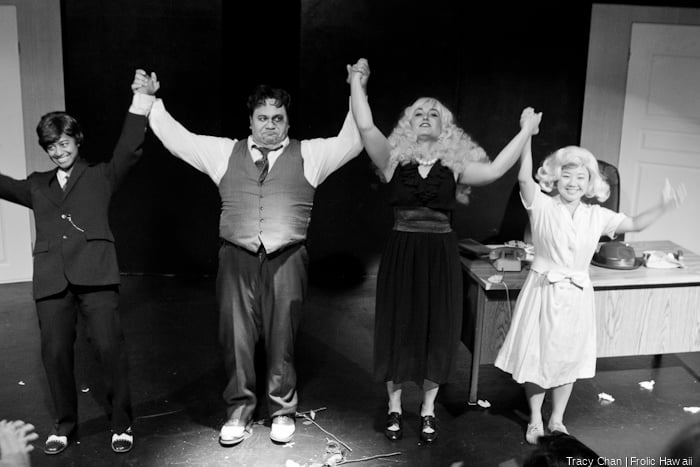 The cast takes a final bow.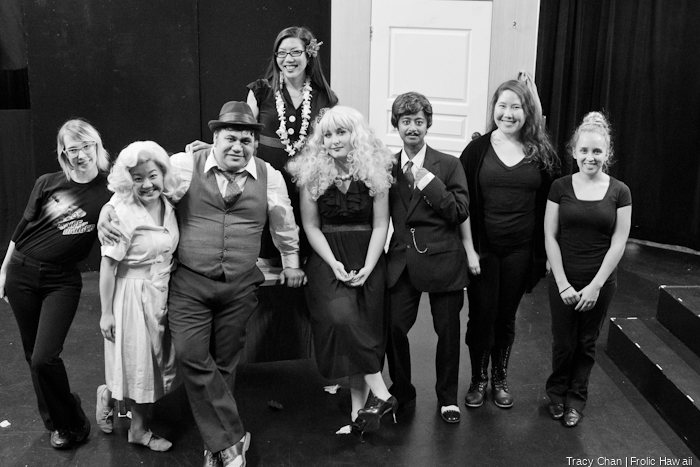 Here's the cast and part of the house crew.