Return to Shanghai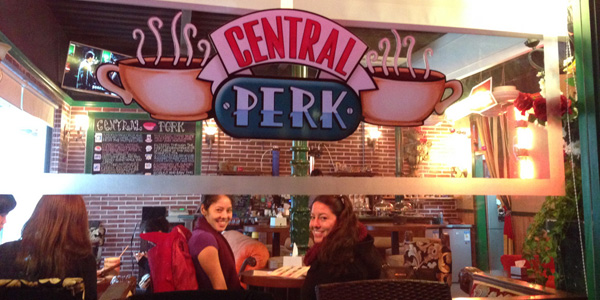 If you've been following my blog, you know that I visited Shanghai last year as a detour off Hawaiian Airlines' inaugural flight to Taipei, Taiwan. My niece Cymri lives there, so it's natural that I would want to see her in her habitat.
This time, my youngest niece Morgen is visiting Cymri, so I have two nieces to run around with. Since I had already hit most of the first-time tourist spots last time, we thought we'd do some different things on this trip.
The first place we visited was the Jewish Refugee Museum, located in Changyang — the Shanghai Jewish ghetto. Did you know that 23,000 Jews sought refuge in Shanghai during World War II to escape the Nazi regime? I guess I knew that many of them had scattered throughout the world, but it seemed so odd to think such a large population ended up in China. It was hard to pack up and start a (really) new life in such a strange land, but the refugees had their adventures, discoveries, and — most of all — memories that would last for the rest of their lives, which they were grateful to have. If you have the time, this is a neat place to visit. Click here for more information.
The Shanghai Jewish Refugee Museum
Another cool place to visit is a building called 1933 Shanghai. It was built in, well, 1933, with the purpose of being a slaughterhouse. I don't know how long it was used as a slaughterhouse, but its purpose is very clear in its design: Rough floor surfaces prevented cattle from slipping, even on bloody floors; the lattice windows on the outside were built to create maximum air circulation; cattle were herded through "air bridges" of varying width which controlled the animals' flow, and the building's sharp angles allowed small spaces for people to stand in, in case the cattle began to panic.
The four-story building was designed by British architects and built by Chinese developers with British concrete. Today the building is a commercial real estate complex with retail, restaurant and office spaces, and the last remaining of its design in the world.
The Shanghai slaughterhouse
Finally, if you want a coffee break, you'll want to visit Central Perk, a replica of the coffee shop in the TV show "Friends." I posted this on instagram and everyone went wild!
Central Perk in Shanghai
These were just the highlights. For more photos, click here.
Up next: the Shanghai Urban Planning Museum, and Hunan food!