Rethinking Hawai'i: Reenergizing Green Goals to Spark an Energy Revolution
Record drops in travel, trash and electricity use won't last, but the lessons learned from them can. Here's how we move forward.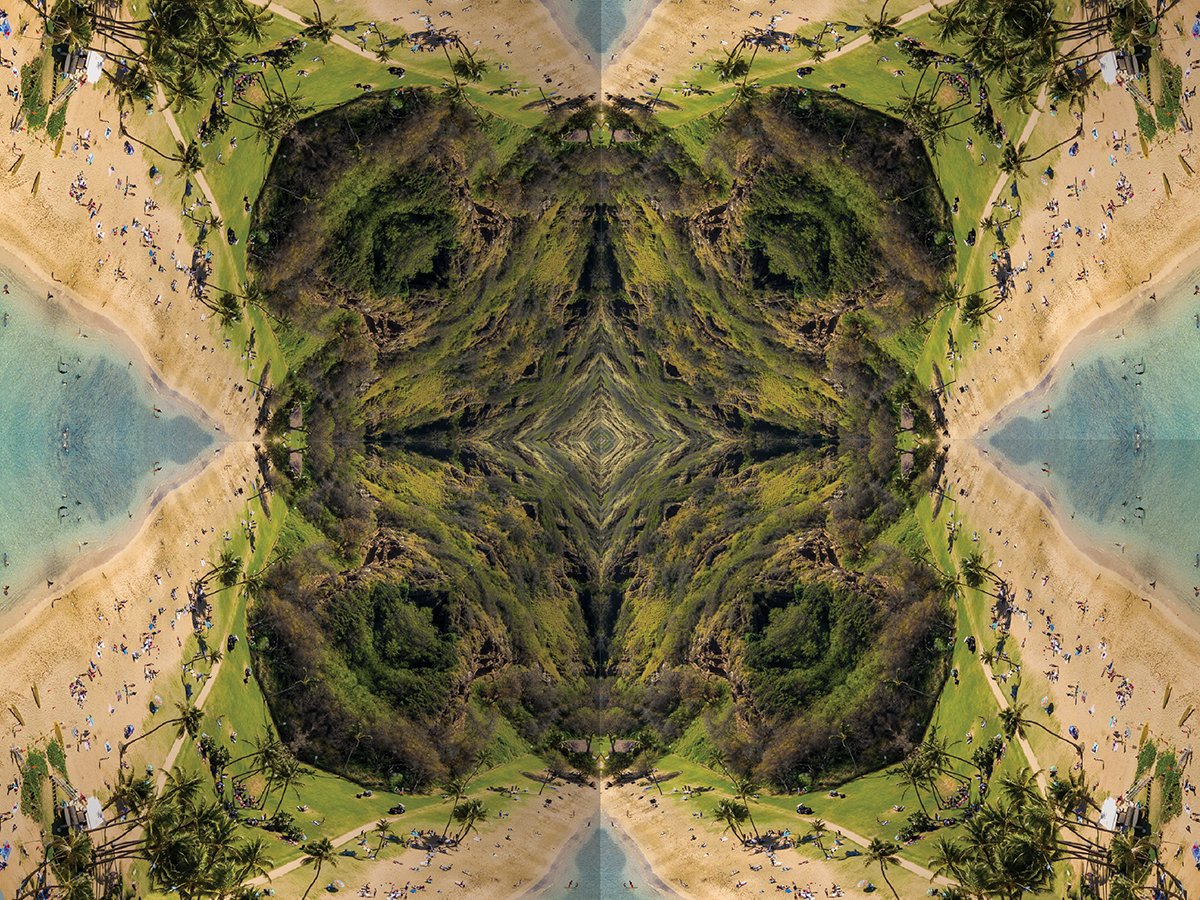 Hanauma Bay
Photos: Getty Images; photo composites: James Nakamura
Less traffic. Less travel. Less trash. Less electricity used. COVID-19 has changed the way O'ahu feels and looks. Social distancing and staying home have allowed the environment to breathe. But as we begin reopening, how can we keep this trend going?
Transportation is the biggest contributor to greenhouse gas emissions nationwide and in Hawai'i. In 2018, there were 1,063,710 passenger cars and motorcycles registered here—one for almost every person 16 years and older.
But with fewer people driving and traveling during lockdown, we saw our roads and skies clear. As airlines canceled flights, the number of visitors arriving in the Islands dropped as much as 98% from April to earlyJune. Daily traffic on our roads also decreased by at least 18% in many areas on O'ahu during April and May. In one particularly congested area—the H-1 Freeway near the airport—the number of cars dropped by a staggering 51% in mid-April and 49% in mid-May.
Josh Stanbro, executive director of the Honolulu Office of Climate Change, Sustainability and Resiliency, says any drop in greenhouse gas emissions is significant. The key, he says, is continuing this trend to wean off fossil fuels altogether. "This moment of pause that COVID-19 presented gave us a picture of what we can do to fight a common enemy," Stanbro adds.
---
SEE ALSO: Rethinking Hawai'i: How the Visitor Industry Should Operate in the Future
---
But Makena Coffman, former chair and current member of the Honolulu Climate Change Commission, says economic recovery could be the biggest threat to climate change efforts. "A crisis like COVID-19 isn't a true intervention," she says. "As economic activity picks up, the expectation is that things will go back to usual without intervention."
In fact, during the recession that began in late 2007, she says policies and planning were so focused on rebuilding the economy that "we lost a decade of greenhouse gas work. Now we're at a point where things have gotten worse. We can't afford to lose another decade."
Coffman, director of UH's Institute for Sustainability and Resilience, says a way to recover while lessening our reliance on fossil fuels is to continue telecommuting. It saves employees time and gas, and businesses rising electricity costs.
Another option Coffman is studying is a statewide carbon tax, a fee levied based on carbon usage, with revenue going to residents and government agencies. This idea is the least expensive way to reduce carbon emissions, she says, because it encourages businesses and residents to change behavior and shift toward more environmentally friendly technologies and options. Coffman plans to share her data with the state Legislature in January.
Stanbro says there are other plans that could help. In June, Mayor Kirk Caldwell signed Bill 25, which requires developers of new buildings to make a certain number of parking stalls electric-vehicle ready with sufficient wiring, conduit and electrical capability for charging stations beginning in September. Melissa Miyashiro, managing director of strategy and policy at Blue Planet Foundation, a nonprofit focused on clean energy and transportation, says that 100% of parking stalls in new buildings should be EV ready to prepare for the future.
---
SEE ALSO: Should Hawai'i Continue to Recycle? These Experts Say You Should Think Again
---
COMPACTED METAL CANS AT RRR RECYCLING SERVICES HAWAI'I
PHOTO: AARON K. YOSHINO
It's not just on the government to make changes. As people stayed home, individual choices made a big impact on O'ahu's trash. We know that manufacturing plants that make plastic and other nonrecyclable items release greenhouse gases. And burning waste in incinerators and decomposing trash in landfills do the same.
The city Environmental Services Department says trash generated on O'ahu declined by more than 11% during the lockdown, from late March through May, to its lowest amount since 2018. That's about 11,600 fewer tons of trash dumped in our landfills or burned at the city's H-POWER plant. The city attributes the decrease to a lack of tourists, people spending less money on products and businesses closing. But can we keep this going?
Nicole Chatterson, co-founder and executive director of Zero Waste O'ahu, a group advocating for less waste through policies, programs and education, hopes Hawai'i continues to "ride the wave of positive change." To keep restaurant waste down, Zero Waste O'ahu is working on a project it hopes to launch this year that will supply clean reusable silverware and dishes to restaurants and food trucks without table service. The group would pick up used silverware and dishware—good candidates would be food trucks on the North Shore and Downtown restaurants—sanitize them and return them.
On a bigger scale, Chatterson says the city and state should take this moment to prioritize waste management projects. That could include building a facility that sanitizes and reuses glass locally for breweries and beverage manufacturers, as well as investing in experts to save reusable construction materials and appliances in buildings set to be demolished.
She says residents can also do their part by composting food at home or signing up for a subscription compost service, such as the North Shore Community Compost Movement.
Renewable energy is another key to combatting climate change. Just after transportation, electricity—produced largely from fossil fuels and municipal waste—is the No. 2 cause of greenhouse gas emissions in the U.S.
"We're at a point where things have gotten worse. We can't afford to lose another decade."
— makena coffman
Diamond Head
When we were in lockdown mode, overall electricity use dropped by 6% and 7.5% in April and May, respectively, according to Hawaiian Electric. Although residential energy use increased by 12.5%, it was offset by a huge dip in the hotel and lodging industry—between 30% and 50%. Retail business use also fell 25%. That means HECO used about 100,000 fewer gallons of oil per day to generate electricity on O'ahu. Peter Rosegg, HECO's longtime spokesman, says he hasn't seen the numbers dip this low "in living memory." As the economy and visitors return, hotel and retail electricity use will increase. We need to offset it in our homes. Residential use usually outstrips hotels and lodging use because many hotel buildings are already energy efficient, and some even have dedicated energy management staff and systems in place. This means that it's even more important for residents to reduce their energy use and switch to renewable options (which are cheaper, long term). We're on our way. The number of solar power systems installed recently tripled—367 in April and 470 in May—compared to the same time in 2019.
State leaders were already committed to switching to 100% renewable energy by 2045. Current state law requires solar water heater systems in new single-family homes. The city's Bill 25 ensures that new housing is built solar PV-ready.
City and community leaders say they have some momentum moving forward from the pandemic. Stanbro says his team plans to work "shoulder to shoulder" with the new Office of Economic Revitalization to embed climate efforts, such as building affordable housing with local materials and supporting local farmers, into COVID-19 recovery plans.
At Blue Planet Foundation, Miyashiro says a list of 50 actionable climate change policies and programs has been compiled. (Check out the nonprofit's website, blueplanetfoundation.org, to read the full list.) One idea the foundation will be discussing with lawmakers is a workforce program that creates clean energy and transportation jobs. During the Great Depression, the federal government established the Civil Conservation Corps, which provided about 3 million people with jobs in conservation, flood control and forest management. Miyashiro says Hawai'i could use a similar model to promote careers in local farming, solar installation and climate mitigation infrastructure by also offering college credit and financial aid.
"All of these issues and all of these actions are interconnected and have so many different layers," she says. "[Changes during COVID-19] mark a dramatic shift in individual behavior. I don't think it's something that's really sustainable. But it is possible to shift things that previously seemed inconceivable.