Reconnecting at the Westin Kaanapali Resort Villas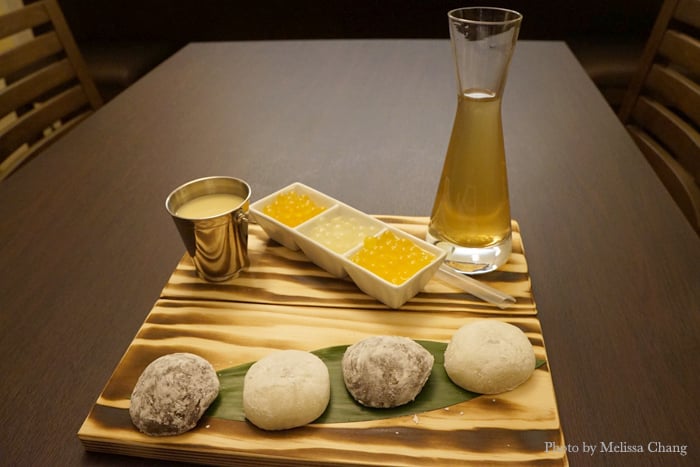 I recently visited The Valley Isle for Maui Chef's Table and Buy Back The Beach, and had the opportunity to stay at the Westin Kaanapali Ocean Resort (KOR) Villas for one night. (Alas, actor Jeff Bridges was there for a function, which filled the resort for the rest of the weekend!) It was quick, but a nice chance to see the new things on property that I'll probably return to enjoy at a more leisurely pace.
One of the activities that Westin KOR public relations manager Klara Crocco gave me was a treatment at Spa Helani, which normally I'd tell you was a great massage and be done with it. This one had such amazing and unusual results, I'd have to say it was worth $250.
They ask you to arrive early so you can relax in the waiting area with free tea, water and fresh fruits.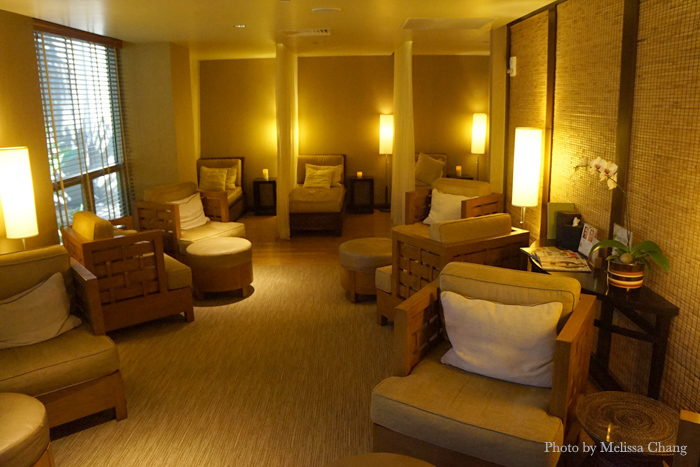 I also sat in the eucalyptus steam room, since the vog was pretty heavy on Maui that weekend, and that really helped open up my breathing. You can opt to sit outside, but you'll probably stay indoors if there's haze.
The Polynesian Ritual ($250 for 80 minutes, $300 for 110 minutes) has a few steps: First, you get a gentle exfoliation with a Tahitian vanilla scrub. Then you shower off, and get a massage, which includes occasional light pressure from warm sand pouches. The treatment finishes with sacred golden monoi oil from Raiatea. I'm not really sure what the sand pouch presses actually do for you, but it seemed to be a step that helped relax the muscles further.
Okay, so that was a good massage — I felt loose and relaxed, but very awake at the end. If you have had a long massage before, you know that you usually feel a little more sluggish because you fell asleep (or almost fell asleep) on the table. The other unusual result: My pores and wrinkles disappeared for a while. I'm not sure if it was from the steam room or the treatment itself, since David never touched my face, but this was pretty remarkable. I didn't have to wear powder or makeup for the rest of the day because my skin looked so awesome.
If you can figure out how they did this, let me know!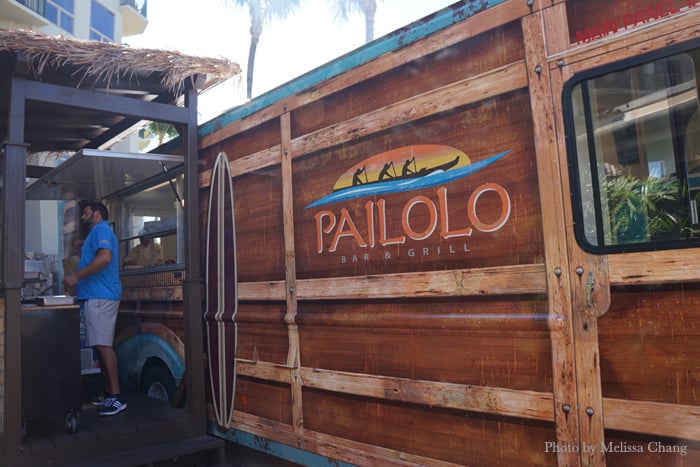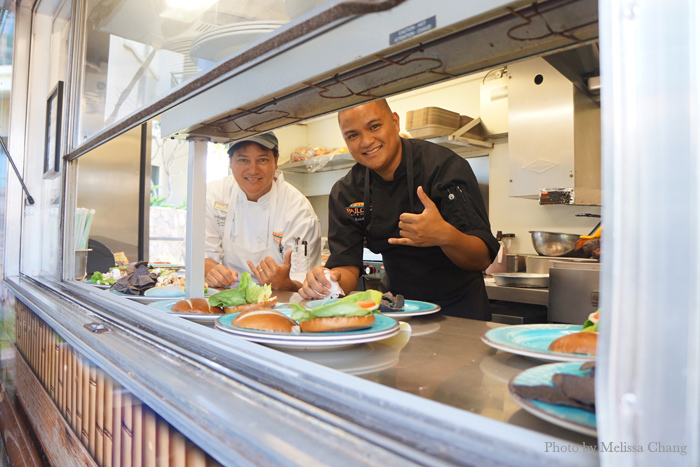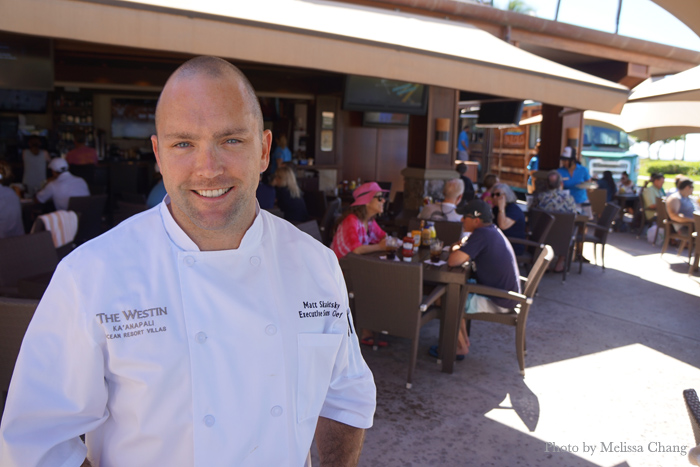 Before leaving the resort, I checked out their new food truck-style restaurant, Pailolo Bar & Grill. Headed by Chef Matt Skaletsky, this open-air venue has a panoramic view of the ocean. I usually see Matt at big events on Maui, so it was nice to catch up with him and enjoy his food in his home environment.
The bummer, though, was that I was by myself. When I go back, I'll bring more people, because I would want to try more things.
Hands down, everyone said the hot honey sriracha wings with green goddess dressing and home made kale kimchi was their favorite … and now, it's mine, too. These wings are really spicy, but sweet (which I like) and have a crazy addictive quality to them. Make no mistake, I felt like I was burning my lips, but I couldn't stop eating them. And the kale kimchi is a great concept. I don't know why no one else thought of it before, but it's a delicious way to get your leafy greens. The kimchi was so good, I told them they need to bottle it and sell it.
I had to stop eating the wings long enough to try another staff favorite, The Olympian — a gyro-style sandwich with confit lamb, curried tzatziki, Kula tomato, Maui onion feta, Waipoli lettuce, oregano, and fries. This was a huge, filling sandwich with all the Greek flavors you expect, but with much larger pieces of lamb. I expected the lamb to be dry, but it was very moist; be sure to eat over the plate so you can let everything drip down nicely. To be honest, though, I loved the spicy chicken so much more that I put this down halfway and went back to the wings to finish the plate.
One of the more popular dessert items are the home made churros with salted chocolate sauce. I agreed to take a bite, but was so full that I had to wrap the rest to go. In a group, these would be fine.
That little trip to the Westin KOR Villas was way too quick (shakes fist at Jeff Bridges). Hopefully I'll get back to that side of the island for more chicken wings, and if I'm lucky, another spa treatment. If I'm really lucky, they'll have figured out a way to bottle and sell that kale kimchi, too.
Westin Kaanapali Ocean Resort Villas
6 Kai Ala Drive
808-667-3200