Ramen kaiseki dinner in Tokyo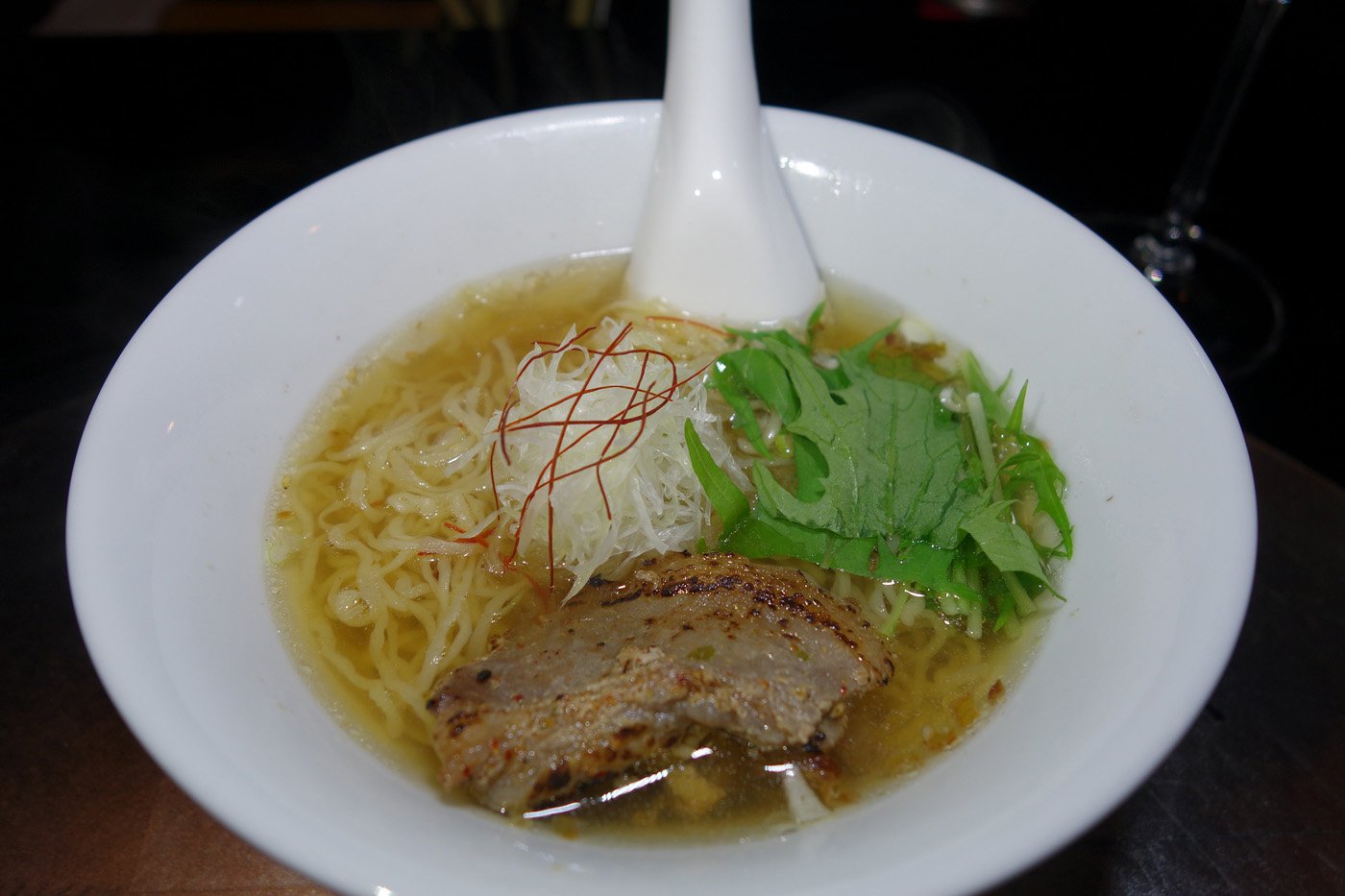 This Japan trip was different in that I met up with a lot of Hawaii ex-pats who now call this destination, home. One of them is Ross Mihara, whom you may remember as a sports anchor on KGMB back in the early 1990s. About 20 years ago, he made his way to Tokyo by landing a job with NHK World, the English channel of the government-owned television station — and hasn't looked back.
Despite being ethnically Japanese, he arrived in Tokyo not knowing how to speak the language and felt bad when people — not knowing he was American — complimented him on his English. He now can read, write, and speak Japanese, and you can see him anchoring on NHK World every other week on the graveyard shift (which is early morning for us, since we are five hours ahead). He's also quite the foodie, so we checked out a couple of hidden gems that he likes.
We started out at Genei Wagan, a unique ramen kaiseki restaurant. I had met chef Yohei Shimizu through my foodie friend Sean Morris, so made it a point to visit. The menu changes, but you get a five-course set meal that ends with their special ramen. The first time you go, you get their basic shio broth. The second time, you get a shrimp broth; third, miso; fourth, tan tan. Out of curiosity, I went twice so I could see what was different. Try to get a seat at the bar so you can talk to the chef and watch them prepare your dishes. We later found out that their original shop is in Fukuoka's Raumen Stadium, and I believe you can just get a bowl there instead of a fancy kaiseki.
After dinner, we headed to Ebisu Yokocho, which is like a food court, except it's all bars. It's a pretty happening place, even on a Monday night! Not much English is spoken, as far as I could see, so keep that in mind if you go.
Genei Wagan
One glass of champagne, three cocktails, and two bottles of wine but no hangover. Amazing! I wonder if it's the environment that enables Japanese people to be able to drink so much.
Here's Pari Nakayama, a strolling entertainer, serenading us at Ebisu Yokocho. That song sounds so familiar … does anyone know what it is?
These were just the highlights. To see more photos from this day, click here. To see all photos from the trip, click here.
Up next: Finding a retro bar with Deb Aoki. If you were a fan of 70s J pop, you will love this next post!