Q&A: 'Pidgin Siri' creator Pashyn Santos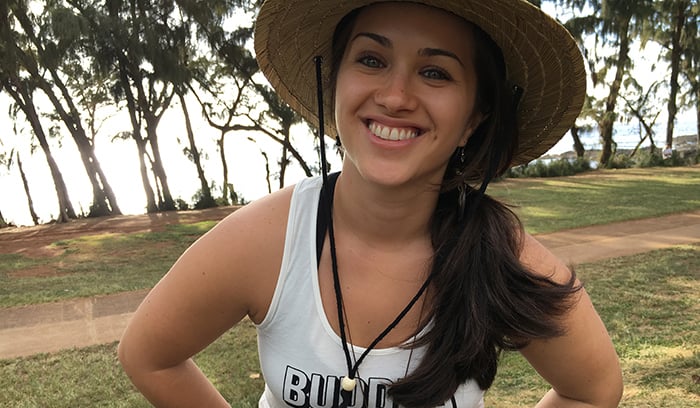 If you live in Hawaii, there's a 99 percent chance you saw this video on your social media feed last week:
Pashyn Santos is the comic mind behind "Pidgin Siri." The video was a viral phenomenon, garnering over 3 million views on Facebook in less than a week. Not bad for a 2005 Kahuku graduate who spent her hanabata days in Waianae and Hau'ula, dancing hula and practicing kickboxing.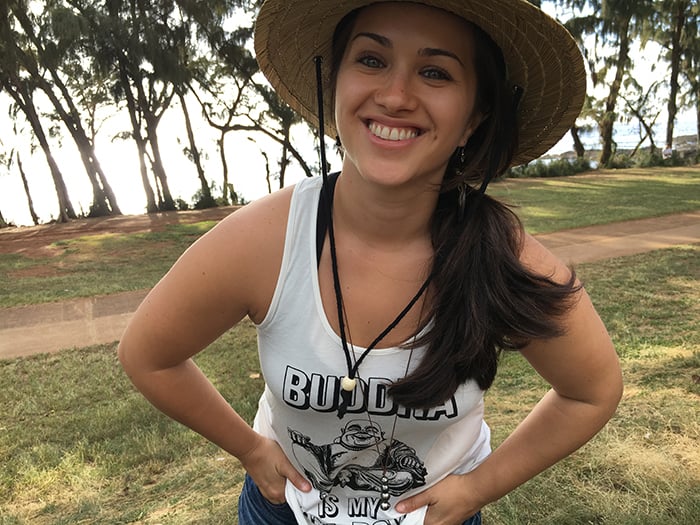 Santos knew at an early age she wanted to be an entertainer. But she got her start in social media in a completely different field – doing technology reviews on YouTube back in 2009. Her first actual comedy video wasn't uploaded to Vine until January 2014.
Since then, Santos has become a local new media star. She has over 35,000 followers on Vine with over 11 million loops, and 36,000 followers on Instagram. And her reach has gone far beyond Hawaii with big audiences in the Philippines, Japan and New Zealand. I got to talk story with Santos about her comedy influences, local maddahs and embracing being a titah.
Were you a funny kid?
I was always goofy around my family and friends since we were really young. My cousins and I would borrow my aunty's camera and make funny videos (wish we still had the footage). So comedy was always in me. I'm half Portuguese, so I guess it runs in my blood.
How did you get started making comedy videos?
My family and I always made funny videos and spoofs. We did our own versions of "Jackass" and (Rap Reiplinger's) "Aunty Marialani's Cooking Show." But what really got me started was social media providing a platform to post videos and having my cousins watch them and have a laugh.
What was the experience of shooting your very first video like?
I look on it now and it reminds me of that moment when your mom posts an old baby picture. You can't help but laugh and feel a little embarrassed.
Your Pidgin Siri video has over 3.1 million views on Facebook and over 47,000 shares. Where did you get the idea for it?
I used to work for Apple and always heard stories about how Siri doesn't understand the locals. So first I made a video about a local mom not knowing how to use Siri about a year and a half ago and recently I just decided to make this one.
Did you know you had something good on your hands from the start?
I almost wasn't going to post it because I wasn't sure it was good enough.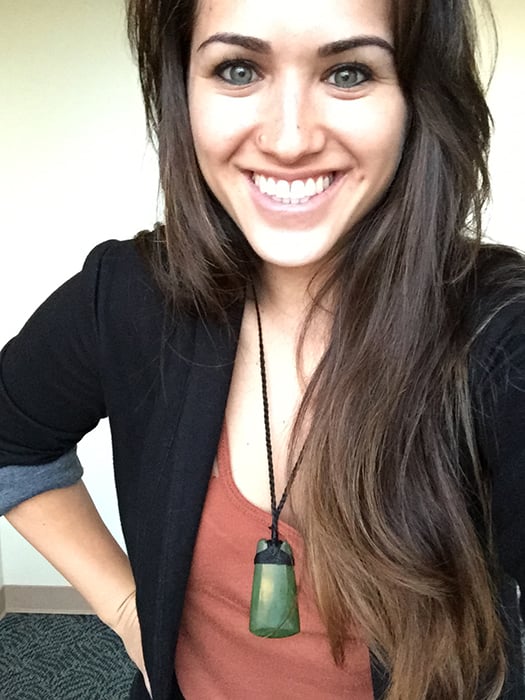 When did you realize this video was going viral?
I realized it was gonna be a hit when it reached 100,000 views in 15 minutes. I've had other videos do really well – some with even more views on Vine – but never as quick as this one. It was such an awesome feeling to receive all the love and aloha. My subscriber base jumped about 20 percent, which is awesome. It reached a crowd and demographic that hasn't seen my work yet.
What's your creative process when you're coming up with your videos?
I get a lot of my material from observing my family and friends. I believe that's what makes them so popular because its relatable, which is what comedy is all about.
Who are your comedic influences?
All the local legends. Till this day I can still recite "Rap's Hawaii" skits and Frank Delima's old videotapes. But where I find the best comedy is at the local backyard parties when everyone is just talking story.
Funny you mention Rap Reiplinger. You have a unique comic voice that reminds of Rap – but for this generation. Where does that voice come from?
Growing up in Hawaii, everyone knows that you don't have just one mom. Hawaii culture really embraces the "it takes a village" concept (laughs). With that, I have so many hanai moms, that my voice became a combination of all of them. From Polynesian to Filipino to Asian to Caucasian … The local maddah's voice is a mix plate.
Do you think your success is in part because you tap into a lot of truths about being a local woman?
Connecting with people through storytelling is such a powerful tool and it's so crazy how much people react to the truth. What's great about embracing being a local female (a.k.a. titah) is that it's live, it's a little raw and it's also nostalgic at the same time.
Feeling any pressure to top Pidgin Siri?
No pressure. OK … just a little!!!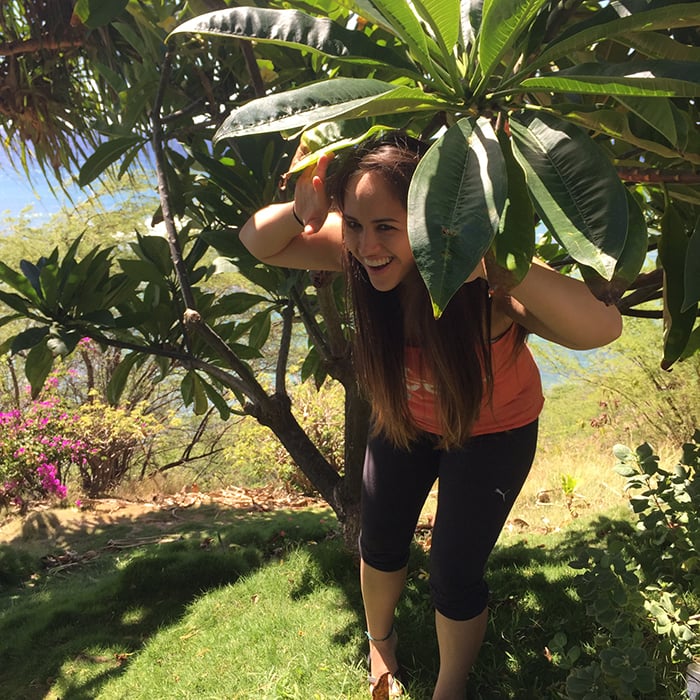 What's the best piece of advice you got during your career?
When you create something, create it how you see the scenario in character. Without prejudging what other people might think, create your art, share it and walk away. That was advice given to me by a buddy of mine, Matt Pablo, a fellow local actor who moved to the big city to pursue acting.
What's your favorite local restaurant?
Love supporting the locals … and Hawaii has the best food. But you can't ask a local girl to pick her favorite restaurant. But if I had to I would say Bea's Kitchen, which is my 100 percent Portuguese grandma's house. You'll find me eating all my favorite foods on her kitchen table.
What do you love about making your comedy videos?
It's therapy. Not just for myself, but for those who just need an extra laugh or smile with one click.
Give local comedians, writers and performers ONE piece of advice.
Master the mundane! I started making these videos years ago. I love doing them so it's never work for me. Do it consistently and persistently, even when you think no one's watching.
What's next for you?
Hmm. What I love about social media is the ability to connect with people that you would have never been able to reach without it. When you think about it, I'm in everyone's pocket. People check their social media feeds more than they drink water. And especially in this day and age where people even stress about their battery going below 20 percent, a smile has become a necessity. It's healthy.
So the fact that I get to put a smile on someone's face from Kahuku to Kentucky … It truly shows that we can put our talents to use to help people and that brings purpose to life. And the best part is, you never know what's going to happen next.
To see Pashyn Santos's work, follow her on Instagram: @wenpash, Twitter: @pashyn, Facebook: Pashyn, Youtube: Pashyn, Vine: Pashyn and SnapChat: pashyn.