Q&A: Ohina Short Film Showcase's Elmore & Ries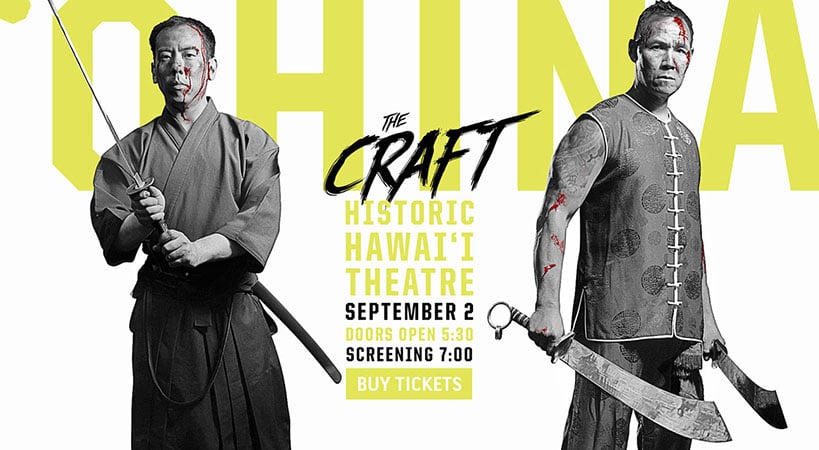 This Friday, the Ohina Short Film Showcase is back at the historic Hawaii Theatre.
Since 1999, Ohina's been a celebration of short films created by local storytellers, fueled by a passion for film.
In keeping with last year's Ridiculously Short Interviews I had a ridiculously short chat with Gerard Elmore, Ohina's executive director, and Erik Ries, Ohina's creative director.
We talked about the highlights of this year's Ohina, including a Q&A on Saturday with Marvel Studios producer Nate Moore ('Captain America: Civil War,' 'Captain America: The Winter Soldier').
We kept it short.
What's your day job?
Gerard: Commercial producer/director/writer/teacher.
Ries: Creative director and conversation instigator, brandHAWAII.
Give me one odd job from the past.
Gerard: I once worked the NASCAR circuit as a video correspondent.
Ries: I installed an entire aluminum bleacher system at Oregon State Universityʻs football stadium … during the summer. It was hell.
What do you love about film?
Gerard: Creating, crafting and telling stories.
Ries: All of it when itʻs good.
What are you most excited about for this year's Ohina?
Gerard: Taking the films to the Hawaii Theatre.
Ries: Growing the experience surrounding the actual showcase.
One word to describe the filmmakers at this year's Ohina?
Gerard: Trailblazers.
Ries: Surprising.
Do you see any trends with Hawaii's young, up-and-coming filmmakers?
Gerard: We're starting to see really great, sustained growth in local storytelling.
Ries: Iʻve seen a HUGE jump in storytelling in the last two years.
What do you love most about the short film format?
Gerard: Short, sweet and always a surprise.
Ries: The "proof of concept" aspect if the filmmaker wants to transition it into a feature.
Ohina is known for some epic trailers. What can we expect from this year's trailer?
Gerard: The trailer is going to be a complete 180 from what we've always done in the past.
Ries: I love how it's our outlet for being creative while supporting local storytellers.
This year, you're doing a Q&A with Nate Moore, producer at Marvel Studios. How did you land such a noteworthy guest?
Gerard: This is all Ries.
Ries: Nate is a personal friend of mine.
Any chance Nate will reveal any Marvel Cinematic Universe secrets?
Gerard: Good question, I hope so.
Ries: I'm sure Nate will be able to tease the audience where allowed.
One piece of advice for filmmakers who are thinking about entering next year's Ohina?
Gerard: Shorter is always better.
Ries: Start now!
Ohina Short Film Showcase
Hawaii Theatre
Friday, Sept. 2 at 7 p.m.
Ohina Filmmakers Q&A with Marvel Studios producer Nate Moore
Bar 35
Saturday, Sept. 3 from 7 to 8 p.m.
For schedules and tickets, visit ohina.org or Ohina Short Film Showcase on Facebook