Putting the E(nsen) in Team: AYSO Spring Soccer Season is Here!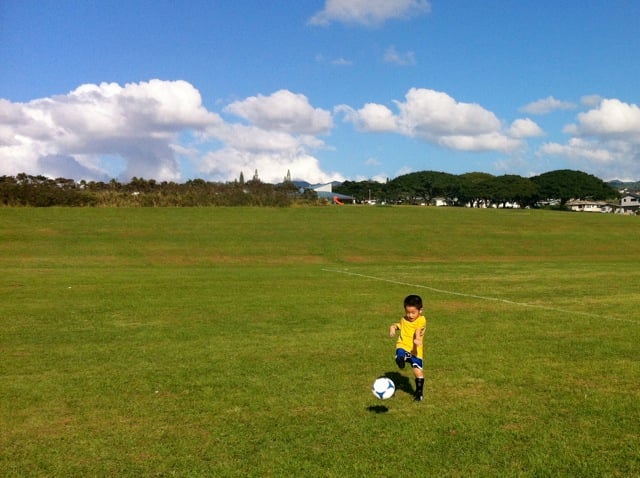 When we asked Ensen last year whether he wanted to give soccer a try this spring, Kelly and I anxiously awaited his response. After all, our attempts to get him into kendo faded as he seemed more interested in drawing and building his Ninjago Lego sets. Thankfully, after some encouragement about how fun soccer would be, how he would be playing with and against some of his school friends, and how much fun Daddy had playing soccer when he was a small boy, he responded with a resounding "YES!"
So the journey through the world of soccer begins. Cleats, shin guards, and soccer ball have been purchased at Sports Authority (they offer a great combo package with all three for $40). Also, Ensen and I have already been to the park a couple times to break in the shoes, kick the ball around and sweat in the heat. Finally, with parent/coach orientation this past weekend complete, it's time to start playing ball!
I'm actually not sure who's more excited about the season to begin, Ensen or me? I remember playing soccer when I was growing up on the Big Island and having many years of fun memories. It taught me a lot about teamwork, the importance of sharing (passing the ball), and the important lesson that winning isn't the most important thing in life. At this age, it is more about having fun. At this point, I have a feeling that Ensen might be more excited about the snacks and refreshments at the end of the game.
My co-worker, whose kids played AYSO soccer, warned me, "At five and six years old, it's more about the snacks, refreshments and play time after the game, then the actual game itself."
Fair enough. I think its great that Ensen will be exposed to team sports in a fun and exciting way. I appreciate AYSO's mission, which is to "Develop and deliver quality youth soccer programs which promote a fun, family environment…." I like its approach to the game more, which states "Six living tenets that separate (AYSO) from other sports organizations…Everyone Plays, Balanced Teams, Open Registration, Positive Coaching, Good Sportsmanship and Player Development."
In addition to those philosophies, I'm also excited about that fact that it will keep Ensen and the family active. One of our New Year's resolutions is to exercise more and this will provide a great way to get Ensen's heart rate going each week.
I'm also interested in seeing how Ensen responds to being involved in a team environment. He and Avery are very good about playing with other kids, sharing their toys, and being respectful of others. I'm sure there will be kids on the team that won't pass the ball, act sassy or may be be a little too physical during the game. On a more positive note, I'm certain there will be kids who encourage their teammates to do their best and have a good time. I'm looking forward to seeing Ensen grow and learn from these invaluable experiences.
Being a new parent to all of this, I would appreciate any tips, comments and advice you have so I can make this the best experience for Ensen and our family.
For now, I have some stretching to do so I don't pull a hamstring cheering from the sidelines at the first game.
Nathan Kam is a Honolulu public-relations executive, husband and a proud daddy of two incredible kids, Ensen (5) and Avery (2). He enjoys cooking, gardening, traveling, blogging and golfing. You can reach him via email, Twitter, Facebook, LinkedIn or via his personal Kam Family Blog.