Pupusas, pastelitos and other Salvadoran eats are in Waipahu
La Casita brings casual Central American food to central Oahu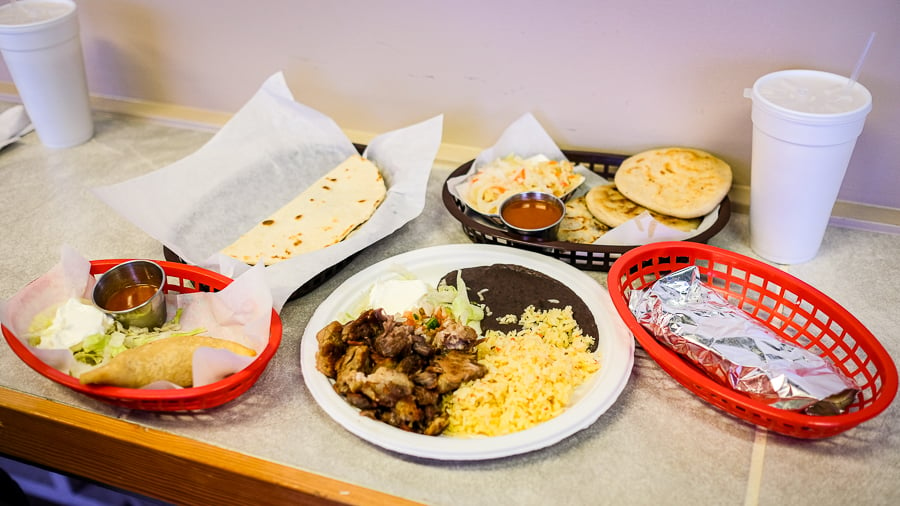 Waipahu is changing. It doesn't matter if you haven't been in weeks, months or years. Drive along Farrington Highway and you'd be surprised how much newness has crept in with the construction of the rail line. Even Highway Inn has migrated to a new, larger home in the former Napa Auto Parts a few blocks from where it first opened in 1947.
Steps from the looming Waipahu Transit Center on Mokuola Street, a newcomer adds another facet to Waipahu's colorful dining scene. La Casita serves Salvadoran and other Central American fare. Its specialty is pupusas, stuffed tortilla-like flatbreads often eaten as snacks or light meals — the first I've seen on Oahu.
Being new, the interior is sparse: The counters that line the narrow dining room make the dozen or so Department of Health green placards posted on the front wall an odd focal point. It takes two visits to realize that La Casita doubles as a commercial kitchen for a number of other food providers. Don't let the ambiance or lack of it deter you. As I wait for my order, I'm reassured by the sound of hands patting masa corn dough into patties, followed by the smell of corn cooking on a hot plancha.
I haven't had a pupusa in years but I remember it being one of those simple, casual foods that latch onto your memory.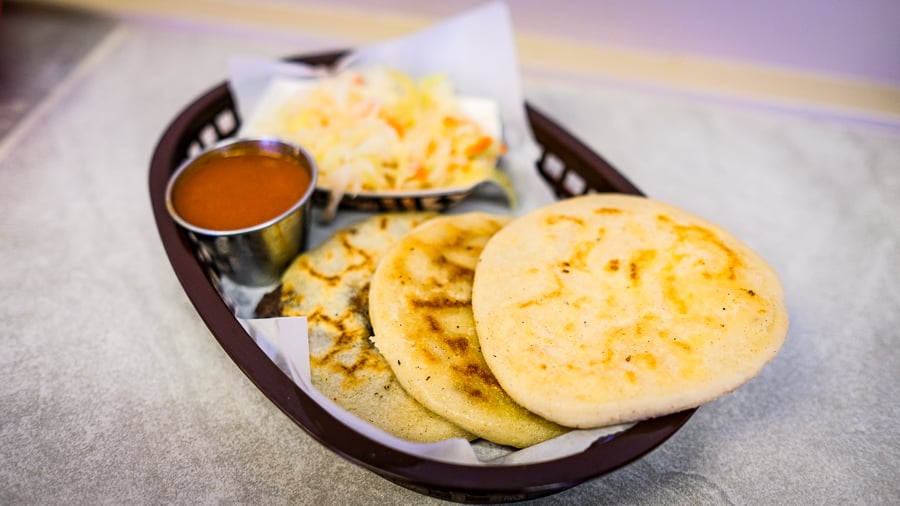 The menu at La Casita describes them as world-famous. You can have them stuffed with cheese and black beans or pork or just cheese; they're all $3 each. They are accompanied by traditional curtido, a tangy pickled cabbage slaw, and a very mild salsa rioja. If you're a fan of quesadillas and other cheesy eats, you'll quickly become a fan of these pockets of deliciousness. Although I couldn't capture it on camera, they're totally cheese-pullable.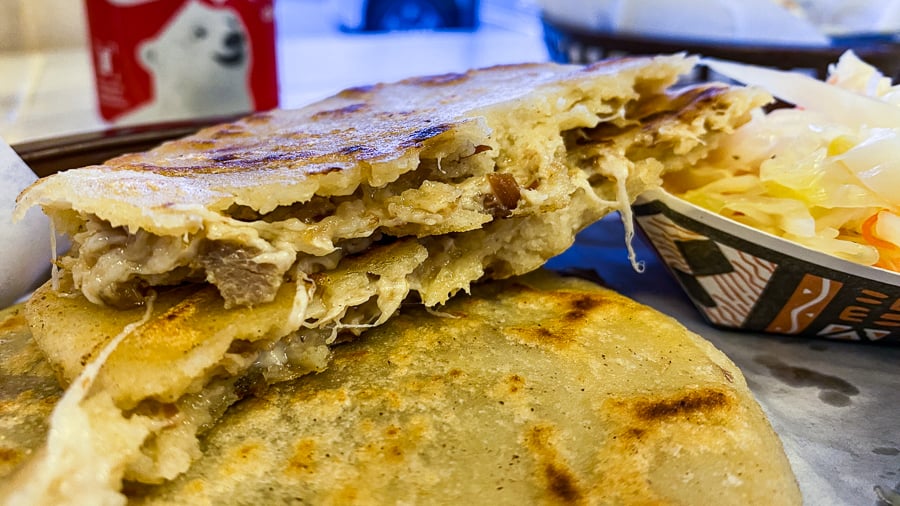 Of the three variations, the pork and cheese pupusa is the most savory and my favorite. The cheese one is good for snacking, but if you're making a meal of it, get the one with black beans. The curtido provides a nice vinegary kick that cuts the fattiness of the cheese and pork. If you crave something more picante, they have a slightly spicier salsa available on request.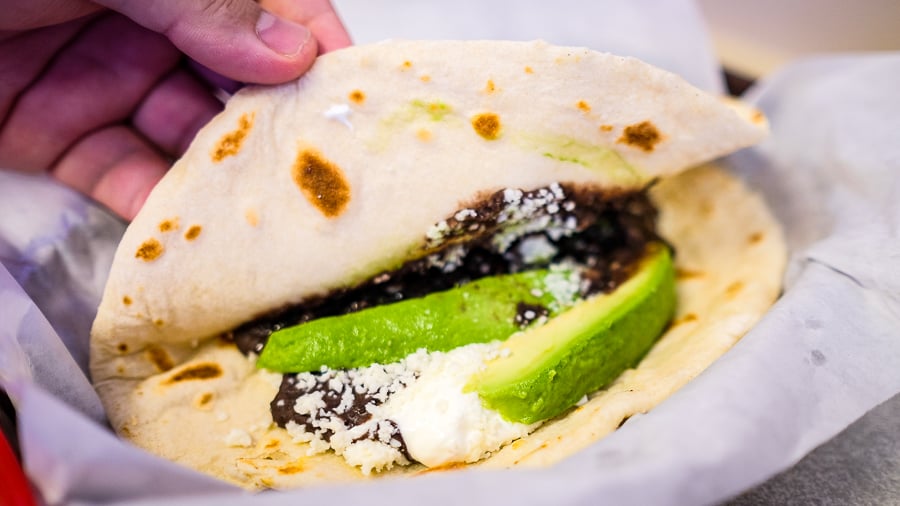 Baleadas are a Honduran specialty made with a thicker fresh flour tortilla folded over black beans, crumbled cheese and crema. You can add avocado slices for $1 more and you should, they're a bit mild in flavor and large enough to share if you're getting other items.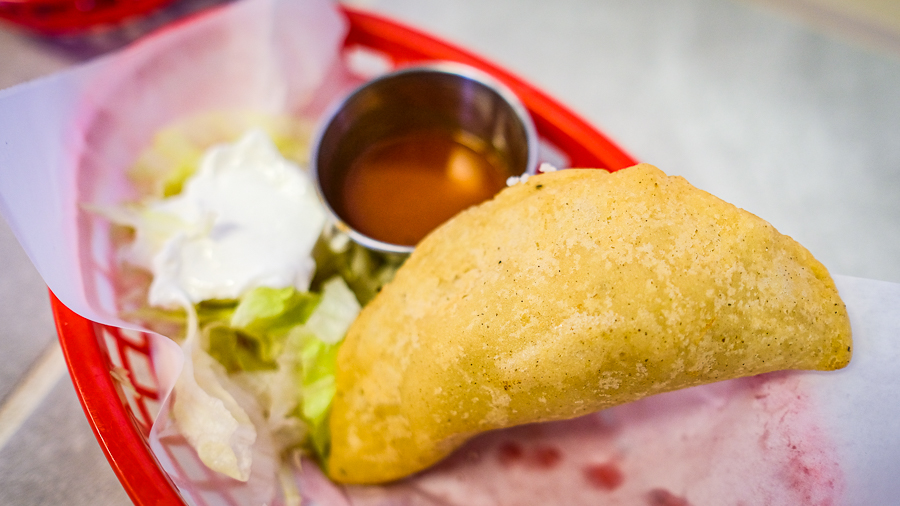 I'm kicking myself for only ordering one pastelito, a palm-sized dumpling made with masa flour encasing ground beef, potatoes, rice and carrots, much like an empanada. In Cuba they're often sweet and made with a laminated dough while the Salvadoran style is savory and uses a cornmeal mix to create the pastry. These little hand pies aren't always available but are worth ordering when they are. I'd probably buy a bunch and reheat in the toaster oven at home.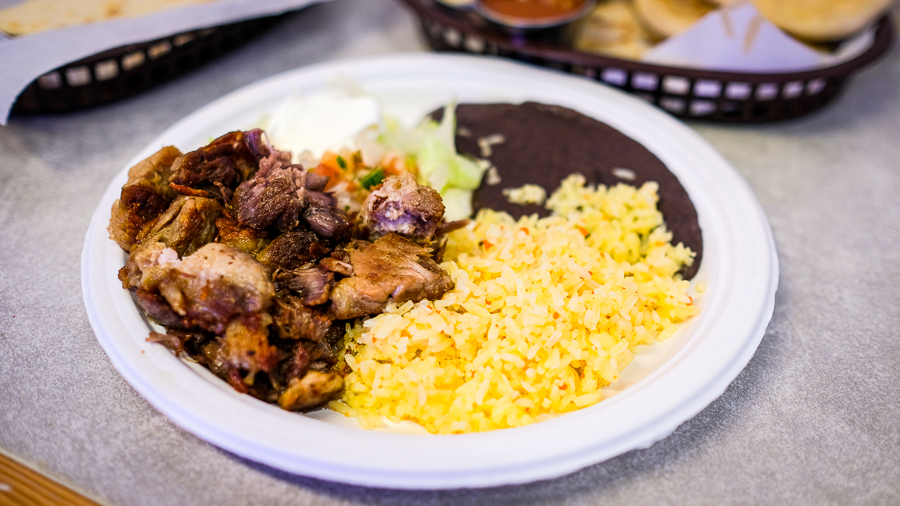 When visiting new spots, I prefer to sample a bunch of smaller dishes to find what I like best. Having a number of antojitos, or little cravings, to snack on is my idea of fun and that's what I like about La Casita, especially because prices are very fair.
Hungrier parties will want to delve into the entrees of the menu, of which there are more than a handful. I tried the carnitas plate ($10.25), which comes with the requisite accoutrements of beans, rice, lettuce, pico de gallo and hot tortillas on the side. This isn't your normal shredded or chopped carnitas, this is seriously delicious marinated pork loin that's been fried up. The sometimes crispy bits of rendered, jiggly fat and tender morsels of meat star; rice and beans are pretty standard in comparison. Other options include a grilled pork chop with a savory tomato puree, also known as chuleta entomatada, carne asada steak and beef or chicken fajitas.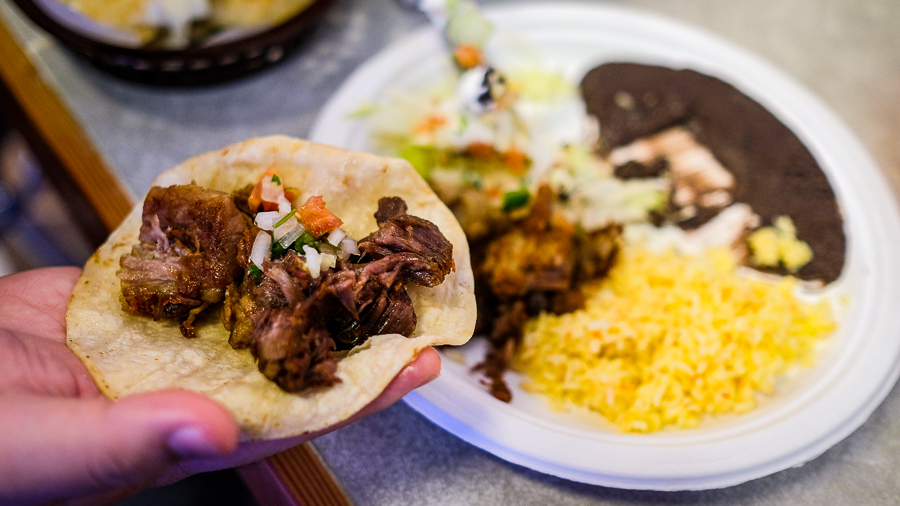 La Casita opened in November but is already drawing attention. On my second visit, I overheard a group of ladies saying they were so excited to find a pupuseria that they drove all the way from Hawaii Kai for lunch. The steady stream of diners seems to be a mix of curious passersby and a core group of Latinos who order and converse in Spanish.
With the location in a random strip mall near a soon-to-be major transport hub, I can't help but feel like I'm back exploring the myriad of cultures that exist in Southern California. La Casita adds to the already amazing roster of restaurants in this corner of Waipahu, where within walking distance you can try a number of Hawaiian, Filipino, Chinese, Polynesian, Japanese and now Central American delicacies.
La Casita
Waipahu Professional Center
94-801 Farrington Hwy
Waipahu
676-6987
www.lacasitahawaii.com
Mon. – Sat. 10:30 a.m. – 8 p.m.