Punchbowl Coffee truck a bonus for Terrace House fans
Eric de Mendonca serves up coffee in Waikiki — and it's good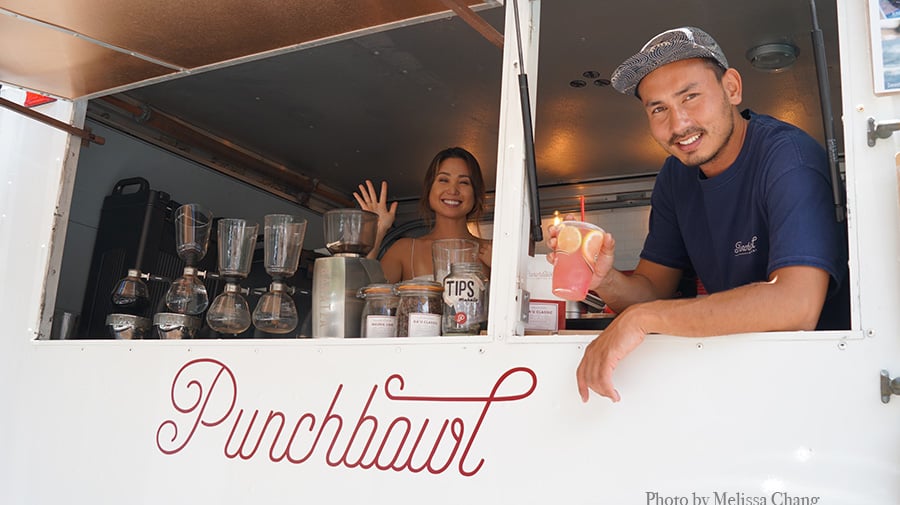 As mentioned in yesterday's blog, parking for Waikiki Tea House is in the adjacent lot, where you will see the Punchbowl Coffee truck in back. Upon closer inspection, I found that the truck itself is a destination, too!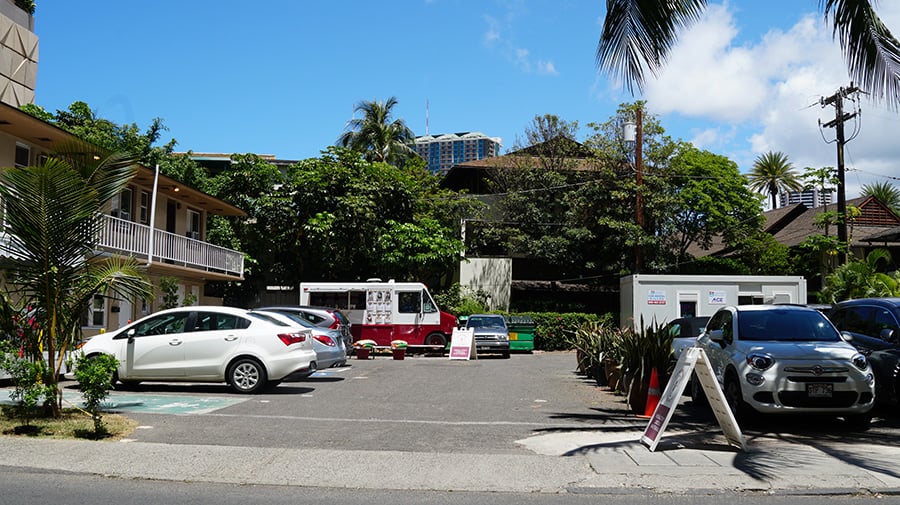 It turns out that the truck is owned by Eric De Mendonca, one of the residents/stars of the Japanese reality show "Terrace House." I don't watch the show, myself, but I know it's popular on Netflix, and De Mendonca is from the "Aloha State" season.
De Mendonca's aspiration as a woodworker is to build (and of course, sell) furniture. But starting from the ground up, he knew he needed to generate income doing something else while he pursued his passion, so he started his coffee truck. He has coffee contacts and, if you talk to him, he's as knowledgeable as some of the more renowned coffee geeks in Honolulu. He's done well enough that he will be opening his brick-and-mortar coffee shop in this building soon, which will double as a showcase for his furniture.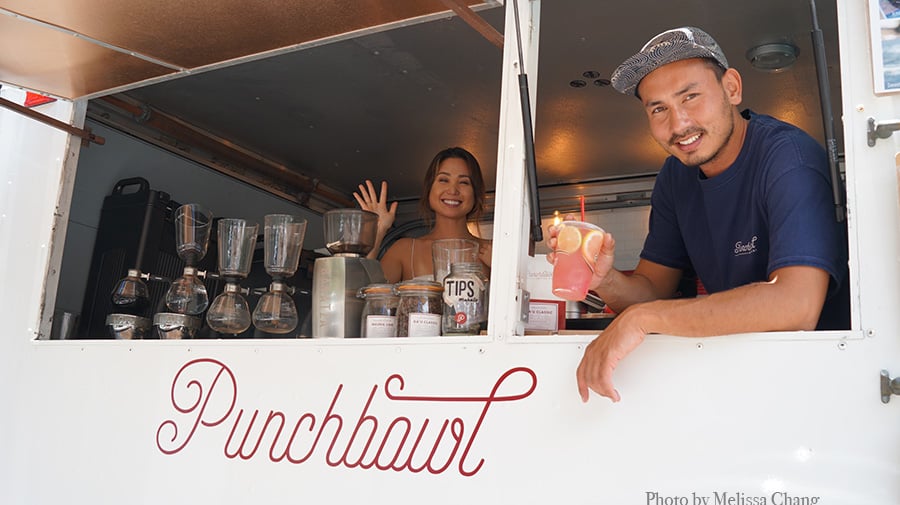 My first experience at the truck was actually not coffee, but crack seed lemonade because I was dying in the humidity. It's good as a lemonade, but it doesn't have strong crack seed or li hing mui flavor. De Mendonca said he's been working on the flavor, too, but he uses the li hing powder from Ono Pops, which is all natural. I guess Hawaii people just love those artificial flavors! But it's good as a lemonade.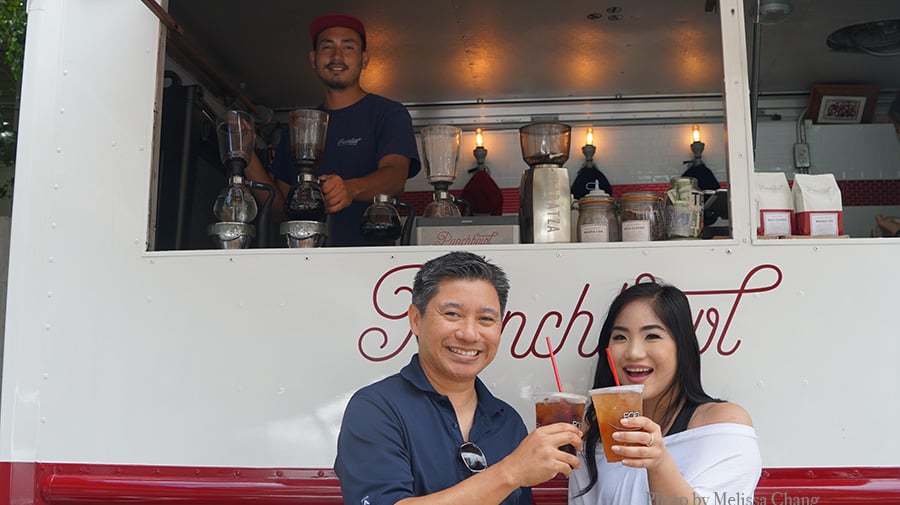 One of the biggest features of the truck is the use of syphon coffee maker. The device looks like something straight out of a laboratory, with two glass chambers that use vapor pressure and vacuum to brew the coffee. The process takes about as long as a pour over and employs similar scientific theory in using vapors, just a different method to a smoother cup of joe. De Mendonca said that it's so smooth, people who normally need cream and sugar can drink syphon coffee black. Mark Soeda, who joined me on my coffee break, said it was smooth enough and took his iced coffee black.
The energy tea is a big seller for truck patrons who don't drink coffee. It's a cold dlrink comprised of black and white tea, cinnamon, ginger, yerba mate, shizandra, eleutherococcus astralogus (a.k.a. Siberian ginseng), mamaki and vanilla. The yerba mate, ginseng, shizandra and mamaki are all natural energizers, so I imagine a full cup will really perk you up. The ginger, cinnamon and vanilla make this drink taste like chai.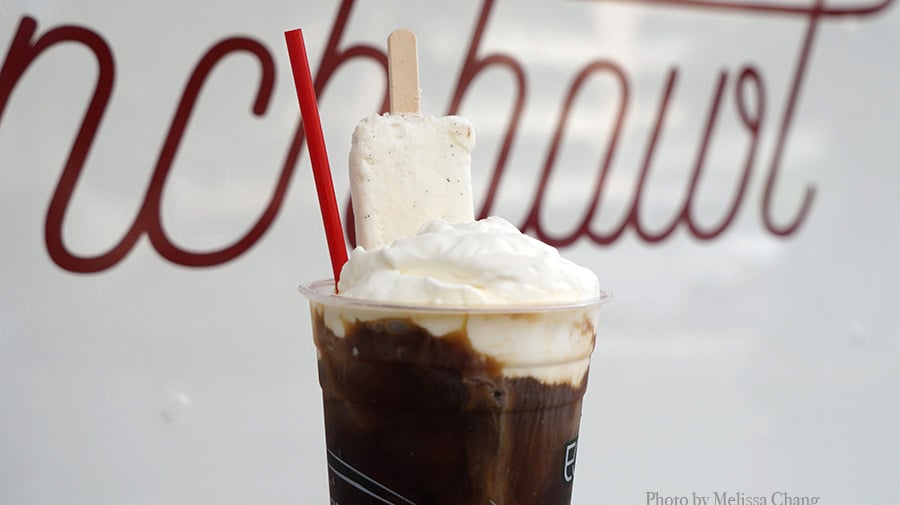 Most poeple know affogato as espresso poured over gelato, but Punchbowl Coffee's version is served cold, topped with a mini vanilla Ono Pop and a spiral of whipped cream. Since this is Hawaii, the pop melts quickly enough to provide the creamy, dessert-like flavor that affogato drinkers love. The biggest bonus, as you can see, is that it's super instagrammable.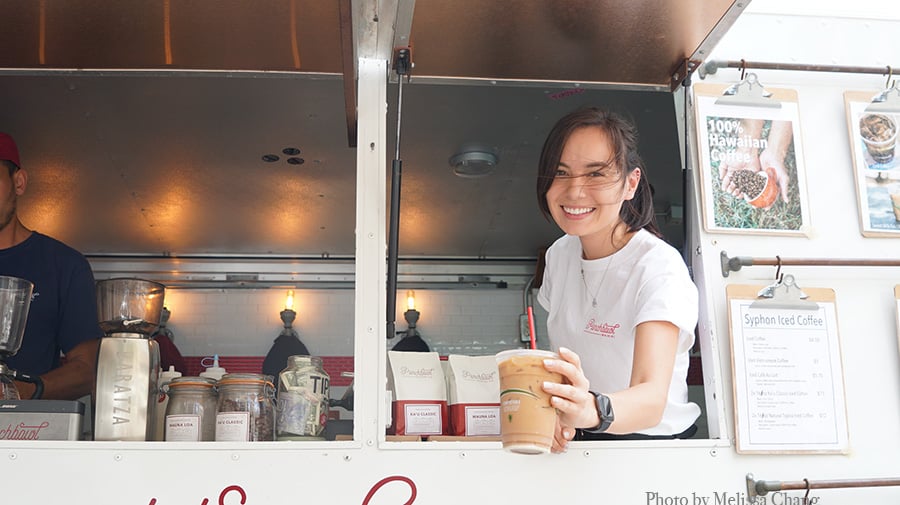 The iced Vietnamese coffee is one of the more popular items, since it's made using the syphon method and mixed with some condensed milk (for those of us who just can't take their coffee black, no matter what). Other than the fact that it was smooth, I liked that they don't overdo the condensed milk, so it's not super sweet.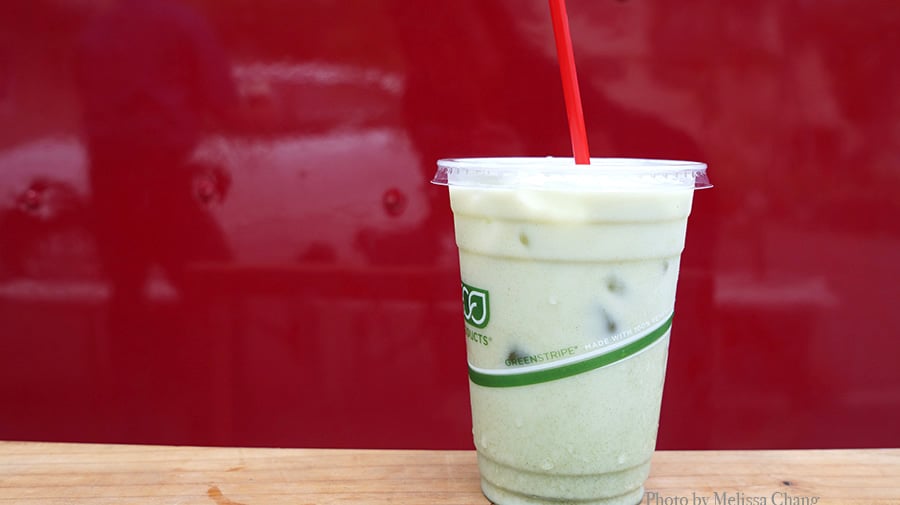 Matcha is always a popular flavor, and here they add condensed milk for richness.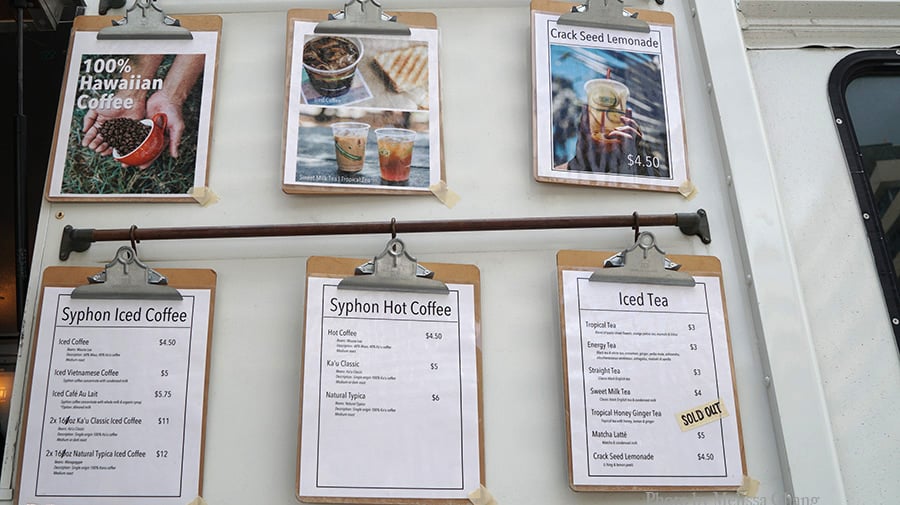 Here's the rest of the menu, in case I didn't try things that you might be interested in. Punchbowl Coffee also serves a turkey pesto sandwich and grilled cheese sandwich, but I didn't try those because I was already full from the Lady M cakes!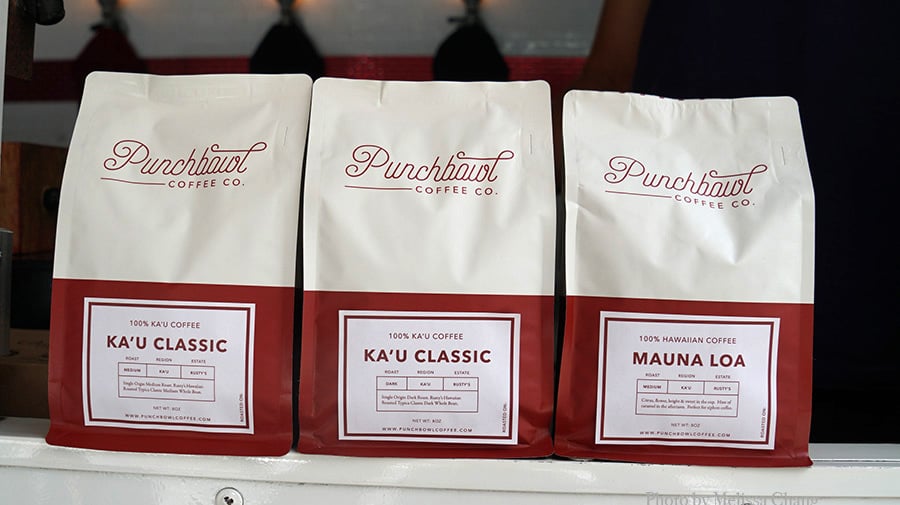 If you want to make your own coffee at home, or just need a souvenir from Hawaii, Punchbowl Coffee sells beans from Rusty's Estate in Ka'u. For those of you unfamiliar with this region of Hawaii Island, Ka'u is farther south, and sometimes referred to as "Kona's sexier younger sister." It's come up as a coffee destination in recent years as the area shut down its sugar operations, and has proven to be a worthy contender in the coffee industry.
Anyway, even if you're not a "Terrace House" groupie, Punchbowl Coffee is a good spot for a handcfrafted cup of coffee or tea — and as you can see, the prices are pretty reasonable, not just for Waikiki, but against the big chains. For more updates on the progress of their brick-and-mortar, follow them on instagram.
Punchbowl Coffee
234 Beachwalk
Open daily from 10 a.m. to 8:30 p.m.