Proud Peacock: A North Shore Institution Reopens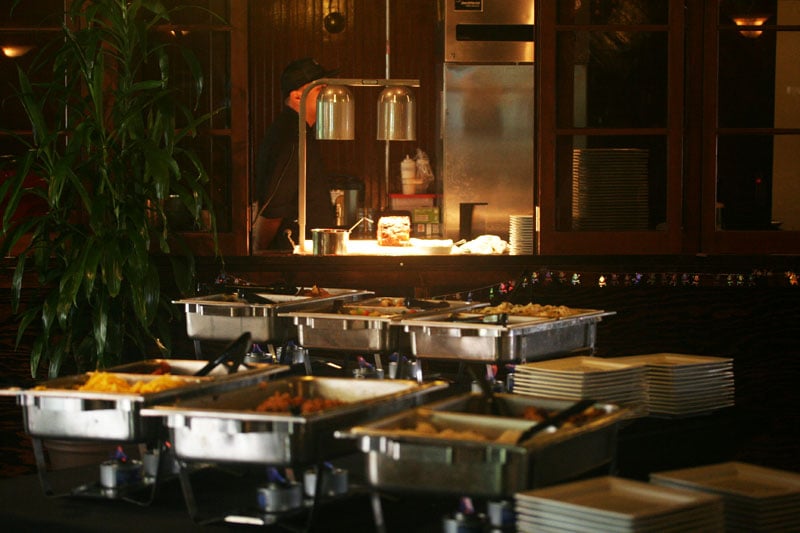 Picnic provisions and food trucks might come first to mind when on the North Shore. But if you're looking to switch things up with something more offbeat, consider the Proud Peacock restaurant, which recently re-opened in Waimea Valley Park.
North shore locals have a lot of love for the old Proud Peacock, speaking reverently of the prime rib buffet and all-you-can-eat salad bar. The renovations kept much of the dark, old school vibe, buffing up the interior's 1970s Chart House-style glamour. Handsome dark wood, leather and tapestry-style upholstery are a whole world away from the greenery outside and the beach life in the surrounding area.
The atmospheric dining room is the star here. If the weather is nice, request a table on the lānai, which looks out into the park's tree canopy. Too much sun? The air conditioning in the back booths is a welcome respite.

If the inside is too atmospheric for your tastes, find a seat on the lānai.
The bar, tucked along a side wall, makes a good pit stop after an afternoon walk in the park. Happy hour specials, available from 4 to 6 p.m., include spiced edamame and margherita pizza ($5 each). The dinner menu gets more elaborate with corn chowder served in a sourdough bread bowl ($9) and a Wagyu beef burger on a brioche bun ($13).
On Sundays, the restaurant switches entirely to a brunch buffet, from 10 to 2 p.m. (at a reasonably priced $25 per person). It's a solid mix of Mainland brunch staples (eggs, bacon, fresh fruit) and local favorites (fried rice, somen salad, Portuguese sausage). For retro flare, try the prime rib, sliced to order. An omelet station is the stand-out feature, with made-to-order omelets with your choice of fillings, including mushrooms, bacon and kale.
Dinner Thursday through Saturday, brunch Sunday
Waimea Valley Park, 59-864 Kamehameha Hwy., 638-7766, waimeavalley.net