Props to the pop up, Province SF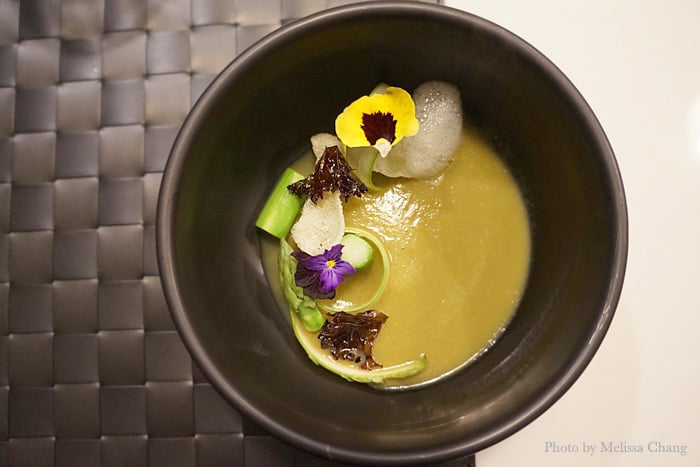 Since our flight to Dubai originated in San Francisco, we had time before and after that adventure to have another mini-adventure in the City by the Bay.
One of my favorite people there to eat with is my Twitter friend @TheDapperDiner, who knows just about everyone and everything about food in San Francisco. Not to mention, he's fun, and talks about more than just food. I was thrilled to be able to introduce him to former Vintage Cave chef Lee Opelinia, who has a bimonthly pop up in his home. (Hah! I finally knew something he didn't!) Lee takes the "come my house, eat" concept literally.
Lee was actually born and raised in San Francisco, and worked at the Ritz Carlton's Dining Room with another familiar face: Chris Kajioka. When Chris needed a sous chef to open Vintage Cave, he brought Lee to Honolulu and … well, you know what kinds of exquisite things they made there. Aspiring chefs can only hope to acquire that kind of talent and skill.
Lee has since moved back to San Francisco and is back to work at the Ritz Carlton, which has rebranded its signature restaurant to Parallel 37. He hopes to open a brick-and-mortar of his own someday, though, and has been trying to find his style while testing the waters with his pop up, Province SF. His menus are inspired by the Filipino food from his family (thus the nod to his province in the Philippines) with an upscale twist. These seem to delight and thrill Filipino diners, while they are great introductions to people who don't know much about Filipino food.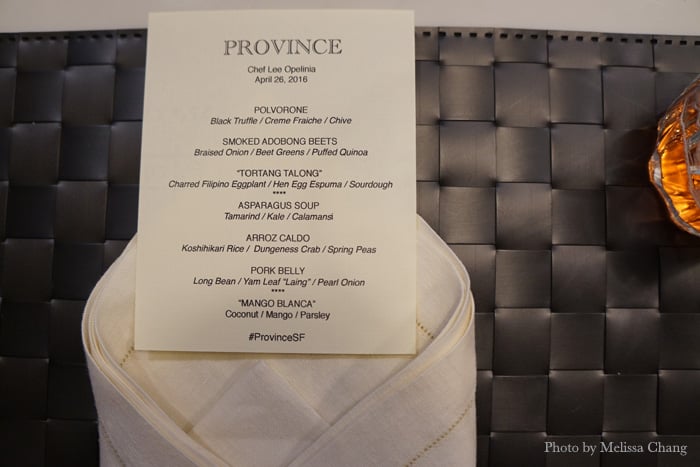 The menu. @TheDapperDiner is also Filipino, so he could speak to his own home cooking attempts.
Polverone — also known as pulburón in Tagalog — is a is a heavy, soft and very crumbly Spanish shortbread. Lee adds black truffles to his, then elegantly tops it with creme fraiche and chives. I was busy taking pictures of mine as moans came out of everyone else's mouths. When I finally bit into it, I reflexively grabbed Genevieve's arm in speechless shock and awe. I wasn't shocked because it was good. I was shocked because it was THAT good, probably one of the best things I've eaten this year. And yes, Genevieve and I snuck one out for the road.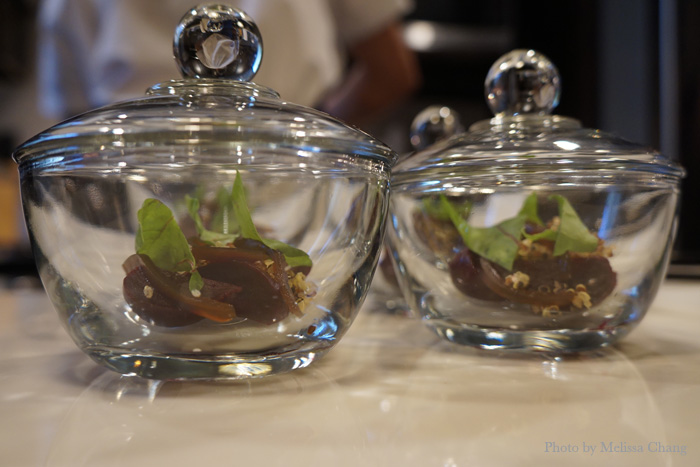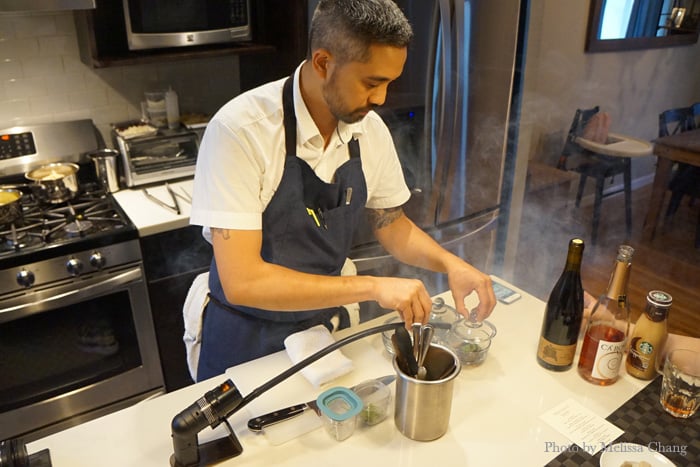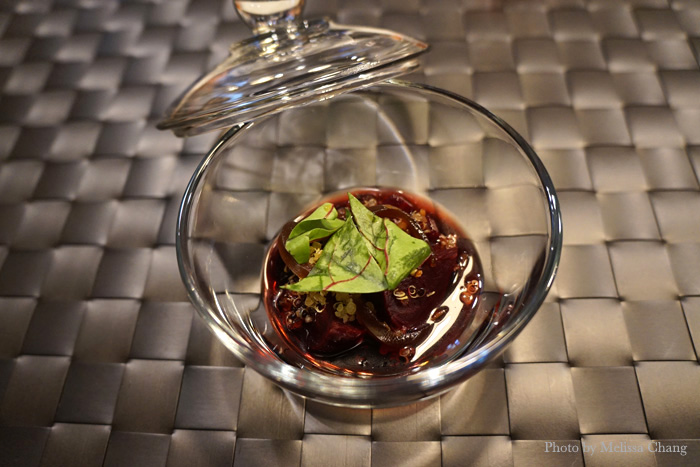 You can have beets, or Lee can take a smoking machine to make smoked adobong beets, definitely an elevated experience on this dish with vinegar sauce. The braised onion lent sweetness, the greens added fresh and bitter, and the crunchy quinoa pulled it all together.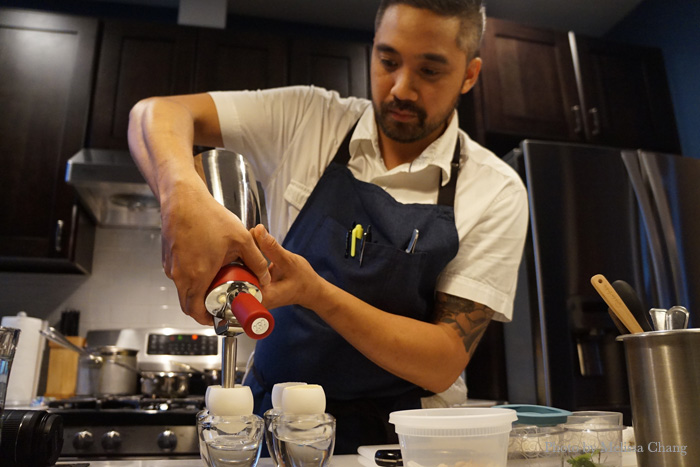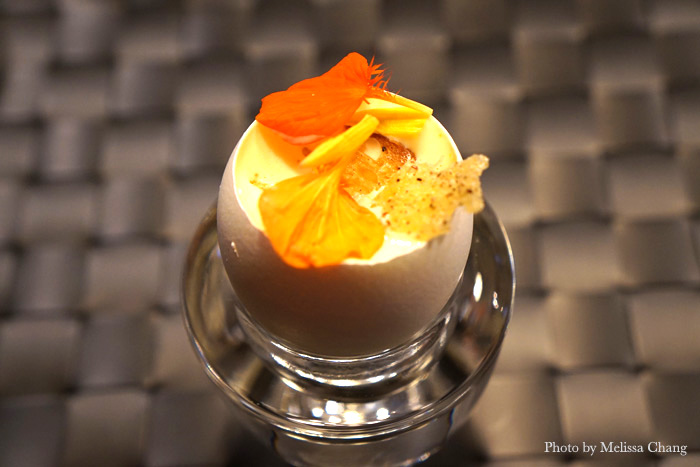 Yet another elegant twist on a homey favorite: tortang talong is known as an eggplant omelette, but here the charred eggplant, hen egg espuma and sourdough chips (topped with flowers) are simply delicate reminders of that quick, rustic dish our busy working parents threw together on weekdays. There is no quick throwing together here. This is art in three spoonfuls.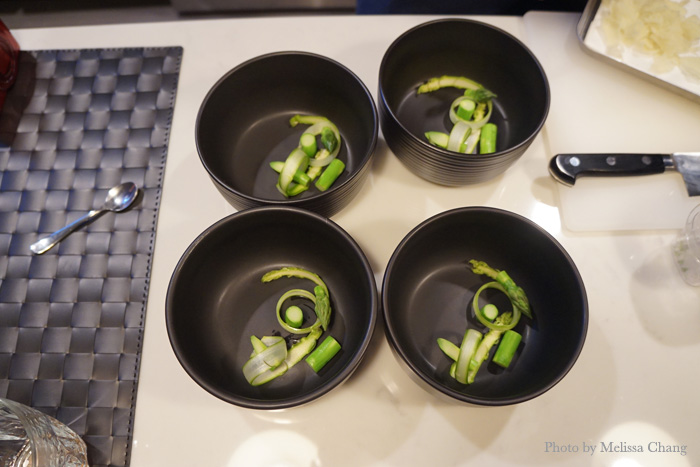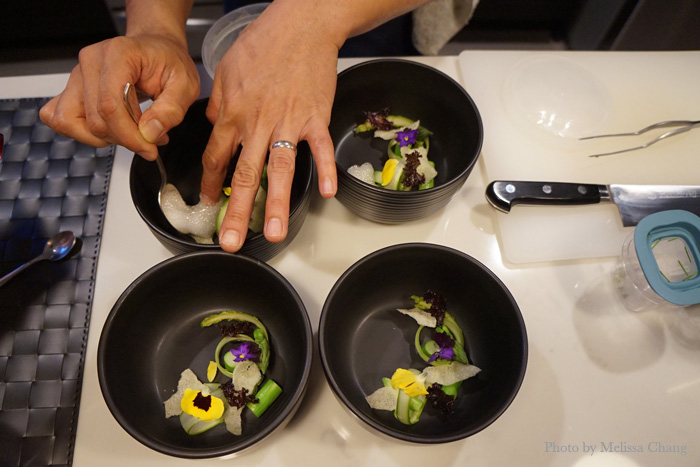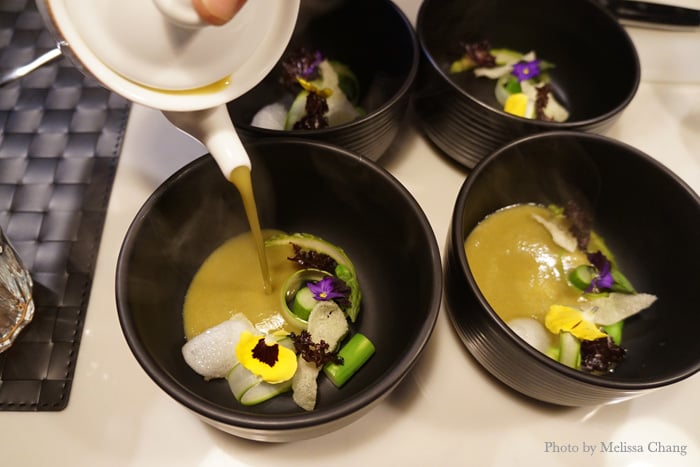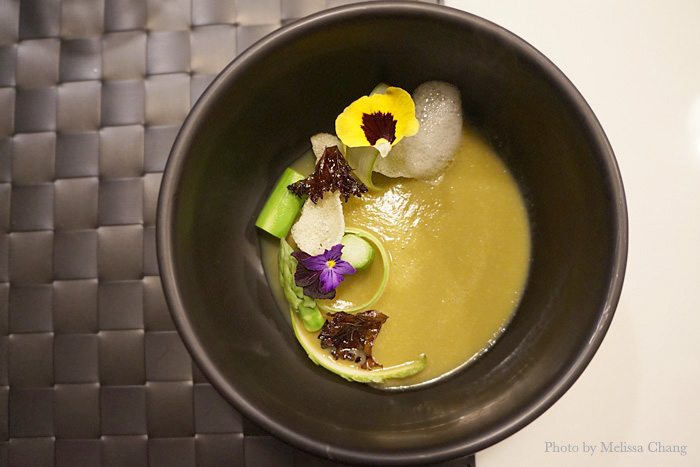 I'm not familiar with the original version of the asparagus soup that Lee made, but it's been re-engineered into an elegant, artful bowl of tamarind, kale and calamansi with asparagus curls and edible flowers. It's beautifully balanced with a hint of tartness, just enough to keep us scraping the bottom of that bowl.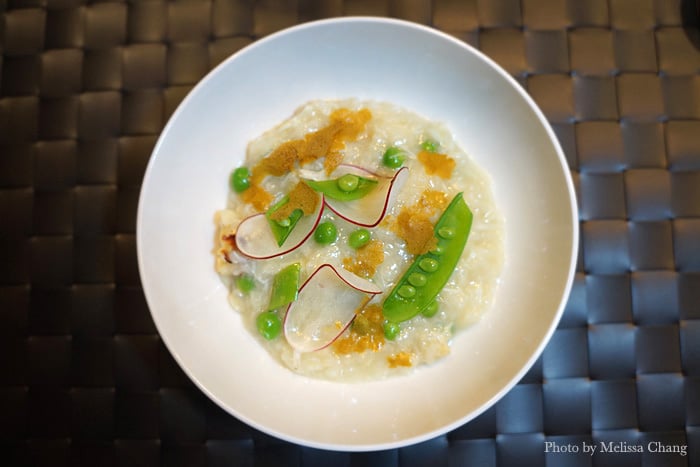 Every culture has its own version of rice soup, and arroz caldo is to Filipinos what jook or congee is to Chinese. Lee classes his up, San Francisco-style, with Koshikari rice, Dungeness crab, fresh spring peas and — get this — CRAB FAT CHIPS. The best discoveries are made by accident, and the crab fat chips are one of his best ones. This little bowl is rich, savory, crunchy and … well, crabby. I wish my grandmother made her jook this way! Sigh.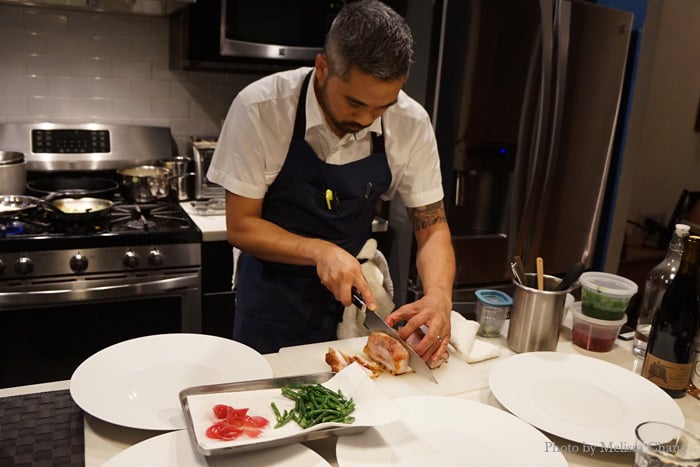 What's a Filipino feast without pork belly? This one is garnished with long beans, pickled pearl onions, and yam leaf "laing." (Laing is a vegetable dish made with dried taro leaves, coconut milk, shrimp paste and chili peppers; that's the green stuff you see on the side.) And that brown gravy is Lee's nod to one of my favorite Filipino condiments, Mang Tomas All-Purpose Sauce. So good. Need I say more?
And for dessert, "mango blanca," a deconstructed, reconstructed dessert of mango, coconut, and … parsley? It actually works; the little bit of parsley works almost like mint in bringing out the sweetness of the mango. It's a play on maja blanca, a popular Filipino dessert, but more light and refreshing. Pretty shards of fried lumpia wrappers add a little texture to each bite.
We all loved everything we ate, but we think Lee will have to have some kind of disclaimer for any customers who have never had Filipino food. Can you imagine if they go to another Filipino restaurant, expecting the food to be like this? Then again, many foodies in media — including @TheDapperDiner — are proclaiming that this is the year Filipino food gets recognized as the most hip and trendy cuisine, so maybe Lee's timing is good.
Whether you know Filipino food or not, though, this is definitely a must-try. But you can only try it if you plan ahead, since these pop ups are limited to four people at a time and are one weekend a month, for now. The next one is June 11 and 12, but email him for future dates since he always sells out. Cost is $75 per person and BYOB is encouraged.
Province SF
For reservations email: ProvinceSF@yahoo.com
Instagram: @Province_SF