'Project Runway' recap – Klum and doom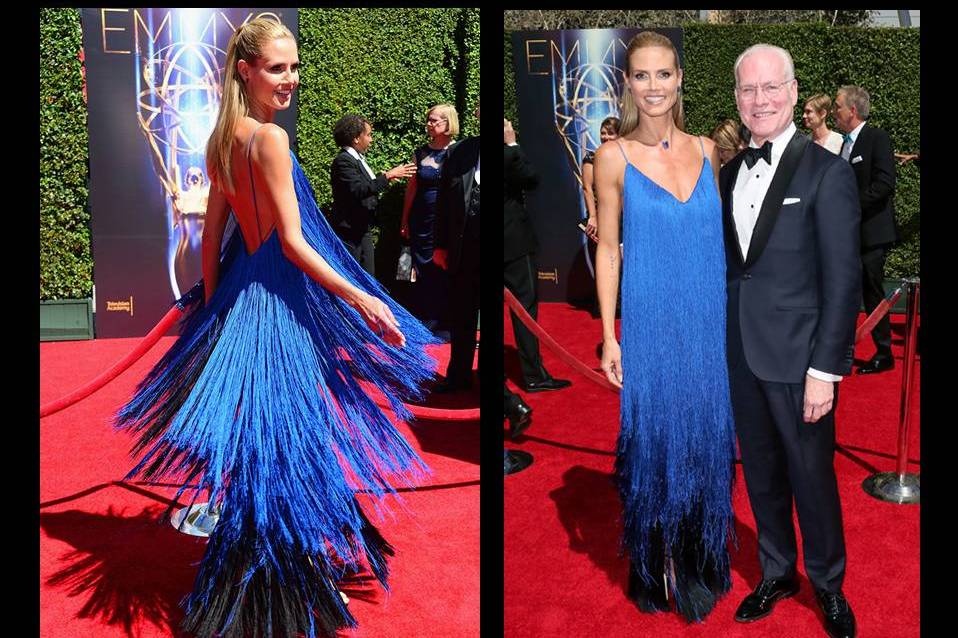 As I bask in the glow of Monday night's Primetime Emmy's red carpet scene, I can't help but think Heidi Klum would have nailed it if she chose Kini Zamora's body con number to wear to the Creative Arts Emmy Awards, the prequel to the big Emmy's show.
Instead, on last Thursday's "Project Runway" episode 5, the judges chose Sean Kelly's electric blue fringe hombre dress as the winner, with Zamora in the runner-up position for the second week in a row.
The challenge was to design a red carpet look for Heidi to wear to the Creative Arts Emmy's. The designers had $250 to spend at Mood, and one day to complete the challenge. When Klum and mentor Tim Gunn visited the designers midway through the challenge, it was Klum and doom reviews for most of the designers. The progress was so horrific that all designers were given an extra $100 to go back to Mood for fabric to make their look work. Zamora and Kelly stayed back with a handful of designers and continued to work.
Seriously, it was an unfair move, but in the end, everyone who went back to Mood had an even harder time rushing through their designs.
Ultimately Kristine and Mitchell were sent home, and Korina with her drab prom look, should have joined them.
Zamora had another week of stellar praise from the judges, noting the Heidi-esque sexy plunging back and the impeccable fit of the dress. Although Zac Posen gave Zamora the highest score of the challenge, Kelly's creation came out on top.
I loved the movement of the dress and the electric blue complemented Klum's complexion, but it was so wrong for the red carpet. When standing still, it looked bulky and unflattering; Klum literally had to twirl and twirl to showcase its beauty and wow-factor. The dress received mixed reviews, but the "Fashion Police" jury spoke and noted that Klum looked like she belonged in a car wash. At the end of the day, I'd say it was a wash.