Product review: GLO Science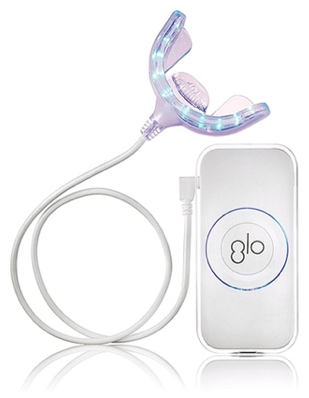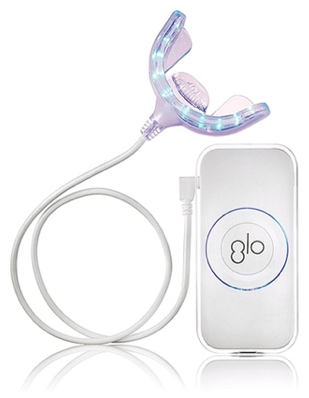 I've been curious about the various teeth-whitening implements out there, since I drink a lot of coffee. I'd never tried any, however, because various people who had used Crest Whitestrips mentioned that it heightened their teeth sensitivity. My teeth weren't horribly discolored — well, not to me, anyway — so I put that on the back burner for a while.
A couple of weeks ago, Arlene Tamashiro at Sephora Pearlridge told me that Dr. Jonathan Levine, who invented the GLO Brilliant personal whitening device, is coming to town and will be in the store to meet people and answer questions they have about his teeth whitening system. This is kind of a big deal; he's been on the Dr. Oz Show several times to talk about dental health and oral hygiene, so he's somewhat of a household name. I've seen his videos, and he knows teeth.
In anticipation of his Hawaii visit, GLO sent me a kit to try. I got the controller, which looks like an iPod; a mouthpiece, which plugs in separately so you can share the controller with others; and five whitening gels.
Here's how it works: Spread a thin layer of whitening gel on the front of your exposed teeth (no need to wipe on the molars) and bite down on the mouthpiece. Turn it on, and wait eight minutes. The device has a bright blue glow, and at the end of eight minutes the light will blink and then turn off, to indicate the time is up. Rinse the mouthpiece (I also rinsed my mouth, although they said you don't have to), then repeat three more times. Then, do this every day for five days.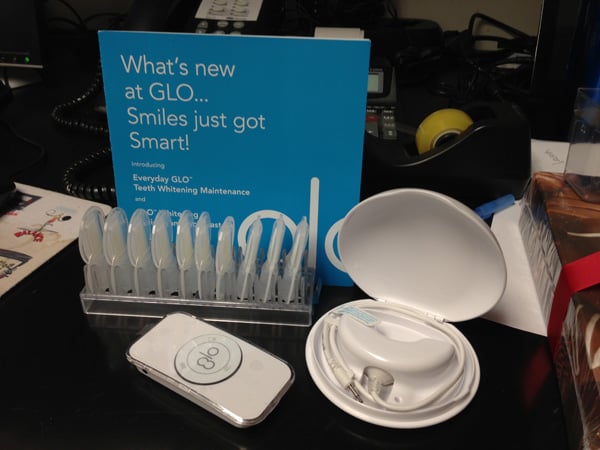 I should note that you're also supposed to have a lip balm with the kit to keep your lips from drying out while you use the system. I opened my kit at Sephora to take that photo and forgot to take the balm! I didn't have any side effects, but I have read on other blogs that the reviewers felt discomfort on their lips if they didn't use it. So check your kit.
I actually saw results after the second time I used it. My top teeth seemed to be getting whiter faster than the bottoms, and I wondered if that's just due to the way I was biting down on the mouthpiece. (I'm not sure.) But voila! Here's a comparison of my teeth, before and after five days with GLO.

Pretty good, right? The price is good, too — the whole kit is $199 (BriteSmile is about twice that much) and I didn't feel any sensitivity on my teeth or gums.
If you want to meet Dr. Levine, he'll be at Sephora Pearlridge tomorrow from 9 a.m. to noon. (Call 487-0660 to make an appointment.) He'll also be at Ala Moana later that day, but I'm showing extra love to Arlene at Pearlridge since she got me the whitening kit!
While you're there, talk to him about the GLO Good Foundation, the side of his business that provides oral health care to underprivileged communities around the world. They were hoping to do something in Hawaii on this trip, but the timing was a little off. It's the holidays, after all. Then again, since it's the holidays, maybe this can be your way to help spread some cheer to others.
Meet Dr. Jonathan Levine
Thursday, December 20 ~ 9 a.m. to noon
Sephora Pearlridge
Call 487-0660 for appointment