Preview: "Paradise Come Dawn" at Stage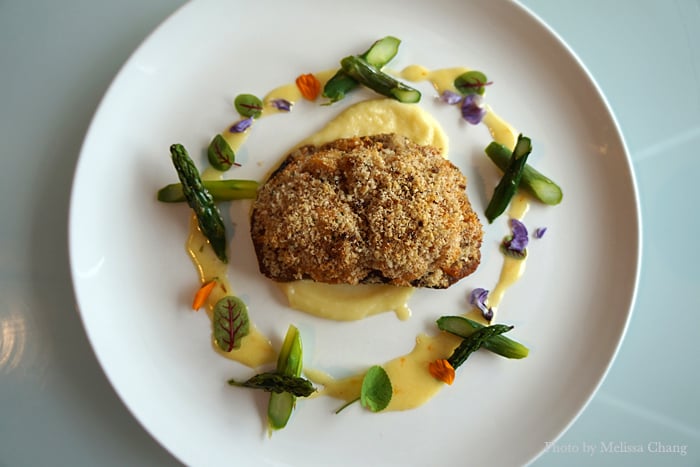 October 15 is the last special performance dinner for the year at Stage Restaurant as they gear up for the holidays, so they're ending with a big throwback to the cruise ship era, when the Lurline sailed through Honolulu with jazz, dining and dancing. Na Hoku Hanohano Award winner Starr Kalahiki is headlining this event, which means seats may sell quickly. The day I went in to take photos to preview the food, they said they had already started getting calls for reservations.
Chefs Ron de Guzman and Cainan Sabey created dishes to capture the romance of the period, to remind people of a simpler, but elegant time.
The Kona lobster bisque is pretty straightforward, but there's something extra that's kind of addicting: the black truffle and a dollop of creme fraiche that class it up and give it additional, subtle richness.
I think this dish is meant to look like a lei, which everyone on the Lurline gets greeted with. It's almost a shame to break it apart, but you gotta do it. The crab is a decadent topping for the fish, and the lemon-potato purée is perfect for adding a bit of citrus and richness to pull it all together. The "lei" is comprised of asparagus, sauce "Maltaise," and edible flowers.
After surf, comes turf! Ron's boneless grilled short rib is a contemporary take on a classic, served with sautéed green butter mushrooms, baby vegetables, Lyonnaise potatoes, and sauce "Bordelaise." It's amazing how such a simple dish can pack so much flavor.
Chef Cainan Sabey wanted to do a local twist on a cruise ship classic. So instead of a baked Alaska, he made a baked Hawaii. Inside the toasted coconut meringue, you'll find Valrhona caramel ganache and a delicately crunchy crust. The blue vanilla syrup is made to look like the ocean, and if you look down on the plate it does kind of look like your own private island!
The perfect performer for a retro Hawaii jazz dinner is Starr Kalahiki, known for her amazing jazz and Hawaiian music performances (often combining the two, as you can see in the video below).
Paradise Come Dawn
Stage Restaurant
1250 Kapiolani Blvd.
808-237-5429
$60 four-course menu; $35 additional with pairings