Preview: MDA Spring Soiree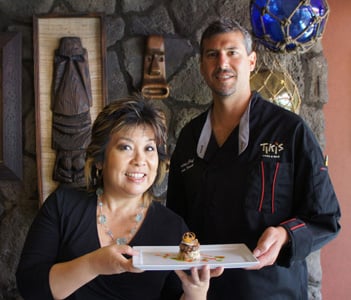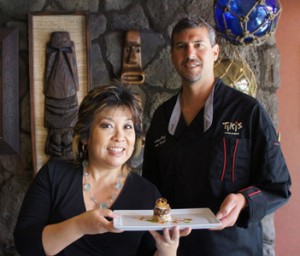 The Muscular Dystrophy Association is having their 14th annual Spring Soiree this Saturday, and it's the first time I get to attend. As it turns out, it's a semi-formal affair, so I'm glad I bought a long dress from the YWCA of Oahu's Downtown Decadence a few months ago. (Wearing a dress from a nonprofit event to another nonprofit event just feels right.)
In any case, this weekend's event is quite a posh gala: It's on the Ocean Lawn of the Royal Hawaiian Hotel and guests are asked to wear semi-formal attire. Black ties are "invited," and in looking at last year's photos, it seems that quite a few gents took them up on the offer.
There will be 15 tasting stations, of which 10 are food. Each of the chefs has been tasked with creating something that is both pretty to look at and fabulous to eat, to match the theme and ambience.
One of the items that caught my eye was the dish being created by Chef Ronnie Nasuti of Tiki's Grill: mini loco mocos made of Big Island beef and sunny side up quail eggs atop foie gras fried rice. The loco moco itself sounds good, but foie gras fried rice? I gotta see this. He and our longtime twitter friend Michael Miller obliged us for a quick Hawaii IRL video to show us what they're making. I got a lesson in making fried rice in the process, too.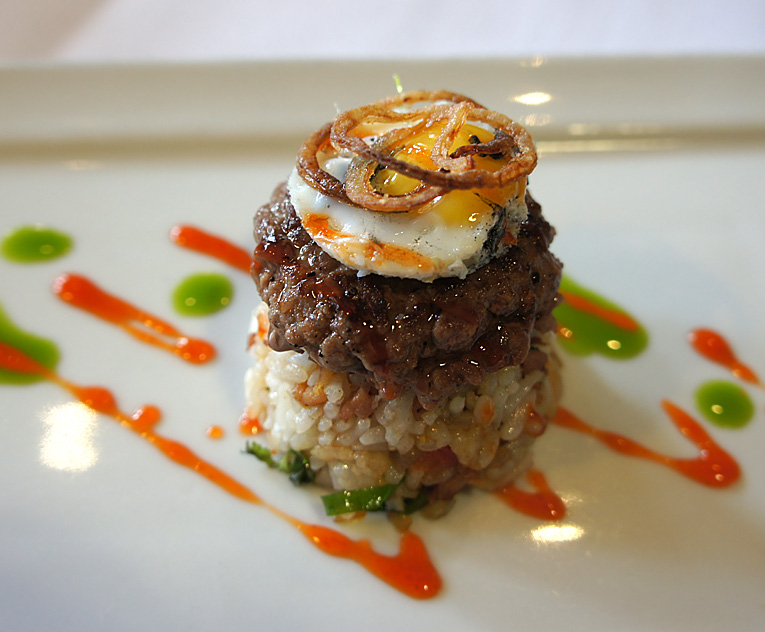 Other restaurants featured at this event are:
PF Chang's China Bistro – Lettuce Wraps and mini desserts
Azure – Chirashi sushi cups with salmon, ahi, shrimp, ikura and shiso wasabi, soy & pickled ginger; bami goreng noodles with chicken and shrimp with Indonesian shrimp paste
Da Kitchen – Rocking beef skewers, kim chee crab cakes and roast pork
Chef James Aptakin of Mac 24-7 Bar & Restaurant – Spanish/ Hawaiian infused pork, island braising greens, cilantro fried rice; Spanish kiawe-smoked pork, braised island greens with cilantro coconut fried rice topped with pickled red cabbage, daikon carrots; Spanish/Hawaiian pork smoked, purple potato, corn, black beans, olives, cilantro, jicama and braised local greens; coconut cilantro fried rice with Portuguese sausage and caramelized onions
Barefoot Beach Bar – "World famous" garlic shrimp with rice, guava-marinated Hawaiian BBQ chicken with greens
Let Them Eat Cupcakes – Assorted mini cupcakes
Cha Cha Cha Salsaria – Magaritas
Da Spot, Marians Catering, and Ryan's Grill at Ward Centre (to be announced)
You can still get tickets to this event by clicking here. Tickets are $125 per person; the event includes food, libations (there's wine and cocktails, as well), entertainment by Mojo, and a silent and live auction.
MDA's 14th Annual Spring Soiree
Saturday, April 14
5:30 to 10:30 p.m.
Royal Hawaiian Hotel Ocean Lawn
$125 per person, semi formal attire
(Ladies, I recommend wedges or flats so you don't sink into the grass)