Preview: Asian cinema night at Wang Chung's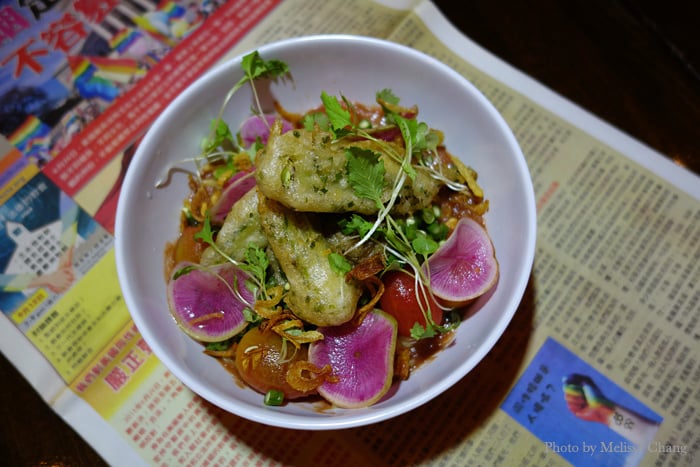 On any given night, Wang Chung's karaoke bar is packed with locals and visitors looking for a fun time in Waikiki. But once in a while, owner Danny Chang changes things up with special theme nights — and tomorrow, you're in for a real treat. Our very own Will Chen is the guest chef for "Asian cinema night" at Wang Chung's, and has created some twists on familiar Asian flavors.
I don't mean local Asian flavors, with the overdone shoyu-sugar combo. Will is taking us deep into our Asian roots, with tastes of street food and hawker stands. And since it's been so hot, his noodle bar will be about cold noodles.
Peking duck fat popcorn was one of my favorites. It is salty-sweet, but slightly more on the sweet side (think of char siu). You also get sprinkles of chicken skin cracklins for extra crunch and flavor. Eat this fast, though — it's best when it's still warm or hot.
The "egg and prawn soldiers" is a dish full of Southeast Asian flair. You get an onsen egg with Maggi seasoning (Will and Danny said Asians are all about the Maggi seasoning), herbs, and sesame. The sesame toast, which you see all over the homeland, is cut into dainty slices. I wish more people served this here; I've seen it at a couple of farmer's market booths lately.
How do you eat it? Swirl your toast in the bowl as you break the yolk and mix it with the herbs and spices. Bite. Repeat.
…And this dish is one of the reasons I wish my father were alive to meet Will. Other than the fact that my dad liked to hang out with loud, funny Chinese guys, Will's cooking and use of spices would have wowed him. The chili wontons are plump and meaty, with a straightforward spiciness that cuts across your tongue but doesn't make you cough. (You know what I mean, right? Some people use spices that grab the back of your throat.) The herbs and nuts give it subtle added layers of flavor and texture. I wonder how it would be with some noodles so I could scoop up the rest of the spicy sauce?
Make this again for me, Will!
(Everything grown by) Ho's bowl is a fresh, colorful presentation of watermelon radish, pickled long beans, eggplant miso, tomato tare and okra tempura — all grown by Ho Farm. Wait, eggplant miso? Brilliant. Mix it together to get the full effect, and it is a nice celebration of summer in your mouth. Wang Chung's Chef Randy admitted that he's a true meat-eater, but really enjoyed this.
The kung pau hana ban mian (means "cold noodles") was another colorful bowl. It has massaged kale (what?), pickled carrots, za cai (also known as 榨菜 or pickled pressed vegetable), peanuts, sesame sauce and black vinegar on dan dan noodles.
Be sure to mix this well when you get it! Danny mixed the bowl first, and we both thought it was missing meaty flavor, the way we usually enjoy dan dan. Will grabbed the bowl, mixed the meat to the top, and voila! Perfection. Cue Will's eye roll at us. Mix it properly and it's a filling as well as refreshing bowl of noodles.
What's not to love about a bowl of noodles that features soft shell crab, a soft egg and Heinz ketchup? This is as close to Singapore as I'm going to get until October, and I loved that Will used crab that's easier to eat in public. This is rich, earthy, and spicy, and probably something you won't want to share. I loved the mix of flavors and textures here, too. Actually, I also loved the way Will threw this at me to eat, like a definitive "Boom!"
You can't have a taste of the homeland without a taste of your childhood, too. Will did a spin on his mom's cold somen, topped with onsen egg, poached chicken, shaoxing (Chinese rice wine), dried shrimp, green onion, mushrooms, garlic chips and frozen broth (like a granita). It's super refreshing and all of the flavors are very light and delicate, plus you get a savory crunch from the garlic. I liked that it wasn't too heavy, so you have room for more items from the menu. In a way, I felt like this unlocked a little of my inner FOB, too.
Check out Wang Chung's tomorrow night, whether you stay for the movie at 8 p.m. or not, at least go for the food and see what Will Chen's Asia tastes like. Hopefully he does these dishes again!
Asian cinema night at Wang Chung's
7 p.m. (movie starts at 8 p.m.)
Featuring "The Last Dragon"
2424 Koa Ave.
808-921-9276