Preview: "Acoustic Soul Fusion" at Stage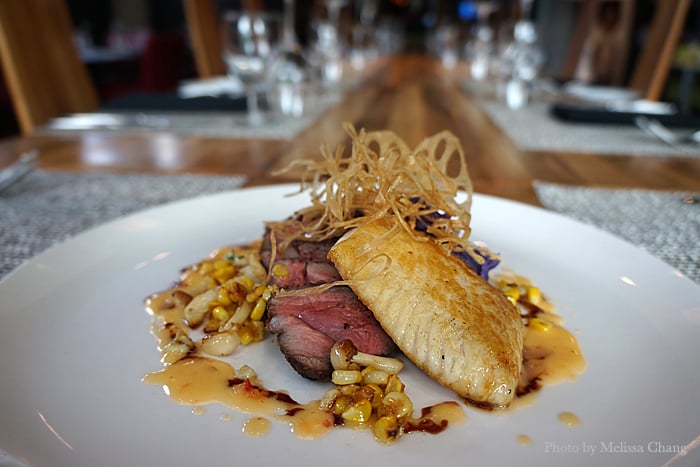 Honolulu has seen a huge surge in promoting appreciation of the arts in recent years, from music to photography and painting, and yes, to food. Stage Restaurant was an early pioneer in merging those art forms, but lately they've been taking it to a new level with edgier installations and contemporary musicians.
You can get a taste of their latest presentation, "Acoustic Soul Fusion," happening this Thursday. They'll be featuring music by Aidan James and Yoza (yes, playing together!) and an artful prix fixe menu by Executive Chef Ron DeGuzman and Pastry Chef Cainan Sabey.
I can't make it to the dinner, but as soon as they wrote the menu, I got to shoot it! So if you're wondering what you'll get to eat on Thursday, here's a look. You should probably make your reservations soon, as the food and music are actually some of my favorites.
I couldn't figure out how Ron was able to keep the fried tomato fresh and firm on the inside of the fritter, but that's pretty cool. This is also served with tomatoes … well, in their natural state, marinated in lemongrass dressing and served with smoked goat cheese, basil, mint, and croutons. This will be paired with 2013 Honig "Reserve" Sauvignon Blanc from Napa Valley.
One of our favorites at the tasting was the tempura shrimp fritters served with Big Island hearts of palm, sweet-sour lilikoi sauce and caper remoulade (a homemade tartar sauce). Who doesn't love shrimp fritters? This has a nice blend of flavors and textures going on. It will be paired with 2014 Domaine de Triennes Rosé from France.
Surf and turf: The plate of grilled beef short rib and pan roasted opah is very hearty, but somehow not super heavy. You'll be getting full after the first couple of courses, but this won't be difficult to eat (which is a good thing, because it was pretty darn delicious). It's served with Kahuku corn, Honshimeji mushrooms, Okinawan mash, soy reduction and chili butter sauce, crispy gobo and lotus root. We loved how Ron took these ingredients and made them play very delicately together. This will be paired with 2013 Bodega Pulenta "La Flor" Malbec from Argentina.
Save room for dessert, as Cainan has made his deconstructed version of lemon crunch cake. You should take a little of the lemon yuzu cake, salted caramel crunch, Hawaiian honey ice cream and blackberry elderflower foam to get the full effect. When my friend Sayaka took the first bite, she clasped her mouth and squeezed her eyes tight before squealing, "This is so good!" I think she unwittingly demonstrated what it means to "brok da mout."
It was neat to watch them make The Chrysalis, as the drink really does change before your eyes. I won't spoil the surprise for you, but just know that it is comprised of Tanqueray gin, blue Chai tea, ginger-lemongrass syrup and a squeeze of fresh lime juice.
I wish I could make it, not just for dinner but to see these amazing musicians perform. Here's a clip of Yoza and Aidan playing together on HI Sessions (featuring percussion by Jenn Wright of Simple Souls):
Acoustic Soul Fusion
Stage Restaurant
1250 Kapiolani Blvd.
808-237-5429
$60 four-course menu; $35 additional with pairings