Pow Wow 2012: A Q&A with the organizers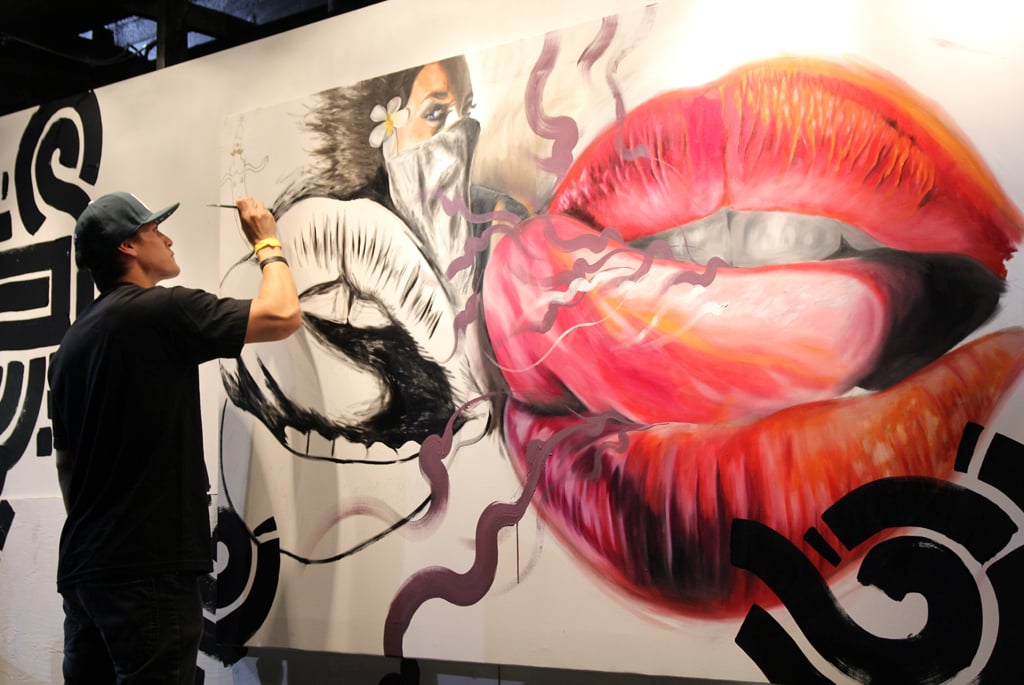 Great things are afoot as Pow Wow kicks off for the second year in Honolulu. We talked to three of the main organizers, whose passion has been the driving force behind the week-long art event: All-around socialite and logistics girl Christa Wittmier, and artists Jasper Wong and Kamea Hadar. Here's what they had to say about what's new and different this year, how they hope to inspire the local community, and the beauty of the artistic process.


Last year was the launch of Pow Wow in Hawaii, and it was pretty much a mind-blowing experience for a lot of folks in Hawaii. What's new and different in the way you organized it this time around?
Christa Wittmier: Well, we actually have a board of well-rounded directors this year that was able to get organized enough to pull off not one, but two large fundraisers, apply for grants and incorporate an education component to really increase our community involvement, ON TOP of all of the other planning and logistics that we need to do for the actual event. I still can't believe we pulled it off … this is definitely the biggest thing I have ever done in my life. Ever.
Jasper Wong: The one key difference was the additional help and time to organize Pow Wow 2012. At the same time, this year's Pow Wow is leagues bigger, with more than twice the artists and a whole neighborhood to paint.
Kamea Hadar: This time around we were a lot more organized and started planning as soon as Pow Wow 2011 was done. Also, this year we decided to take it out of Fresh Cafe and to start expanding our art into the community. With the help of Kamehameha Schools and some other partners we were able to surpass expectations and have turned our plans of slow growth into a full transformation of the entire Kakaako community.
How was your experience with using Kickstarter to raise funds this year?
CW: It was too stressful! I would log in like every day and see the same total for weeks. It was heartbreaking. You have no idea how hard it is to pretty much BEG your friends for money. That's pretty much what we were doing. People really dug deep to support … and I'm sure they are not going to be disappointed.
JW: Kickstarter helped to fund the event, but it wasn't as effective as we hoped. The fundraising dinner and Christa's party was far more effective in terms of funds raised and exposure.
What "flavor" of art and artists do you look for to take part in Pow Wow?
KH: Many of the artists in Pow Wow are street artists, but we definitely don't want to restrict ourselves to that genre of art. Street art is a huge trend in today's art world, and is a great way to make art less intimidating than in a gallery space, and to show how art can change communities. Many of the artists experiment with all types of mediums and during Pow Wow week will be painting murals and in Loft in Space on canvas as well. We also have artists like sculptor Derek Weisberg and Suitman, who experiments with photography and conceptual art. Our goal is to mix up as many types of art and culture as possible, with our main criteria being that they have a positive attitude towards learning, collaborating and giving back to the community.
What was the craziest, most "am I dreaming?" moment of last year's Pow Wow for you?
CW: The fact that it was even pulled off at all. There is a photo of all of us in on the sidewalk on Hotel Street just screaming our heads off. I love that photo so much because I remember exactly how I was feeling as I was standing there: We did it.
KH: For me, one of the greatest experiences was blacking out the finale piece on the last night of Pow Wow. It was an amazing rush and showed that the process of creating something, forging friendships and sharing cultures is as beautiful as the finished product itself. It shocked the hell out of the crowd, but bonded all the artists like nothing else.

"The beauty of art is most commonly enjoyed during its final stage. All the blood, sweat and tears happen behind closed doors," says your website.
Why did you originally decide to make Pow Wow about the messiness of the artistic process, rather than just the polished final product?
KH: The process of creating art is important for people to see. Its like hearing a band live vs. on an iPod. There is nothing like the experience of something beautiful actually being created in front of you. We hope that feeling that creative energy in the air, and seeing how artists work, will inspire others to create as well.
Jasper and Christa, you were in Hong Kong for the inaugural Pow Wow (technically this one is the third, but only the second for us). How did Pow Wow make the leap across the ocean from Hong Kong to Honolulu?
JW: It was thanks to one person: Christa Wittmier.
CW: I have to say that I was there and way way way excited about the event. I really thought it was something he should do in his hometown and told him if he would consider doing the next one in Honolulu that I would help him.
Honolulu's a very different landscape politically and socially than Hong Kong. How is the energy of the event different here than it was there? Are you happy with where it's at now, or are there things you would change?
CW: In Hong Kong, everyone was staying in different places all over the city. It really chopped up the dynamic of the participating artists, I think. Having them all together in Hawaii – living together, painting together, riding to and from the North Shore every day together – it just creates that amazing and intangible synergy artists get when they are working together.
JW: A key difference is community support. That comes in spades out here in Hawaii and a lot less so in Hong Kong. Things are only going to get bigger and better with each passing year.
If there were a few highlights, artists or happenings from this year's Pow Wow that you wouldn't want people to miss, what would they be?
CW: The panel discussion at UH on Thursday! So many amazing names from all over the world! Jeff Hamada from Boooooooom is my favorite speaker, he is going to inspire the crap out of people.
The afterparty at NextDoor, too! It will be the public's chance to really mingle and party with the artists.
KH: I would say the opening day (Tuesday) when all the artists and everyone involved will be at Fresh Cafe/Loft in Space for lunch. We are going to have a traditional Hawaiian blessing, and start to decide who wants to paint on what. The energy and anticipation will be incredible, and to see all of the artists talking, thinking and feeding off of each other will be great.
Friday will also be a great day, as that is the final day of painting murals. All of the blood, sweat and tears will be on display for everyone to see.
Saturday, of course, will be incredibly exciting, with all of the artists back in Fresh Cafe/Loft in Space painting together all day. The Black Out Party (which is what i have been calling the official opening) will start from 6pm-10pm.
JW: It's too hard to pick. Go to all of them. This only happens once a year, so you have no excuse to miss any of it.
Anything else you guys would like to say?
CW: I would like to say the name Pow Wow is the only way to really describe what this event truly is. It's a borrowed term from Native American culture but it just so wholly encompasses what the event is about. It' a gathering to celebrate art and culture. There are so many people from so many cultures flying to and gathering in Hawaii, which is the BIGGEST mix of culture, and they are taking inspiration from their surroundings and each other and creating art. It's just so f-ing beautiful.
KH: Thank you to all of our friends, family and the whole community for the love and support. It is because of the aloha that Hawaii has given us that Pow Wow is able to exist and why it has found a permanent home in the islands.