Popsicle tasting at Aloha Tricycle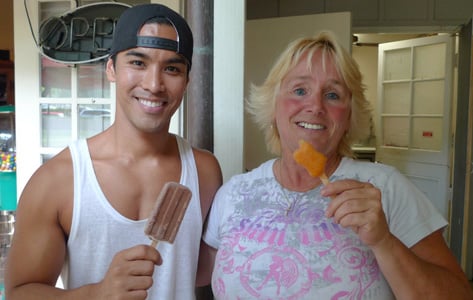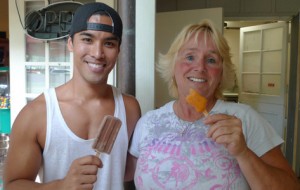 It's like a summertime fantasy: Here we are, in the midst of July, when Hawaii gets oppressively hot. Kathy Sills — who owns the Cafe Tea Parlor at the Mission Houses Museum and the new Aloha Ice Cream Tricycle — is developing new popsicles and ice creams for her business, and needs secret taste testers.
Do you think she needed to ask me twice to help out?
Kathy has been working for weeks to develop popsicle flavors for her business, which will debut at Friday's Eat the Street. A few times a week, she had tasters over to try her icy treats and give feedback. Sometimes a flavor would go through two or three tweaks before Kathy and her audience were satisfied, but she's now got a unique line of products to bring to market.
"I'm using fresh and locally grown fruits, vegetables, and dairy products to promote the flavors of the islands," she says. "The pops will be $2.50 each." Eat the Street attendees can get Chocolate Toffee, Chocolate Peanut Butter and Banana, Chocolate Garlic, Strawberry Lemon Drop, Pineapple Li Hing, and Espresso popsicles.
My initial impression? They're full of flavor, and we love that they're full of pulp from the ingredients. Best of all, they're very light, so you could easily whack two or three in one sitting. Or four, if your name is Jordan Segundo. Here are some that we tried:
Popsicle Tasting at Aloha Tricycle
Picture 1 of 6
I showed up to this week's tasting at the Mission Houses Museum to find singer Jordan Segundo and KITV's Yasmin Dar on their third round of popsicles. These are pineapple coconut, which we all liked. The coconut flavor isn't overpowering and the pineapple has a mellow sweetness, not a tart or biting pucker.
I should have taken a photo of the first tasting, but it was still under wraps, so I didn't think to document it till now. Sorry, guys!