Popping up with Jonathan Mizukami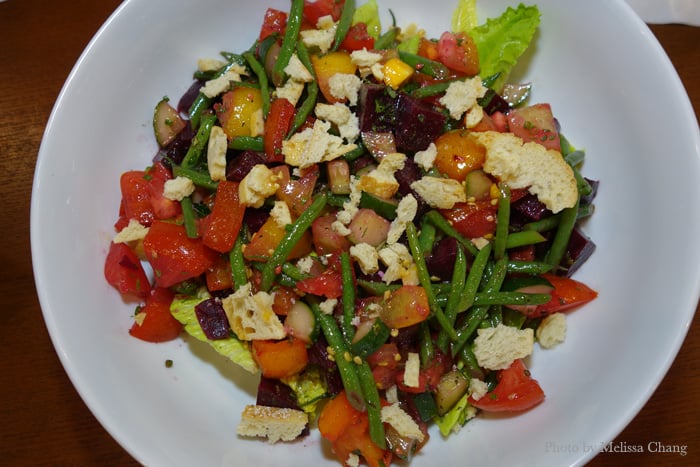 When Vintage Cave mysteriously closed earlier this year, it sent several top-notch chefs out into the foodie wilderness … and this is a great thing for food lovers who previously couldn't get to (read: afford) the exclusive dining venue. Now, on any given week, you can find those chefs putting on pop-ups and classes around Oahu, featuring their talents in more approachable spots with more approachable prices.
One of those is Jonathan Mizukami, who has been popping up at MW Restaurant on Mondays. So far it's been alternating weeks of an a la carte pasta menu and a family-style, prix fixe "summer supper," showcasing his range of culinary expertise.
I was fortunate to be invited to his summer supper last week, and it was a beautiful presentation of real down-home cooking. Here's a look at what we ate. If you want to try his next pop up tomorrow at MW, it will be the a la carte pasta menu, which I hear is pretty fabulous. Call ahead for reservations as they still have their regular dinner service, as well.
The salad looked so simple, with vine-ripened tomatoes, Japanese cucumbers, haricot vert and roasted beets tossed with lettuce and croutons. But the flavor — accented with the light herb vinaigrette — had us scooping the bottom of the bowl for more.
At first we thought this was saimin, but it's actually hand-cut spaghetti topped with 48-hour braised short ribs, wilted kale, crispy shallots and caramelized onion jus. We were too tired to drink wine, but this is definitely one for pairing. Lots of big flavor with delicate textures.
The cheese platter — featuring Kalehua crottin (goat cheese) — was one of my favorite simple pleasures, especially since I love black mission figs. We took a bite of each with the white Hawaiian honey and roasted macadamia nuts.
Hoe cake? According to a popular Southern story, hoecakes got their name from the slave practice of cooking them on field hoes because it was so hot out there. Whether that's fact or crap, hoecakes are dense, cornmeal-based cakes made with a lot of butter in griddles. Here, it was served with whipped creme fraiche and stewed strawberries.
Here's how I made mine. I'm a big fan of Southern fare, so this was perfect for me. I could actually just eat it with the cake and creme fraiche. But it was a nice ending to the meal, and a very unique one, at that.
Mizukami pops up on Mondays at MW Restaurant, at least until the end of August. To find out more, click here.
Jonathan Mizukami's pop-ups at MW Restaurant
1538 Kapiolani Blvd.
808-955-6505