Pokemon Go quickstart guide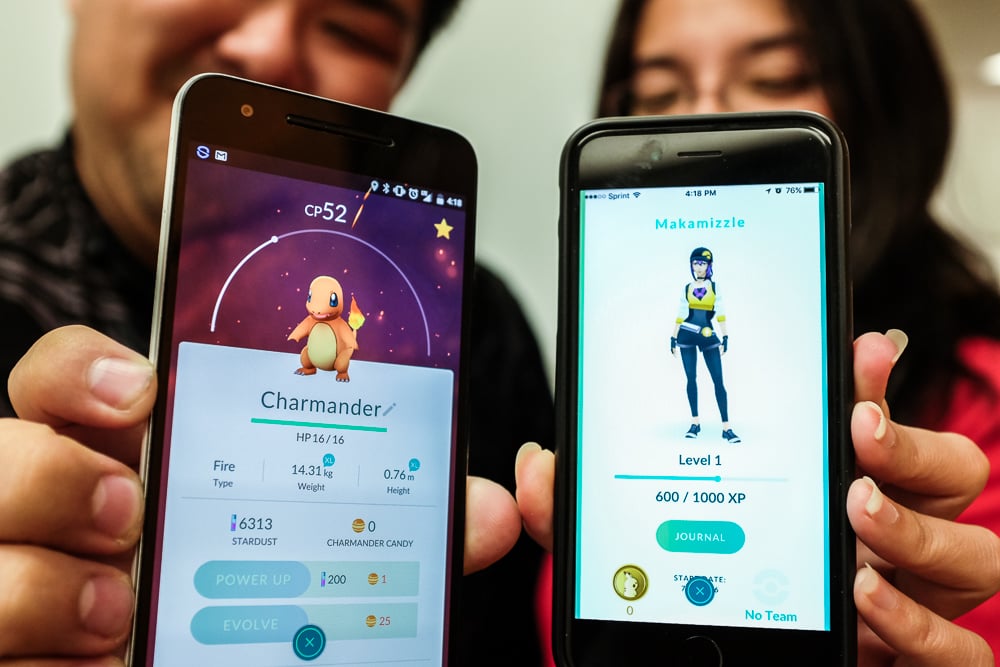 The much anticipated Pokemon Go just released to both iPhone and Android users today — and we're already level 7. Here's the ultimate guide to getting you started and on your way to becoming a Pokemon Master.
iOS download (iTunes Store): link
Android download (Google Play Store): link
Getting started
Once you've downloaded the app, log in via your Google account or a Pokemon Trainers Club account. Create a name for your trainer (only purists will call themselves Ash) and customize the look of your avatar before getting your first Pokemon.
Then the game throws you into the field and your three favorite starter Pokemon — Charmander, Bulbasaur and Squirtle — pop up on your screen. Tap on the one you wish to capture and you'll go into a mini game where you throw Pokeballs at them until you capture your very first Pokemon. I believe the two moves that each capture Pokemon has are randomized, so you'll have to hope you get two good abilities with your starter (more on this later).
Tip: This app eats your phone battery, so make sure to go into Settings when you start and turn battery saver on. Nothing slows your progress down more than having to recharge your phone.
Catching Pokemon
Walking around will inevitably allow you to find wild Pokemon, but go to a park and focus on areas where the grass rustles to discover Pokemon nearby. You can also use an item called Incense to bring Pokemon toward you (this is best when you're sitting at home charging your phone).
When a wild Pokemon appears, tap on it and you'll go into battle. You can throw Pokeballs to catch it: Hold down on the Pokeball and a growing green circle will appear. To throw, swipe up towards the Pokemon. Be sure to time it so you throw when the green circle at its smallest diameter.
Pro tip: Get good at throwing Pokeballs because you get extra experience when you throw a perfect shot or a curve ball. These little bonuses add up over time if you are very accurate. I've caught about 100 Pokemon so far and the 10 extra experience adds up quick.
Here's a quick tutorial on throwing Pokeballs:
PokeStops
PokeStops are places of interest where you can get refills of much needed items like Pokeballs, revives, potions and egg incubators. Once you get near, click on the PokeStop, spin the icon of the stop and click on all the goodies that rain down from them. When you're done, click the little x on the bottom of your screen and go back to catching Pokemon.
CP and other Pokemon stats
Once you catch a Pokemon, you can view its stats including CP (combat points). CP is an overall assessment of the power level of that Pokemon. You're also able to view the two abilities of the captured Pokemon. In my opinion getting Pokemon with good abilities is better than one with high CP because it will make them better for battling.
You can transfer Pokemon with poor ability sets to Professor Willow and get Pokemon-specific candies to power and evolve the Pokemon in that evolution tree (e.g. Transferring Pidgey gives you Pidgey candy that you can then use to evolve into Pidgeotto and Pidgeot).
Eggs
When you get your very first egg, start incubating it right away. You have an item called incubator; your egg will hatch after you walk a certain distance. I bought a couple more incubators since I had a ton of eggs.
Gyms
You can only access gyms once you hit level 5, so getting to level 5 as quickly as possible should be priority number one. Also, once you're able to access gyms, you can pick your team (Instinct is yellow, Mystic is blue and Valor is red ). Each team is represented by their corresponding legendary generation-one bird: Zapdos, Articuno and Moltres.
If an opposing team controls a gym, you get to battle the Pokemon they left to defend it. You get experience and can help weaken the opposing team's gym (if you lower it enough, you may even control the gym).
Power leveling to 5
Getting to level 5 lets you do the most with Pokemon Go. To get to level 5 in one night, here's what you need to do.
The very first egg you receive needs to go directly into your incubator. As you walk/bike/drive around, you will gain distance to hatch the egg. When the first one hatches, incubate another.
Find someone to drive you around or hop on a bike and ride toward PokeStops and grassy areas. Go into your items and use your incense to help Pokemon find you. Loop back and forth between PokeStops as they turn from purple to blue, and pick up more items. Once all PokeStops have been exhausted, go to a park and follow the grass to find all the wild Pokemon in your area.
Be sure to perfect your throw and your timing so you get the experience bonus each time you capture a Pokemon.