Pizza in a bowl: Tokyo's pizza ramen
Far from the tourist crowds but is it worth seeking out?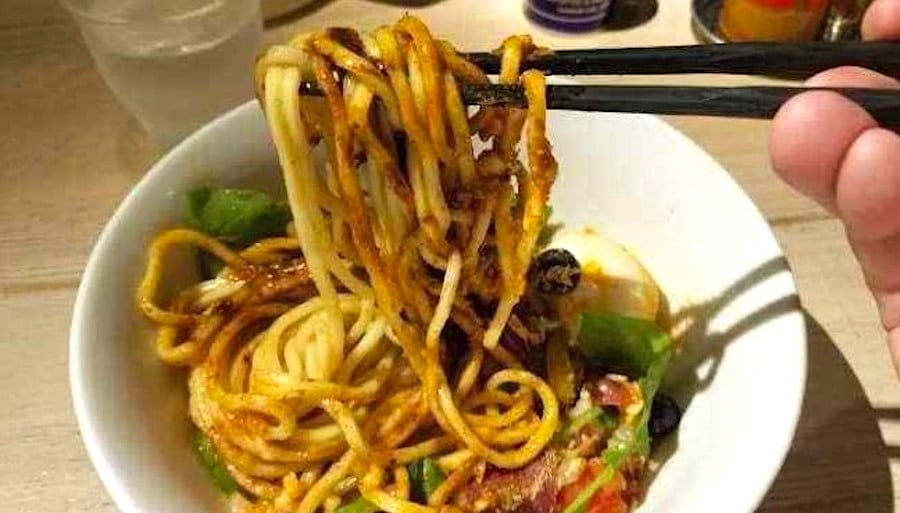 Pizza soba.
The words floated across the television long enough for me to grab the remote and turn up the volume. As a self-proclaimed Tokyo-phile, my NGN/NHK cable package is a key resource when it comes to identifying food targets for the annual family trip to the Japanese capital.
Now here was pizza soba (¥800/$7.48), a fusion delight from a shop called Ajito-ism in Shinagawa City. It has the components of pizza — meat, vegetables, cheese and anchovy — and the components of ramen with rich tomato dashi, unctuous rendered back fat and hearty, chewy noodles that can hold it all together. But does it deliver the satisfaction of both in one go?
I'm curious so Ajito-ism and its pizza soba are on the list. A seven-minute walk from Oimachi station in the southern part of Tokyo, the shop occupies the ground floor of an apartment building, far removed from the throngs of tourists. The lunch crowd is predominantly salarymen and almost all are wearing bibs and eating pizza soba!
My bowl arrives and I peer into it intently. The first thing I see is a riot of colors: a palette of salami, bell peppers, onions and anchovy powder blanket the robust ramen noodles.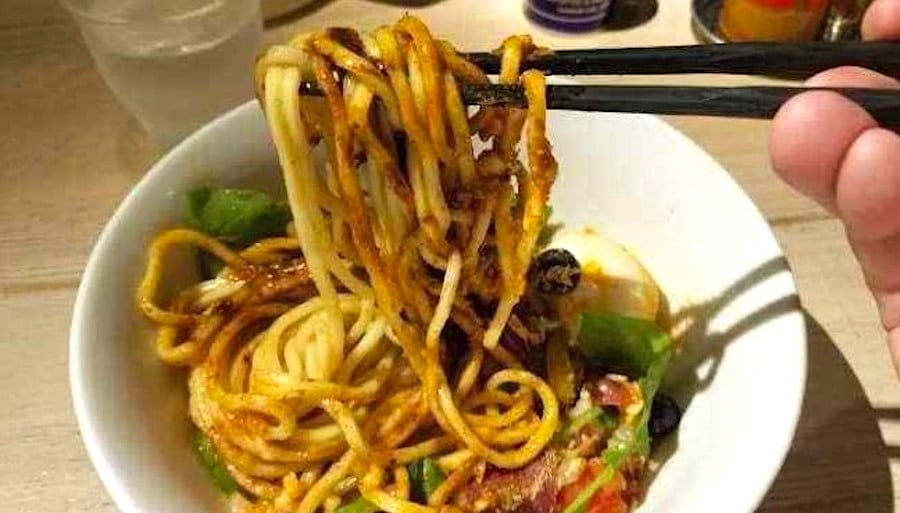 It's a mazesoba, dry-style ramen that incorporates sauce instead of a soup, and we are immediately instructed to dig deep and mix everything very well. As we mix, a light red sauce appears from the bottom. This turns out to be the pizza's sauce: a blend of shredded cheese and a viscous dashi-infused tomato broth. It adheres beautifully to the thick noodles and picks up the toppings with each pull. Each bite is salty, crunchy, cheesy and delicious.
We plow ahead with loud slurps (ah, that's why we need the bib) and oohs and ahhs. I notice my wife and son slow down halfway through their bowls. The cheese at the bottom makes the ramen gooier as we eat – great for me but a challenge for my tween son. I finish my bowl and the bottom half of his.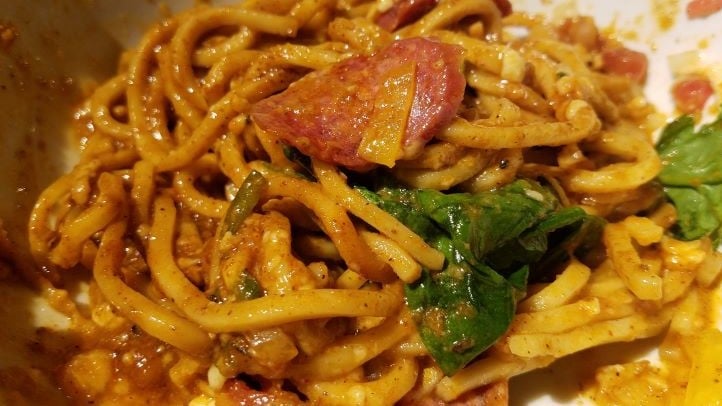 Belly full, I contemplate our successful quest: I came because pizza soba is unique and I will return because it's also delicious. It definitely delivers on the promise of both pizza and ramen in one bowl.
Gochisousama deshita!
Ajito-ism
Oi 1 Chome−37−4 , Shinagawa City, Tokyo
140-0014
Mon – Fri 11 a.m. – 2 p.m., 5:30 p.m. – 8 p.m.
Sat – Sun 11 a.m. – 2 p.m.
Cash only