Pint + Jigger's updated fall menu and brunch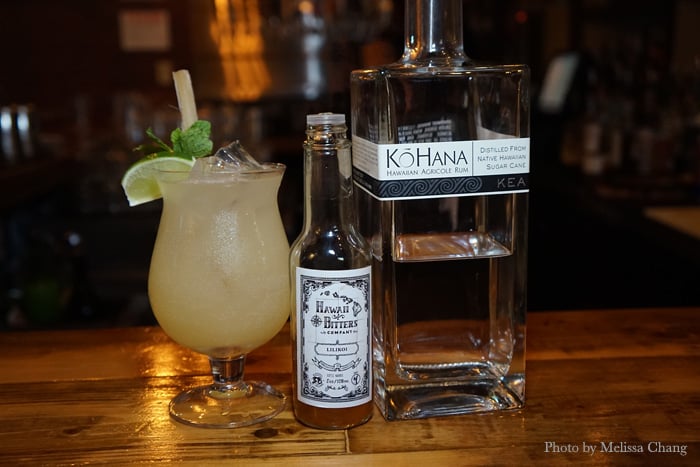 Pint + Jigger quietly launched some new food and drink items last week, not just to refresh the menu, but to prep for football season, as well. They've got about 10 new cocktails, two pages of whiskies, and a few new food items (or several, if you're like me and haven't been in a while).
While the staff ramps up with the new menu, they're also preparing for football season: starting next month, Pint + Jigger will be open for brunch daily so you can take in a game with their gastropub fare. You'll need to check with them, though — weekdays start at 10 a.m. and Saturdays will be at 8 a.m., but Sundays will start at 7 or 8 a.m. depending on the game.
We got to try a few of the new offerings, and one of the great things about mixologist/partner Dave Newman is his stories of how each item was created. My writing about it won't capture it well enough to do his thoughtfulness justice, but just know that each cocktail has a story or thought behind it that is as well-crafted as the drink itself.
Dave's take on a mojito uses Hoegaarden (a white Belgian beer) instead of rum, and it's already one of their most popular drinks. Replacing rum with the beer cuts the sweetness and makes it much lighter and more refreshing, making it a perfect summer cocktail. Other ingredients include mint, lime, brown sugar and Cointreau.
You've heard of the highball Dark and Stormy, made with dark rum and ginger beer. This happier tropical version features Hawaiian agricole Kōhana rum and Hawaii Bitters' lilikoi. This one is fresh and tart.
As you may have guessed, this cocktail was named after a woman who had enjoyed this and announced that she was primed for action. It is comprised of house infused citrus vodka, house made rhubarb simple syrup, house made tropical bitters, lemon, lime, and egg white. While it's kind of a "foofy drink," I don't think it's too feminine at all. The tartness and kick will probably appeal to men, too.
Dave had actually made this for Negroni Week and it's now a regular on the menu. He infuses Aperol with thyme to get a strong herbaceous aroma, then uses gin and Lustau East India Sherry. Be sure to inhale as you drink this, as the citrus and thyme aromas help open up the flavors. This is good on its own or paired with…
…the Summer Skillet, which has slices of vegetables (squash, zucchini, tomato, and some others) baked in a hot skillet with house-pulled mozzarella and topped with herbs, breadcrumbs and a generous drizzle of aged balsamic. It's served with crostini, but I liked it as is. The flavors are very complementary to the Prime Thyme, with the herbs playing off each other.
I don't usually drink tequila, but I'll definitely go back for more Batanga ($11), a smooth drink created in the 1950s by Don Javier Delgado Corona in the town of Tequila, Mexico. Dave went to a bar called La Capilla on a recent trip, and Señor Delgado's grandson Enrique taught him how to make this. I don't know if La Capilla is one of the oldest cantinas, but Señor Delgado is definitely one of the oldest owners, at 93. You can read more about this cocktail as you drink it, here. It features Maestro Doble Diamond Tequila, lime, salt and Mexican Coke and served with the traditional side of cucumbers sprinkled with Maldonado sea salt and Tajin. But the secret to the drink? It must be mixed with a knife, especially if you've already used it to cut limes, chiles and avocados.
Whenever Dave visits San Francisco, he visits the Buena Vista Cafe for their signature Irish Coffee. It took him a while to replicate it to perfection, and now you can enjoy it, too. Most people steep their cold brews for 12 to 16 hours, but Dave's coffee is brewed for 72 hours in their walk-in. It's super smooth and the flavor stands up to the Tullamore D.E.W. Irish whiskey, which is then topped with their housemate vanilla whip (yum!) and a dash of nutmeg to make you think of winter.
On the flip side, you can think of summer with their very fresh, light House Market Salad, which has baby greens topped with watermelon bites, fresh house-pulled mozzarella, almonds, mint, fried onions, and pickled rind. They pull it together with a watermelon vinaigrette, which is really light but still gives the dish good flavor.
For something a little heartier, we loved the pork tenderloin, which was very moist and thoughtfully cut into bite-sized pieces so we could drink, eat, and talk. It's served over roasted cauliflower and haricots vert, then topped with a creamy cauliflower gravy and port cherries.
The drink menu is now six pages long, and you can still expect to find your favorite food and drinks, like the Mixed Emotions or the Scotch egg. But definitely give the new items a try.
Pint and Jigger
1936 S King St.
808-744-9593