Picture Perfect
Photo Tips from the Experts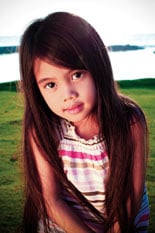 Our children are only certain ages once and their "firsts" are just that. How do you capture these moments without taking a "how to" course on photographing wiggly, whiney, hyper, not-in-the-mood, short-attention-span children? We asked four local experts for advice on how to best capture these "Kodak Moments," as well as which point-and-shoot cameras they recommend; what timelines should be followed when planning for holiday portraits and cards; the most creative family photo options to consider; and why professional photography should be a strong consideration.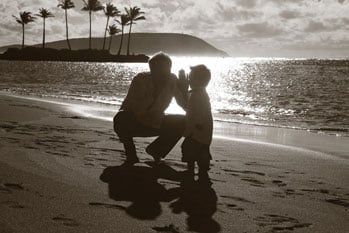 Tips for Capturing Memorable Moments
The No. 1 recommendation from all of our experts is to capture your children naturally–don't force the shot or work too hard to set one up.
Kaui Nichols, of Makamae Photography, says, "Be patient and wait for that look." It's not about clicking a million photos; it's about getting the few shots that make you remember a special smile, laugh or experience.
Nichols also says to hold the camera steady, close to your body and wait for the camera to do its thing before moving on to the next photo to ensure your images aren't blurry.
Gabriella Wright, of Red Bird Photography, recommends always carrying a point-and-shoot camera so that you're ready to go when you see your children in a great mood and laughing. Again, keep the moment natural, not posed.
Monica Lau, of Monica Lau Photography, says to "fill the frame" for an instantly dynamic shot. Most people place the subject's head in the middle of the photo. Bring the subject's head to the top of the picture and fill the frame with the point of interest.
Also, organize your photos right away, in folders marked with the date and location. We all think we're going to remember, but the truth is we get busy and forget. If you make a habit of putting all your photos into specific folders once you're done with an event, you'll always be able to find them later and organize them.
Karen De Borja, of Karen DB Photography, says not to be afraid of experimenting with different angles and distances.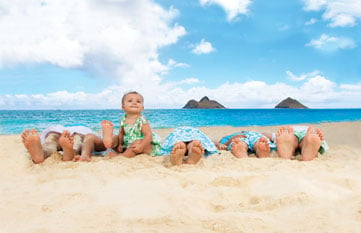 Point and Shoot Cameras to Consider
The Canon SD1400 is slim, has 14 megapixels and captures HD video, says De Borja.
With its durable, sturdy design, the Canon G10/G11 is Wright's top pick. It provides high-resolution images and gives you the option of taking creative control over your pictures or to just snap away in auto mode. You can also shoot video.
Nichols recommends the Canon PowerShot D10: "I just took this camera to Costa Rica and it was amazing in and out of the water," she says. "It has video and still options. I banged it up, tossed it around and completely roughed it up, and it survived."
Nichols and Lau both like the Canon PowerShot for its easy-to-use programmed modes and quick focus.
Also on Nichols' list is the Sony Cybershot DSC W290, which is reasonably priced with a 5x optical zoom. It produces vibrant colors and has cool effects for those who like to enhance photos.
The last one on Nichols' list is the Panasonic Lumix DMC ZS3.
It provides a wide angle, 12x optical zoom and HD video and several "preset" functions to capture almost any situation.
For the parent ready to take the next step into an SLR camera but not quite ready to use a manual camera, Lau recommends the Canon EOS Rebel camera. It has the program modes of point-and-shoot cameras and a whole lot more.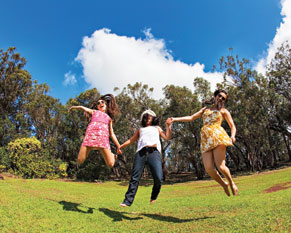 Holiday Cards and Family Portraits Timeline
If you are planning to take a professional family portrait for this year's holiday card, you should book your appointment as soon as possible.
Nichols says it is important to start planning early. If you want your Christmas cards delivered by Dec. 25, set up your photography session in October; this will give you enough time to view the images and choose your favorites. You'll also have to address, stuff and stamp each card and, of course, get them all to the post office. If you aim to have your session completed by Oct. 31, there'll be plenty of time to get your cards out before the stress of the holidays hits.
How to Capture Creative Family Shots
The key is to have fun. De Borja suggests mixing serious photos with ones that have family members making fun facial expressions.
Nichols says, "Don't be afraid to do something different, or even get a little dirty." If you go to the beach, jump into the water, splash around, have fun. Choose a place that has meaning for your family.
Wright recommends picking a theme or style that bests reflects your family's personality.
The Benefits of Working with a Professional
De Borja says that parents should consider professional photographers because "we specialize in the whole aspect of preserving a moment in time."
Wright agrees that professional photographers have invested a lot of time and money into development and training. "We know the ins and outs of what makes a great portrait." They can also customize a session to your liking and your child's images won't look like everyone else's.
Lau says snap shots are fun, but the down side is the quality of the images and, of course, the person taking the photo is not in the picture. To supplement these informal pictures, you need an occasional, formal family portrait, which is best handled by a professional who knows how to get kids to look at the camera, smile and hold still, and how to stage the perfect lighting and backdrop.
We all strive to capture picture perfect moments but we don't always know how to achieve them. Fortunately, we have trained experts to turn to for good advice.
---
Want to learn more secrets to getting great pictures?Check out our Web Exclusive.