Peso, a Modern Filipino Restaurant, Is Coming to the Piggy Smalls Space
Helmed by L.A. chef Ria Dolly Barbosa, it's opening as early as this month.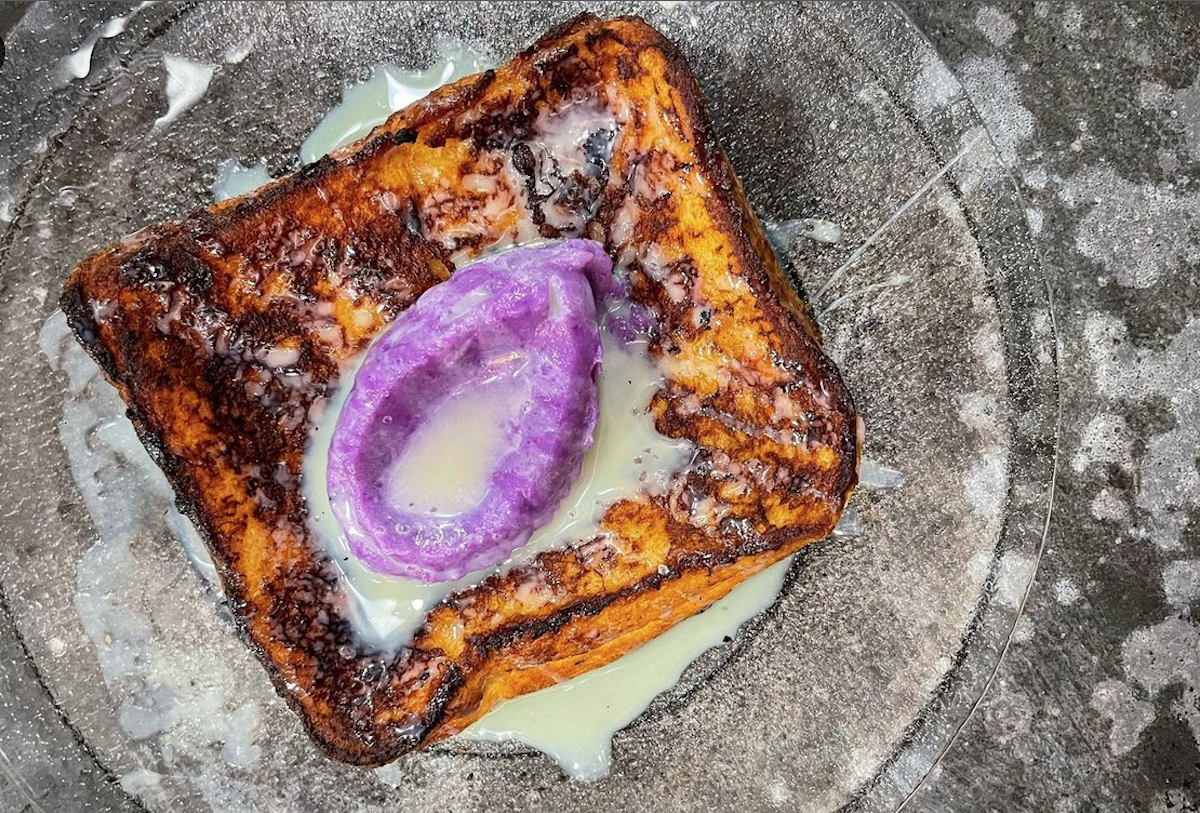 Peso, Honolulu's first modern Filipino restaurant, is slated to open for dinner and weekend brunch in the old Piggy Smalls space as early as late April. The concept will be familiar to fans of (now closed) Jeepney in New York City and Lasita, Kuya Lord and Petite Peso in Los Angeles. "We're gonna have the favorites and the traditional items, they're just probably not gonna look like what you're thinking. I guess some people would call it elevated, but it's an accumulation of everything I learned and wanted to apply to what I'm cooking," says Peso chef Ria Dolly Barbosa. "We want Filipino food to be as recognized as Chinese or Japanese or Thai or Korean, all the Asian cuisines that have become mainstream."
Barbosa trained in traditional French cookery and worked at Lutèce and Daniel Boulud Brasserie in Las Vegas before moving home to Los Angeles and opening Sqirl and the Wild at Canelé pop-up. In L.A. she developed a style of cooking that leans heavily into her Filipino heritage, experimenting with French techniques she applies to recipes her parents brought with them from the Philippines. Petite Peso, a fast-casual eatery Barbosa opened with partners Tiffany Tanaka and Robert Villanueva, made the Los Angeles Times 101 Best Restaurants, Eater 38 Essential Restaurants in Los Angeles, and TimeOut 15 Best New Los Angeles Restaurants of 2020 lists.
What this means for Peso Honolulu is ube halaya stuffed french toast and family-style shared plates like pinangat la isda, or opakapaka steamed in ti leaves and topped with charred sour tomato and ginger sauce. Filipino breakfasts with house-made longanisa, chicken tocino and garlic rice. Lumpia, bistek, pork sinigang, tortang talong eggplant omelet. A fried chicken sandwich on pan de sal with achara pickles, the chicken marinated and tempura-fried.
And halo halo. "There was one summer we were really into the Pink Drink from Starbucks. That's what inspired our halo halo. It's not gonna be traditional," Barbosa says. "It's a little bit more tropical and bright, and it's also non dairy. We're gonna make our own oat condensed milk. Guava purée, maybe liliko'i jelly, jackfruit, whatever fresh fruit we're gonna find, we're gonna have it all in there."
Coming to Honolulu was part of the original concept for Barbosa, Honolulu-born Tanaka and Las Vegas native Villanueva: They would open modern Filipino-American eateries in each of their hometowns. The name was chosen because "up until this day [the Filipino peso] is undervalued in the world currencies," Barbosa says. "We want to show value to our food."
---
SEE ALSO: Foodflash: Piggy Smalls Is Closing Permanently After Feb. 12
---
Peso Honolulu came about because the Le family, owners of Chinatown's The Pig and the Lady, was struggling with a staffing shortage and looking to close Piggy Smalls. At Petite Peso in Los Angeles, the lease was expiring and the partners needed a new spot for a full-service restaurant, according to Barbosa. When Andrew Le, a friend, suggested taking over Piggy Smalls' lease, plans shifted to Honolulu. Like Smalls, Peso will be a sit-down eatery with full service, a wine list and cocktails. Equipment they inherited includes Smalls' soft-serve machine, so Peso will have Filipino-inspired swirls.
Eventually there will be lunch and a 12-seat omakase dinner that Barbosa says will be more experimental, along the lines of bulalo with bone marrow dumplings, or sinigang chawanmushi. "We just really want to show people what Filipino food is capable of," she says. "We have a lot to contribute to the dining scene, not just here but in general. For us it's about more than opening a restaurant."