Party pics: Red Bull BC One Honolulu Cypher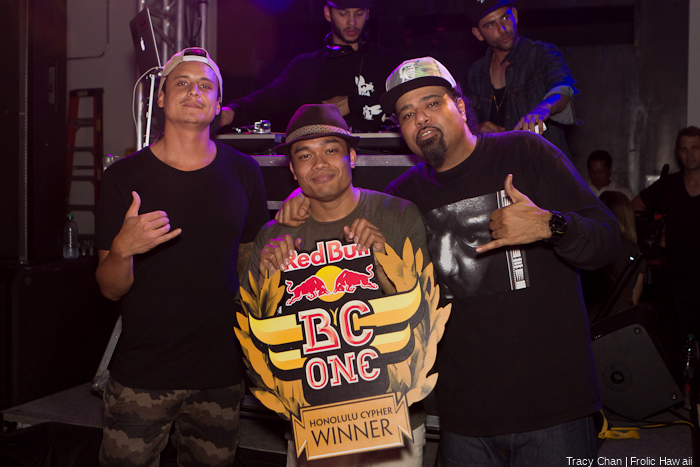 A huge b-boy cypher (breakdancing competition) went down in the Our Kaka'ako Warehouse at 449 Cooke St. Saturday evening, with b-boys from all over the West Coast competing for the chance to advance to the National Finals in Orlando, Florida, August 21-22. Judged by Omar Delgado (Roxrite), Ronnie Abaldonado (BBoy Ronnie) and Kid David, the free, public competition featured 16 selected b-boys going head-to-head, with one winner.
The sixteen competitors in the Honolulu Cypher included:
Docta Trey (Las Vegas)
Kid Rainen (Riverside, CA)
Bboy Steve (Las Vegas)
Luna (Seattle)
Maynard (Guam)
Ark (Hawaii)
JoshSkittle (Hawaii/Las Vegas)
Majin Vu (San Jose)
Philthy (Sacramento)
Hijack (Hawaii/San Francisco)
Rion (San Diego)
Kyd Steez (Los Angeles)
Scarface (San Jose)
Azkiel (Arizona)
C Note (Sacramento)
JayD (Los Angeles)
The warehouse erupted in cheers when a Hawaii boy took first place; congrats to JoshSkittle, Hawaii's and the West Coast's champ!