Party pics: Quiksilver's Eddie Aikau 31st Annual Paina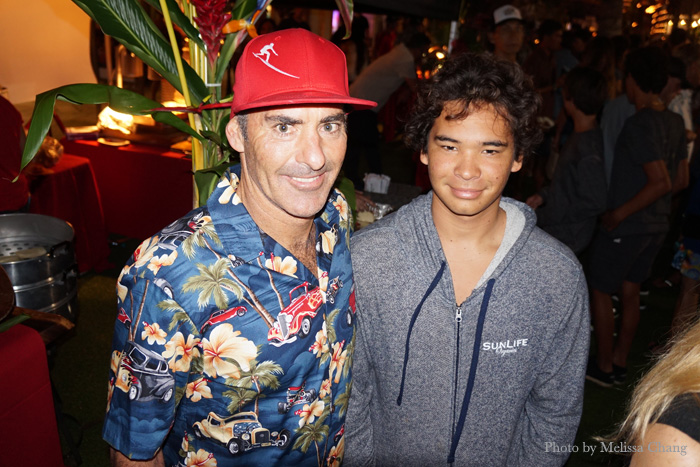 The biggest surfers in the world are gathering today on Oahu's north shore for the 31st annual Quiksilver in Memory of Eddie Aikau big wave riding event opening ceremonies, and from there, they'll pray for surf. The event has a three-month holding period that began on December 1 and will run through February 29, 2016.
"The Eddie," as the event is called, is a one-day big wave riding event with strict wave height requirements; it can only take place when waves meet or exceed the Hawaiian 20-foot minimum (wave face heights of approximately 40 feet) because this was the threshold at which Aikau enjoyed to ride Waimea Bay.
The event was last held on December 8, 2009, when it was won by California's Greg Long, and has only been held a total of eight times in its 31-year history. The contest commemorates the life of revered waterman Eddie Aikau, who died in 1978 after the Polynesian vessel Hokulea capsized in stormy waters. Aikau set off paddling on a surfboard to get help for his crew members and was never seen again. If you've heard the saying, "Eddie would go," it's in reference to his heroic act.
Quiksilver held a big party on the front lawn at Waikiki Beach Walk last night to kick off the contest. Celebrity watermen, surfers, designers and more came to mingle, enjoy a lot of good food, and listen to music by The Rough Riders (a group comprised of Henry Kapono, John Cruz and Brother Noland). The exhibit "The Big Wave Riders of Hawaii" by French surfer/photographer Bernard Testemale was featured at the event. Dedicated to the intriguing parallels that connect the histories of surfing and photography, the exhibition showcases a handpicked selection of collodion plate portraits by Testemale.